This post may contain affiliate links. Exploring new sights is a participant in the Amazon Services LLC Associates Program. As an Amazon Associate, we earn from qualifying purchases linking to Amazon.com and affiliated links.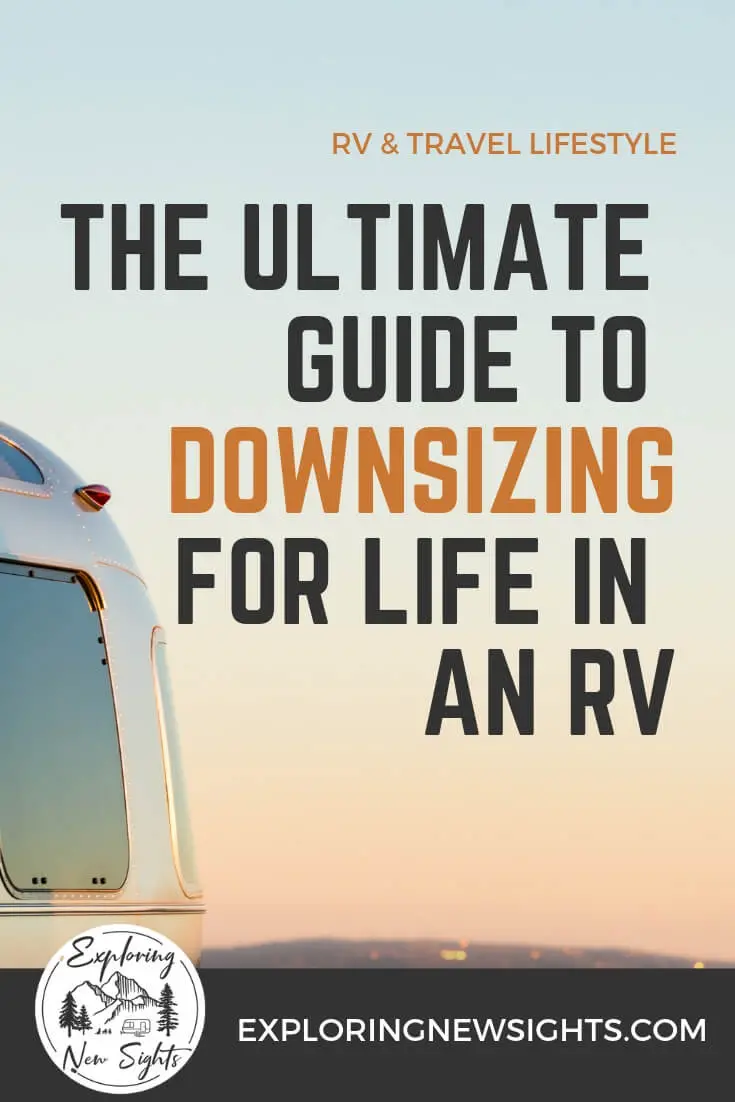 So you're looking to Downsize into a smaller space or specifically an RV?
Well, I am here to tell you that it is possible and it could be an easier task then you imagine!
But first, our journey in downsizing to live in an RV started way before we even made the purchase. You see, Matthew and I have in some way been downsizing since we got married.
Instead of moving in to our very own place, we moved in with roommates in order to finish up an apartment lease and save money. It was definitely a challenge being newlyweds in a 10×11 room. We had to learn to live small early on in our relationship.
After the roommate situation, we moved into the 1 bedroom 700 sqft apartment. That was the largest space we have ever lived together. Then we moved in with my parents November of 2017 for 6 months. That living situation was a temporary financial decision to help ensure the transition into the RV Life was pleasant.
While living with my parents, we went from a fully furnished one-bedroom apartment with a washer and dryer to a 10×11 room with no closet. Most of our items were in boxes and placed in their garage for storage. We didn't realize how much we had accumulated in our 1 bedroom apartment until we saw it all stacked up in boxes.
The garage was so packed, there was barely any room to walk through. This fueled me to get started on downsizing and getting rid of items as quickly as possible. Now, with everything being in the garage, this did give us the ability to truly figure out the items we needed to live with and the items we could go without.
So, during the 6 months of living with my parents, we went through all the boxes and followed these exact steps to downsize to live in our RV.I believe that starting early and not waiting until we bought our RV gave us time to really go through our belongings. So, if you plan on moving into a smaller space, the sooner you start downsizing the easier it will be.
Whether you are moving from a 1 bedroom apartment or a 5 bedroom house, these steps can assist anyone.
1. Understand your RV's layout and amenities.
This is important before truly downsizing because all RV's are different sizes and have different storage options. If you have not picked your RV, check out this book by Alyssa Padget, this will help make the decision on what type of RV is right for you.
Once you do find your RV, know that getting rid of everything isn't necessarily the best answer. When we moved into our RV, we discovered that we had more space and storage than we expected. This is great because it has allowed us to grow.
Therefore, by understanding the RV's Layout and Amenities, you will realize that there are some items clearly not needed like a dining table and chairs, a bed, sofas, dressers, and usually any other larger furniture items. These items just will not be able to go into the RV mainly because of size and there is usually already one built in. If you choose to replace the sofas or dining tables, one thing to be aware of is the size and the weight of the furniture because each RV frames do have limits.
2. Take notes on items used every day
By making a conscious decision to recognize what items you use daily will help you realize the items you can go without. Take your time in this phase. Go a week or even a month and really figure out what you use on a daily basis. This is important because RV's have limited space. Therefore, ensuring the items you bring along are items you WILL use will help you use your space wisely.
For me, I had dresses that I had only worn once or twice that just took up way too much space. Those types of clothes will have to be stored or sold unless you can make room. If it's not clothes, it could be kitchen appliances, dishes, shoes, and the accumulation of cleaning products or pantry food. We realized we had way too many plates, and 3 sets of pots and pans. The RV just can't hold all those items, so we had to choose which set to keep and which appliances we use the most.
3. Organize items: Keep
Now is the time to really set aside the sentimental items. If you have pictures, books, important documents, items or furniture that are heirlooms set them aside. You might be surprised at what you could take with you after you figure out the necessities.
The keep pile can also be items that you do not want to get rid of but would rather place in storage or items that you know you want with you in the RV. Some keep items for us was extra blankets, our crockpot, an extra plate set for guests, small décor items, pictures, etc.
4. Organize Items: Sell
You always want to try a sell as much as you can. There may be some big-ticket items like furniture that can make you some money to save or pay off debt. We sold our couch, washer/dryer set, TV, and much more. The money we made we put right back into our savings for a down payment on the RV.
To sell items, host a garage sale and advertise it on local Facebook groups or community forums. You can also individually list items on Facebook marketplace, craigslist, Let Go App or consignment. The majority of items we sold was on the Facebook Marketplace and Let go App.
5. Organize Items: Donate
Not all items are good to donate. Sometimes overly used towels or torn up blankets are not best, but the ones that are gently used are nice. Gently used clothing items are great to donate but don't donate undergarments unless that are new and in their original package. Items good to donate are also Kitchen appliances, cookware, dishes, and toys!
Don't forget your family and friends. Sometimes there are items that they might enjoy to take off your hands. For example, My sister in law wanted some of my Décor items and I was happy to hand them over to her.
Also, pantry items like canned foods are great to donate. RV pantries are small and usually can't hold items in bulk so donating unused canned items that have not expired is always nice.
6. Organize Items: Trash
Once the items are separated in what you will keep, you've already tried selling, and some items just aren't great to donate don't be afraid to just toss things out. We threw away our mattress and box spring because they were overused and not donatable. Some items can also be recycled if your city has a program.
7. Move into your New Home on Wheels
Slowly start to add the items you know are necessities for living in an RV, Camping, and what you will use daily. Make a place for them and organize. Then bring in the Décor and Sentimental items to store and keep. For us, after moving in we were surprised with how much we truly were able to bring in to the RV and how much space we still had.
8. Locate a storage unit
Remember those sentimental items that you set aside but can't take on the small RV? Now is time to find a place to store them. Many people locate their nearest storage facilities and rent one out. Some storage places are even climate controlled depending on what you want to keep safe will depend on the type of storage unit you get. For us, our extra items that we didn't want to get rid of remain in my parents' garage for now.
There you have it! The exact steps on how we downsized to live in less than 300sqft RV. Remember, downsizing takes time and it depends on how much stuff you have. Sometimes you will need to repeat the steps of organizing the Keep, Sell, Donate, and Trash piles. Take it day by day, and don't rush. The last thing you want to do to is throw something away that is extremely important or sentimental.
We had a one-bedroom apartment, so it wasn't that painstaking for us; however, you might have a larger house that is fully furnished. The Larger the space, the more stuff accumulates! So, take your time through the downsizing process and continue with the steps until you're happy. Remember not everything has to be sold in one garage sale, and sometimes an item can sit in the Facebook marketplace for months before catching the eye of a buyer.
I truly hope these steps help anyone who is wanting or needing to downsize their space. It truly helped us get the most out of our stuff. We were able to make more than $1000 from our couch, tv, and washer/dryer.
Let us know how these steps have helped you or if you have found other ways to downsize. We love to hear your story. Comment below, share on social media, and don't forget to follow us!
Have a wonderful day and happy downsizing!