This post may contain affiliate links. Exploring new sights is a participant in the Amazon Services LLC Associates Program. As an Amazon Associate, we earn from qualifying purchases linking to Amazon.com and affiliated links.
Are you considering living in an RV?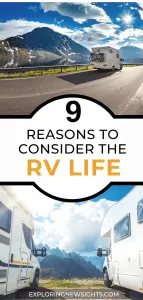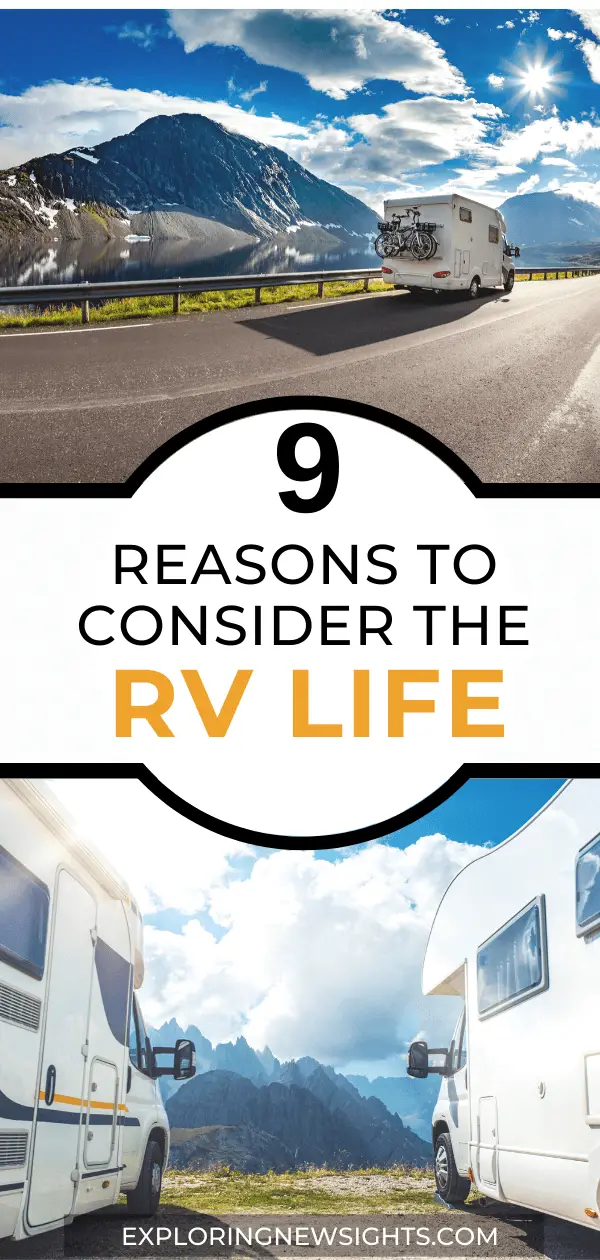 Maybe you've seen the craze all over Pinterest and social media about RV Living. So many people are ditching their suburban brick and mortar homes to live a simple and minimalistic life while traveling.
But why have so many people made this change to their lifestyle?
What are the reasons they became "Full Timers"?
If you're here, your probably already considering the lifestyle change and maybe would like to know why so many are choosing this path. Or you could be asking yourself "Is the RV life for me and my family" or "what are the benefits of RV Life"?
Those are great questions to ask…
For us, we started our journey back in April of 2018. Our reasons for moving into an RV were Freedom, Minimalistic lifestyle, to pay off debt, and much more. Someday we will travel, but as of right now our focus is paying off student loans.
Maybe you don't have any debt to pay off, but you love the idea of living a life on your own terms. That is reason number one why so many make the move.
Let's get into the top 9 reasons why people move into RV's.
1. Freedom – Live life on your own terms
Living life on your own terms is a dream for almost everyone. Who doesn't want to plan their schedules and days according to their desires? Living in an RV full time can make that freedom a reality.
The RV Live gives you the ability to move anytime you want without having to go through all the home/land buying process. It is as simple as picking your next location, and making a reservation at whichever RV park you choose or finding the perfect Boondocking location.
These types of Freedom are impossible while living in a brick and mortar home.
Another Freedom that inspires the RV Life is the ability to see family anytime and anywhere. Let's say you live in Texas, but have family in another state, all you do is drive there. There is no flying involved, and you can take your whole home and belongings with you. You can also stay as long as you want. Now, that is FREEDOM!
2. Travel – Change your View
From the Beach one day to the Mountains the next, the views out your RV's windows are endless. There are so many places to go in the United States that allow you to have million-dollar views for pennies or less.
Not just the views though, just traveling is exciting!
Maybe you have a goal to visit all 49 states (that you can drive to) in a few years. Traveling in an RV is going to make that dream a reality.
If you have a goal to visit as many National Parks in the US, then traveling in an RV is the perfect way to go. The places you can go are endless if there is a road, there is a way!
3. Minimalize – Less stuff, More Experiences
If you're looking for a reason to get rid of your stuff, then moving into an RV is the answer. RVs don't have much room for extra items that are not used frequently. This is a chance to live life on simpler terms and replace things with experiences.
When we moved into our RV, we sold our couch, table, and more. When it came to our décor and kitchen items, we took what we could use in the RV and packed up the rest to store.
4. Pay off Debt
For many, full-time RV living means cheaper living costs and that can help pay off debt faster. This is totally doable. and many have accomplished becoming debt free because of downsizing and minimizing their life.
If paying off debt is a huge desire for you, then considering the RV lifestyle is a way to go. We have paid off a personal loan and credit cards by limiting our living expenses.  I would check out our post on How to Start Your Fulltime RV Living Journey for more information.
5. Learn
RV Life is full of new learning opportunities. If you are someone like me, who thrives off learning new things, then the RV lifestyle is for you. There is so much to learn about RVing, plus all the places you will go provides all the learning opportunities in the world.
If you have kids that are school age, then full-time RV living and traveling state to state is the perfect way for your kids to learn hands-on about life and the history of this country. I know many families who are doing exactly that, and their kids are thriving.
6. Explore – Spend more time Outside
Along with learning, you and the family will spend more time outside. When you live in a small space and travel from state park to state park or city to city, you'll find yourself exploring more. Whether it's a new trail at Yellow Stone Park or a cute downtown area like in Waco, Texas. The exploration possibilities are endless.
If you have kids, it's a great way to get them close to nature rather than spending all their time inside with movies and games. When I was a kid, playing outside and hiking through the trails were memories and lessons learned that I will never forget. I loved to explore the unknown.
7. Socialize
Another reason the RV life is worth considering is that it helps you socialize. Every place you stay, you're bound to meet new people because your neighbors always change.
You could meet people that will change your life for the better. Some RVer's have met life-long friends because of their journey in RVing.
8. Job Change
If you're on the market for a job change, one that allows you to work remotely and travel, then full-time RV living is one to consider.
There are also plenty of Workamping opportunities at RV parks. Workamping is where you take care of the RV park in exchange for free hookups and/or a small salary. There are sites like workamper.com that you can check out for more information.
9. Family
Living the fulltime rv life gets you closer to your family. There are less places for you kids or loved ones to go to block themselves out. When you live tiny, your practically forced to get along and thrive as a close couple or family.
If that is something that you long for your relationships, then the RV life should be a consideration.
So, are you convinced? Are you moving your family into an RV and going to travel, explore, and learn about this great country?
If this inspired you to make the move, even if it's for a year or two that's awesome! Enjoy the lifestyle and live it to the fullest. We have enjoyed our Fulltime RV living journey and I'm sure you will too!