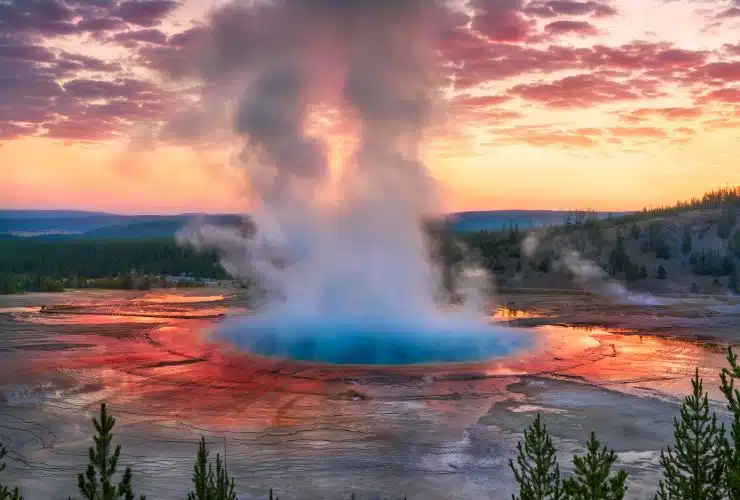 Yellowstone National Park is a true gem of the United States and is a sprawling expanse of natural wonder located primarily in the state of Wyoming, with parts extending into Montana and Idaho. Known for its geothermal wonders, diverse wildlife, and breathtaking landscapes, visiting Yellowstone is a dream destination for many travelers and RV enthusiasts.
Discover everything you need to know about visiting Yellowstone National Park and if you choose to travel in an RV, get started with our list of where to stay for an unforgettable experience.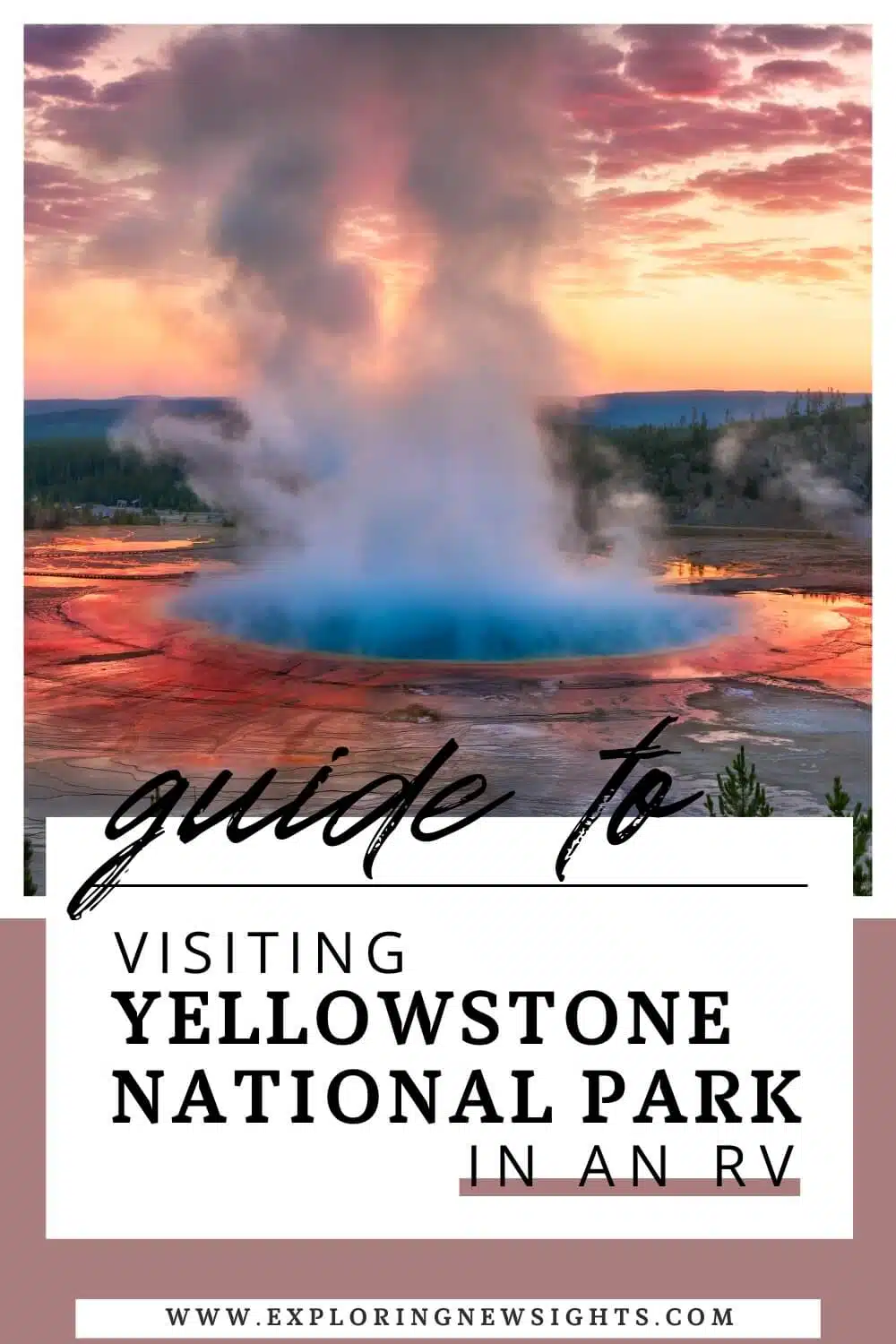 Yellowstone National Park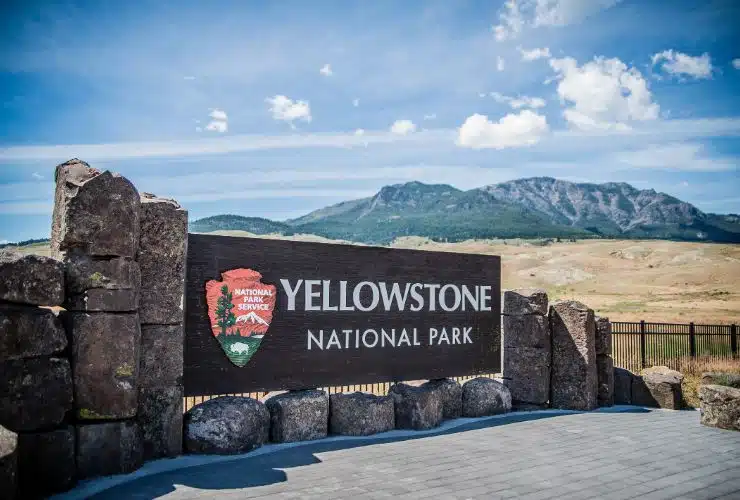 Yellowstone is the first and oldest national park in the world, established in 1872. Encompassing over 2.2 million acres, the park is home to a unique combination of geysers, hot springs, waterfalls, canyons, forests, and a large population of wildlife. The park's most famous feature, Old Faithful, is a geyser that erupts at regular intervals, captivating thousands of visitors a year with its impressive displays.
Yellowstone National Park is accessible by car, and the journey to the park itself is a picturesque experience. The main entrances to the park are located in Wyoming, Montana, and Idaho. The West Entrance near West Yellowstone, Montana, is a popular entry point.
Exploring Yellowstone in an RV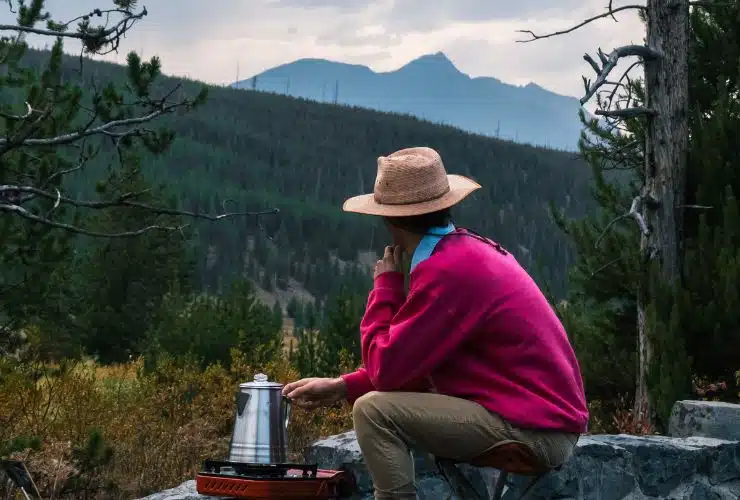 RV travel is an excellent way to explore Yellowstone, as it offers the flexibility to move around the park and experience its wonders at your own pace. Here are some key points to consider when exploring Yellowstone in an RV:
1. RV Size Restrictions: Be aware of size restrictions on certain roads and campgrounds within the park. Some areas have limitations on RV length due to narrow roads and tight turns.
2. Campsites: Yellowstone offers several RV-friendly campgrounds, but they tend to fill up quickly, especially during peak tourist seasons. Reservations are highly recommended and can be made through the National Park Service's website.
3. Hookups and Amenities: Most of Yellowstone's campgrounds offer limited or no hookups (water, electricity, and sewer). Prepare to dry camp (boondock) or utilize generator hours if your RV lacks self-contained capabilities.
4. Road Conditions: Road conditions can vary due to weather, especially in spring and fall. Check the park's official website or visitor centers for up-to-date road closures and conditions.
Where to Stay in an RV
Yellowstone offers a great selection of campgrounds suitable for RVs and campers alike. Here are wonderful options to choose for your stay, but book early, many RV parks sell out quickly during the top travel months of the year.
1. Madison Campground: Located near the park's West Entrance, this campground is a great starting point for exploring the park. It offers both pull-through and back-in sites. Discover more facts about Madison Campground here.
2. Grant Village Campground: Situated near Yellowstone Lake, this campground offers stunning lake views and proximity to the West Thumb Geyser Basin. Start planning your visit to Grant Villages here.
3. Canyon Village Campground: Central to many park attractions, this campground provides easy access to the Grand Canyon of Yellowstone and its iconic waterfalls. Learn more about this location here.
4. Bridge Bay Campground: Adjacent to Yellowstone Lake, this campground offers lakeside views and opportunities for fishing and boating. Great for RVers and tent campers. Discover more on Bridge Bay here. 
5. Fishing Bridge RV Park: The only campground with full hookups, it's popular among RVers. It is newly renovated and ready for travelers. Open from May to October, here is your link to learn more.
6. Mammoth Hot Springs Campground: Located near the park's North Entrance, this campground is close to the Mammoth Hot Springs terraces and the historic Fort Yellowstone area. Learn more and how to book your stay here.
RV Safety and Etiquette while Visiting Yellowstone National Park: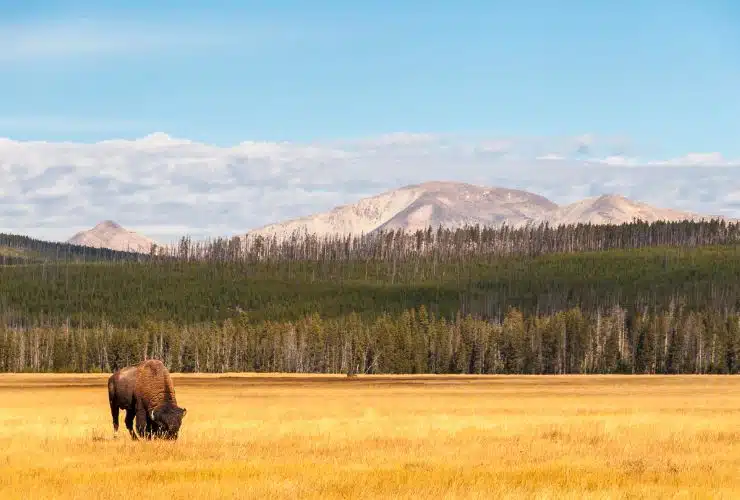 When visiting Yellowstone in an RV, it's important to follow safety guidelines and park etiquette to ensure a fun and memorable adventure.
1. Wildlife Safety: Yellowstone is home to diverse wildlife, including bison, bears, wolves, and elk. Maintain a safe distance from animals and never approach or feed them.
2. Geothermal Areas: Stay on designated paths in geothermal areas to prevent accidents and protect delicate thermal features. The ground can be dangerously hot and fragile.
3. Speed Limits: Observe speed limits and road rules within the park to ensure the safety of all visitors and wildlife.
4. Respect Quiet Hours: Many campgrounds have quiet hours, typically from 10 PM to 6 AM. Be considerate of fellow campers and adhere to these guidelines.
Planning Your Itinerary:
Yellowstone is vast, and planning your itinerary in advance will help you make the most of your visit. Here are some top attractions you won't want to miss while visiting:
1. Old Faithful: Witness the iconic geyser's eruptions, which occur approximately every 90 minutes. The Old Faithful area also features a visitor center and a boardwalk around the thermal features.
2. Grand Prismatic Spring: One of the park's most stunning features, this large and colorful hot spring is located in the Midway Geyser Basin.
3. Yellowstone Lake: Enjoy scenic views, fishing, and boating on the largest high-elevation lake in North America.
4. Grand Canyon of Yellowstone: Marvel at the breathtaking waterfalls and colorful canyon walls in this awe-inspiring area.
5. Wildlife Watching: Keep an eye out for bison, elk, wolves, grizzly bears, and other wildlife that call the park home.
Other Lodging Accommodations:
If you're not looking to bring your RV or don't enjoy the RV lifestyle, there are so many other options to choose from your lodging with amazing opportunities to explore Yellowstone National Park.
VRBO hosts have a plethora of stunning and affordable options to book that will get you up close to the park's dreamy landscapes and unforgettable experiences.
Click here to search VRBO Vacation Rentals near Yellowstone. 
Final Thoughts
Yellowstone National Park offers a once-in-a-lifetime experience for RV enthusiasts and nature lovers alike. Exploring this iconic park in an RV or staying at a nearby VRBO rental allows you to immerse yourself in its natural beauty and unique features.
From the captivating geothermal wonders to the diverse wildlife, every corner of Yellowstone has something special to offer. Plan ahead, follow park guidelines, and create memories that will last a lifetime as you journey through the enchanting landscapes of Yellowstone National Park. If you dream of visiting Yellowstone, we hope this guide gets you started on your journey.