This post may contain affiliate links. Exploring new sights is a participant in the Amazon Services LLC Associates Program. As an Amazon Associate, we earn from qualifying purchases linking to Amazon.com and affiliated links.
RV Decorating Ideas |  I love the fall season so much with the cooler weather and leaves changing colors. 
I also love decorating for the fall.
So, whether you're living in your RV full-time (like us) or taking a few fall camping trips, decorating your RV for the season is a lot of fun.
Autumn brings a sense of home and warmth to many, so making sure you expand that feel to your RV is always a nice touch.
So, here are some great fall decorating tips, and some inspiration from other RVer's.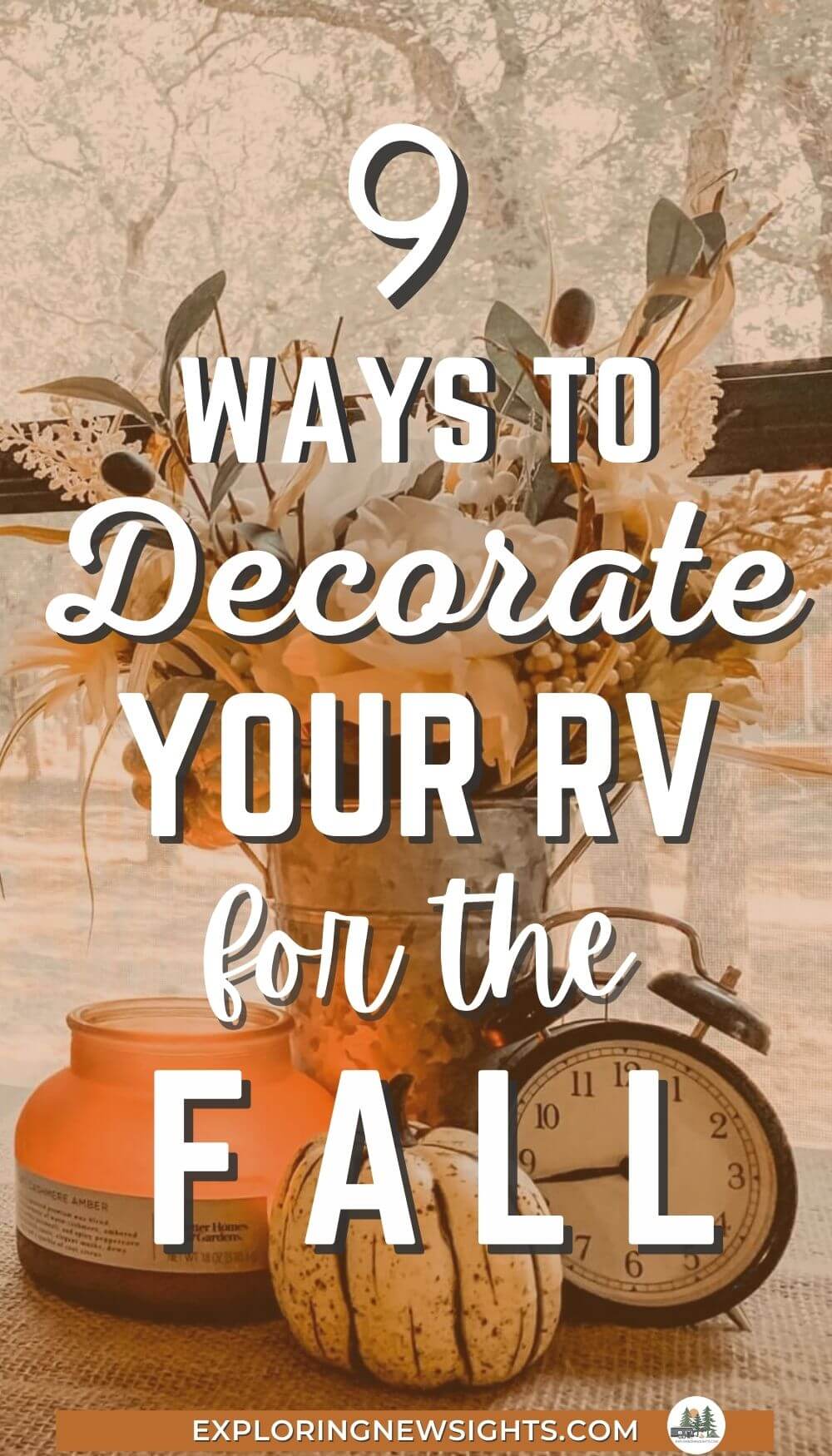 1. Change out the Pillow Covers
This is a super simple way to change out the décor for the fall season. Plus, there are so many different options and it's a super budget-friendly way to bring the feel of Autumn inside while camping or if you live full-time in an RV.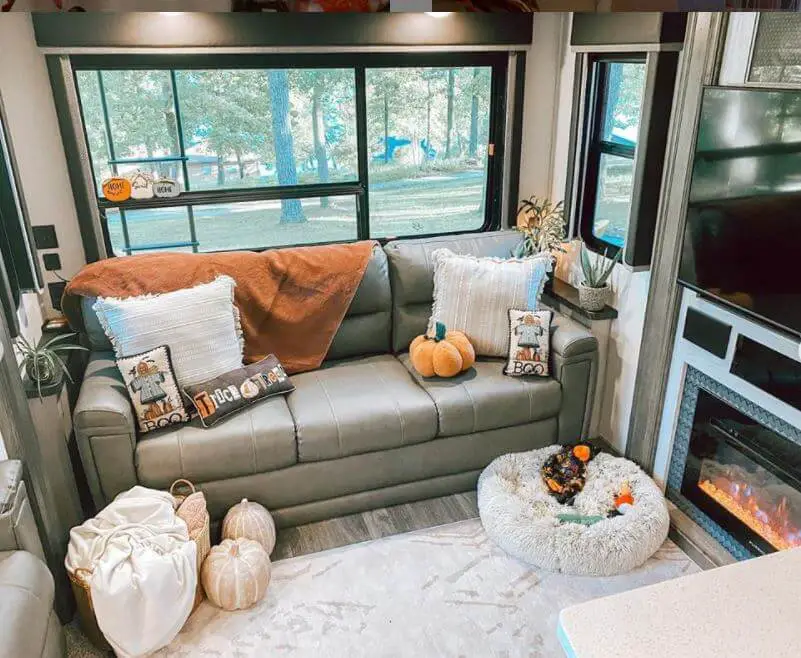 2. Add a Warm Fall Colored Blanket
The weather begins to cool down during this time of year, and having a cozy fall blanket adds extra warmth to your space.
You can choose a fall-inspired option with thankful sayings and pumpkin decor, or go with a fall plaid or warm solid.
Whichever you decide, it will be a perfect touch of fall in your RV.
3. Add a Fall Wreath
A wreath is a perfect way to add seasonal decor to any space indoor or outdoor.
Wreaths are perfect to hang over doors or the slides of your RV. 
 

 

 

View this post on Instagram

 

 
4. Decorate the RV Outside with a Fall Mat, and more
The outside of your RV is a place where a lot of time is spent, so making sure your spruce the area up is a must for the fall. 
It can be simple and budget-friendly too. All you need is a wreath, a fall-inspired doormat, some pumpkins, and maybe a sign.
However, you decide it will be perfect! 
5. Create a Fall Inspired Bouquet
This one is easy and super budget-friendly.
I purchased these fall-inspired flowers and the tin bucket from Walmart for less than $20. (Photo on left or top)
You can use the bouquet in many areas including the table or kitchen counter. 
6. Decorate with Leaf Garland
Leaf garland is a popular and inexpensive way to decorate for the fall.
You can add the garland to your RV slide, above the fireplace, or around your doors. 
7. Use Pumpkins
Awe.. pumpkins are a classic and perfect way to decorate for the fall. You can choose real pumpkins or faux ones. 
There are so many options with pumpkins and placement so you have fun with them. 
I personally like to use real ones outdoor for decor, and the faux pumpkins indoor. 
8. Change out some Wall Decor
Adding a simple sign that says "Hello Fall" or "Give Thanks" to a wall or above a door is a great way to add RV fall decor. 
Using command strips and command hooks is the best way to easily change things up without damage to the RV walls. 
Final Thoughts
RV decorating for the fall is fun and makes you enjoy the season even more.
I hope these ideas and inspiration from other RVers have inspired you to decorate your RV for the fall.
Autumn is a beautiful time of year and adding in the decor, the fall candles, and delicious pumpkin spice lattes make fall come alive when camping.