This post may contain affiliate links. Exploring new sights is a participant in the Amazon Services LLC Associates Program. As an Amazon Associate, we earn from qualifying purchases linking to Amazon.com and affiliated links.
If you love staying at unique hotels and enjoy new experiences, then the Lone Star Court by Valencia Group is a great option.
My husband chose this hotel because the images were warm and inviting. After some research, we fell in love with the concept and thought we would enjoy staying in a place that looked fun and unique.
Lone Star Court is in a location called The Domain in Austin, Texas. It is surrounded by apartments, shopping, and delicious eateries. Perfect for the socialite and the introverted at heart.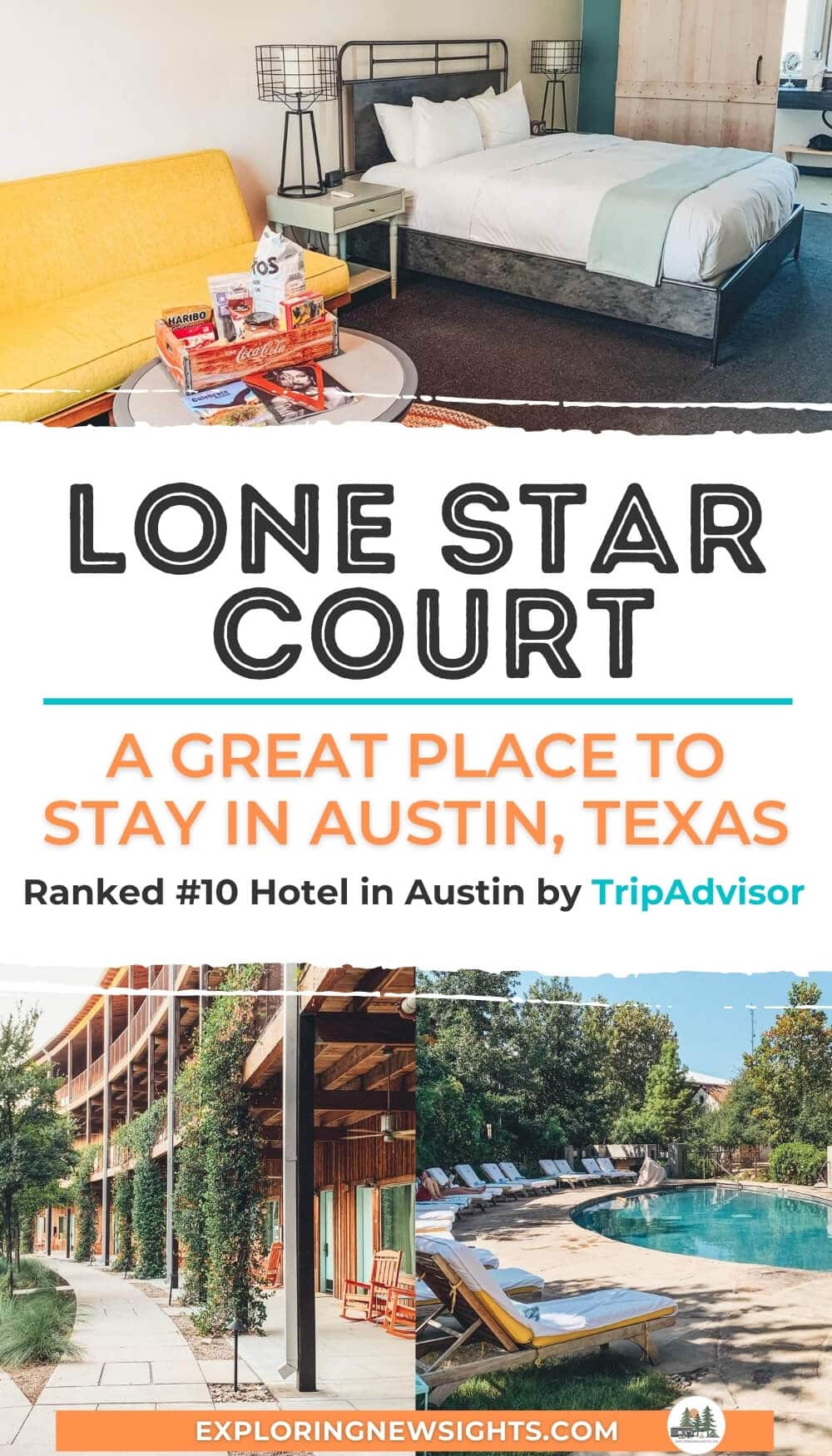 Lone Star Court gives you the glamping hotel experience but in the big suburban city.
The hotel is a twist of modern retro with a touch of country chic. It brings in the past and merges it with the present today.
Fun Fact: Lone Star Court is rated #10 for Hotels in Austin by TripAdvisor and won travelers choice 2020.
Checking in Process
The check-in process was a breeze. The lobby is a nice and quaint space with a warm welcoming feel. You will also receive a free beverage of your choice, either bottled water or soda.
As you check-in, you will receive two keys, a map of the property with room location, and a brochure with all things you can do at the hotel and surrounding the hotel.
After checking in at the front office, we made our way to the closest parking space to our room location. This hotel has FREE parking and a lot of open availability around every building for easy access to all rooms.
Our room was located on the second floor with quick access either by elevator or by stairs.
All About the Property
Lone Star Court is located on 4 acres with three curved buildings. Each building is set up with the main walkway/balconies so everyone can enjoy interior courtyard views from their room.
The courtyard offers gorgeous landscaping and a pavilion that is perfect for their weekend entertainment, gatherings, or even weddings.
I remember saying to my husband while we were enjoying our drinks on the patio and listening to the music, that the hotel would be a great place to have an outdoor wedding. All the guests could book rooms and enjoy the entire place.
This hotel is also the perfect place for a date night couples that are looking to get away, enjoy some entertainment, drinks, yard games, S' more's, and more. They even have an option to add a S' more package on to your room for the whole experience.
There are three different packages you could purchase: The Glamping Package, the Date Night Package, and the Pet Package.
YES, they are pet friendly, so you can bring your furry friends!
Here are some more facts and amenities you should expect while staying at Lone Star Court in Austin, Texas.
 

 

View this post on Instagram

 

 
Hotel Facts and Room Amenities
Free High-Speed Internet (WiFi)
Pool with Sun Loungers and Beach Towels
Free breakfast
Bicycles available for Guests
Business Center with Internet
Electric vehicle charging station
FREE Parking
Fenced in Outdoor pool
Bar / lounge
Complimentary welcome drink (Bottle Water or Soda)
Happy hour
Snack bar and Mini Fridge
Down Feather Bedding
Egyptian Cotton Linens
Luxury Robes
Plush Towels
Complimentary Toiletries
Desk with Phone
42" Flat Screen T.V.
USB Charging Stations in the Rooms
Handicap/Hearing/Seeing Impaired Rooms Available
Elevators
Gated Interior with Key Access
Evening entertainment
Patio with Personal Rocking Chairs
Board games/puzzles
Taco Truck Outside
Banquet & Meeting rooms
Fitness Center
Non-smoking hotel
Outdoor fireplace
Outdoor furniture
ATM on-site
Umbrella
24-hour check-in
24-hour front desk
Express check-in / check-out
Dry cleaning & Laundry service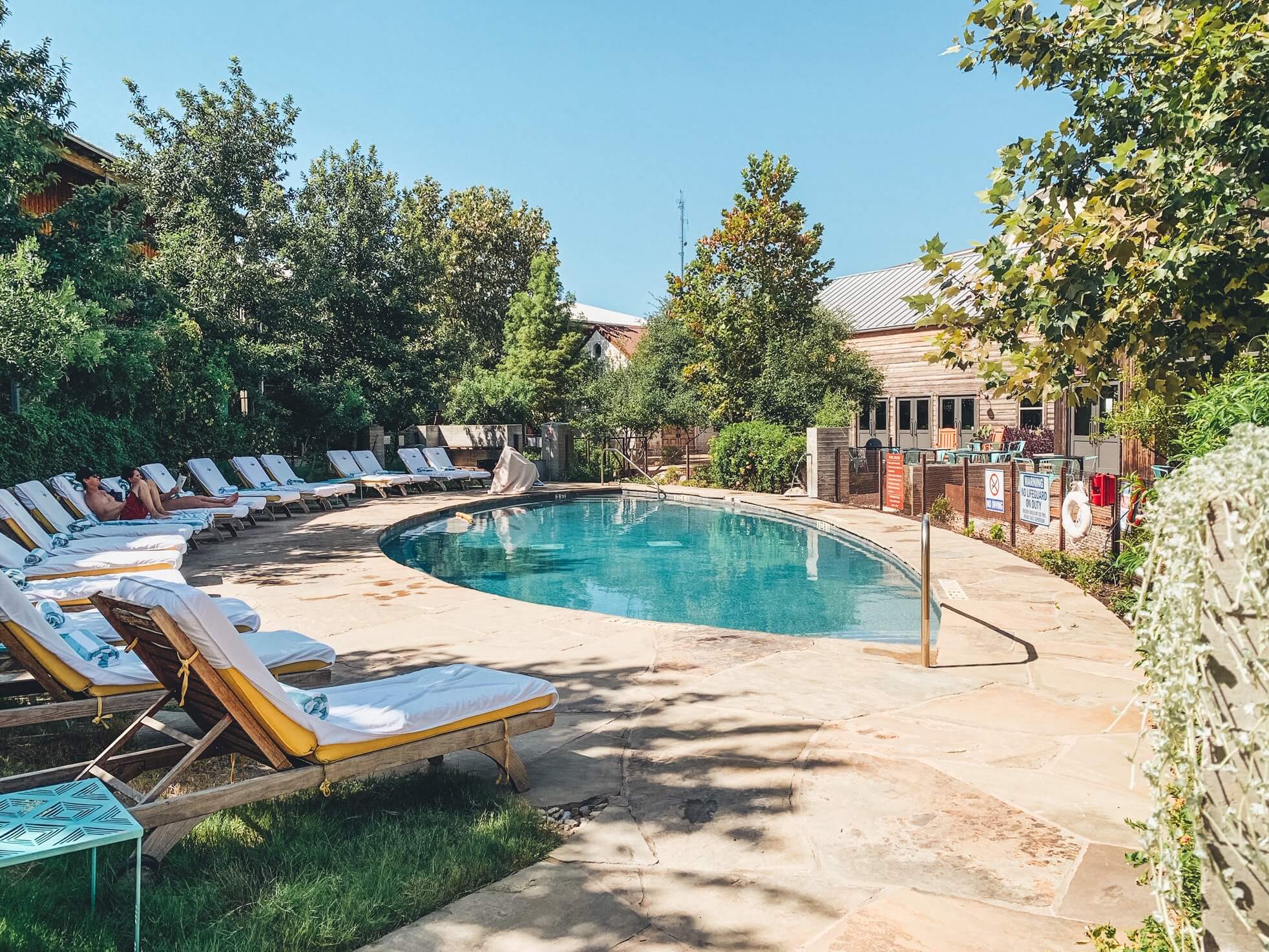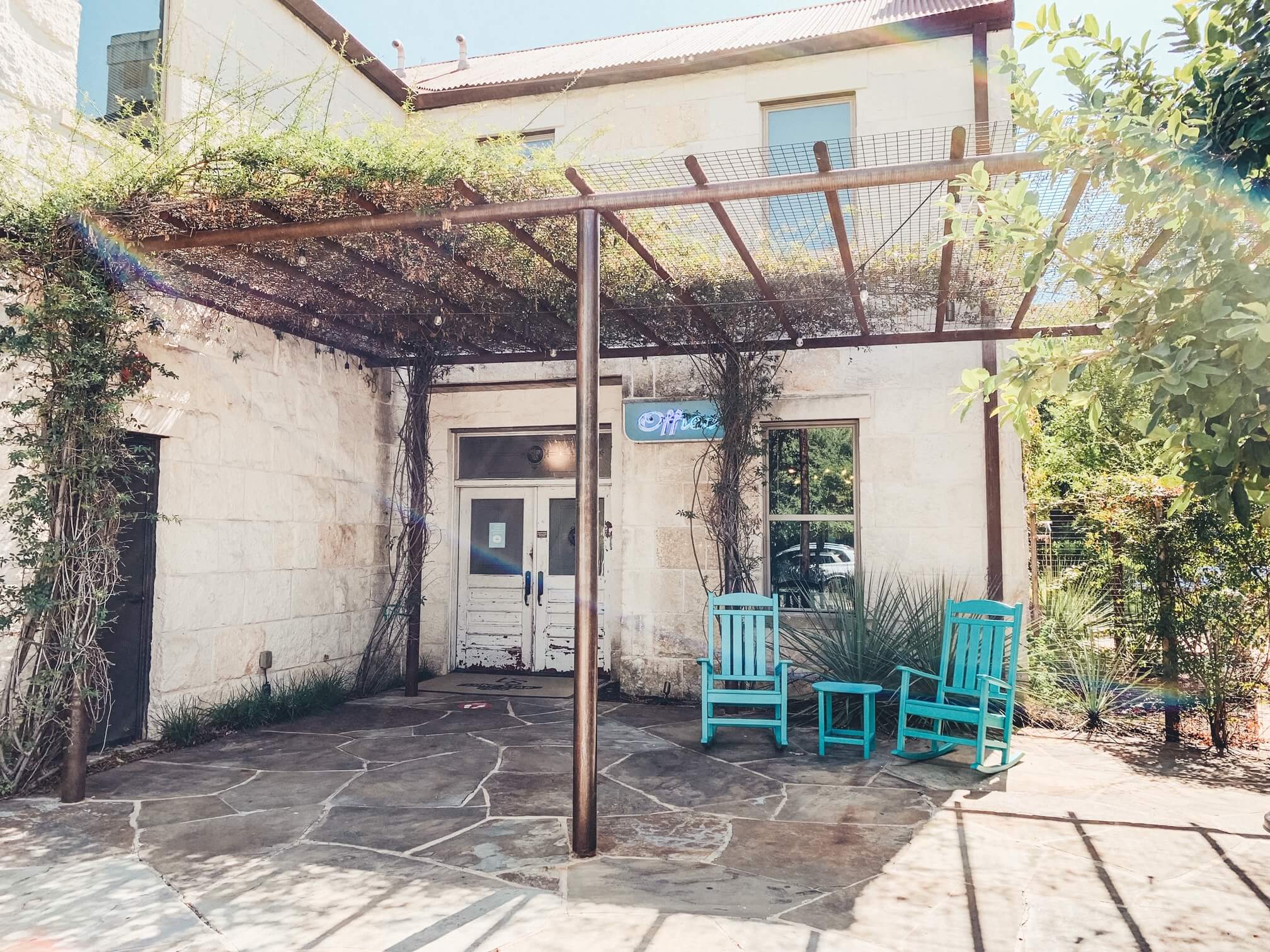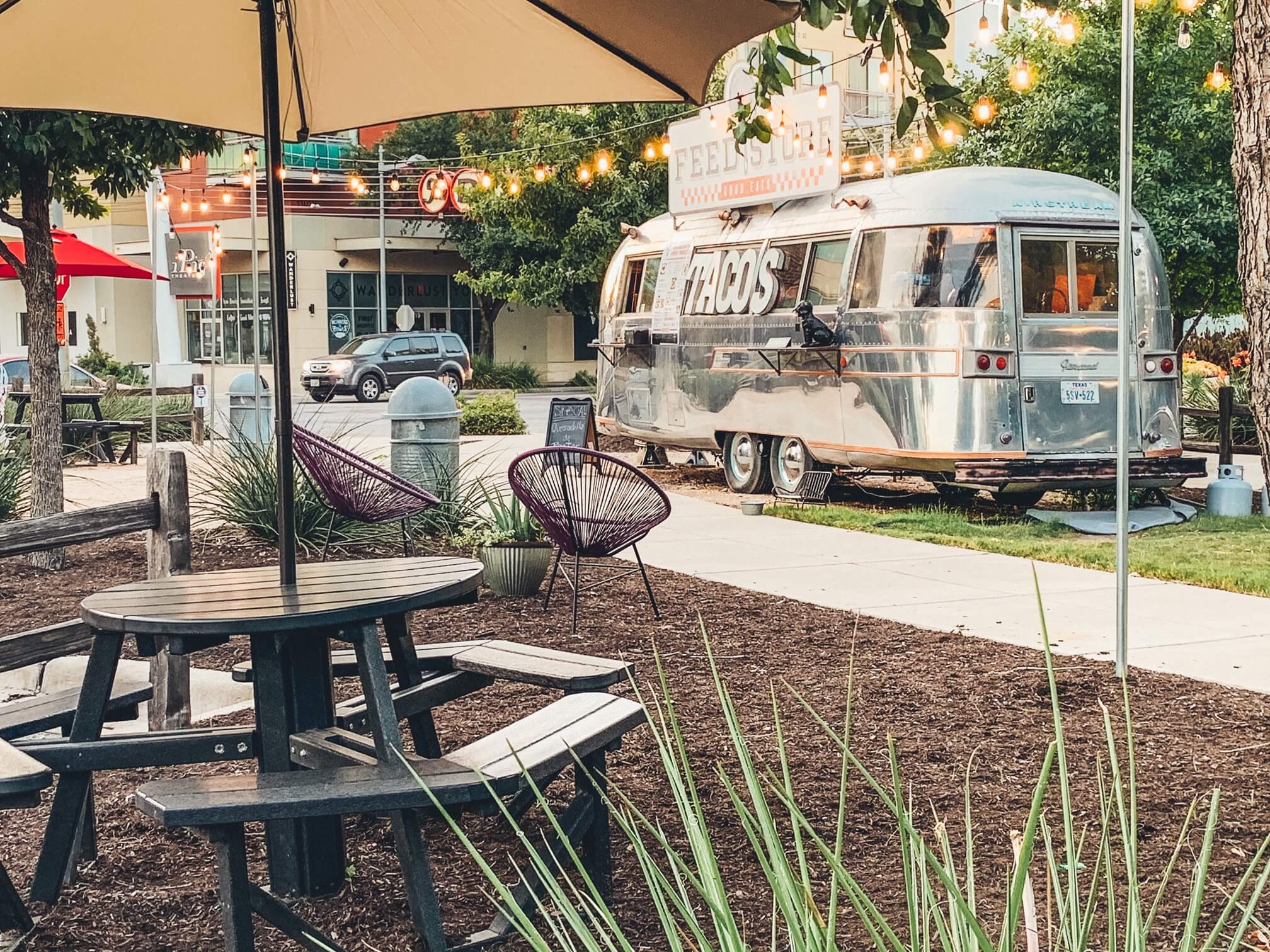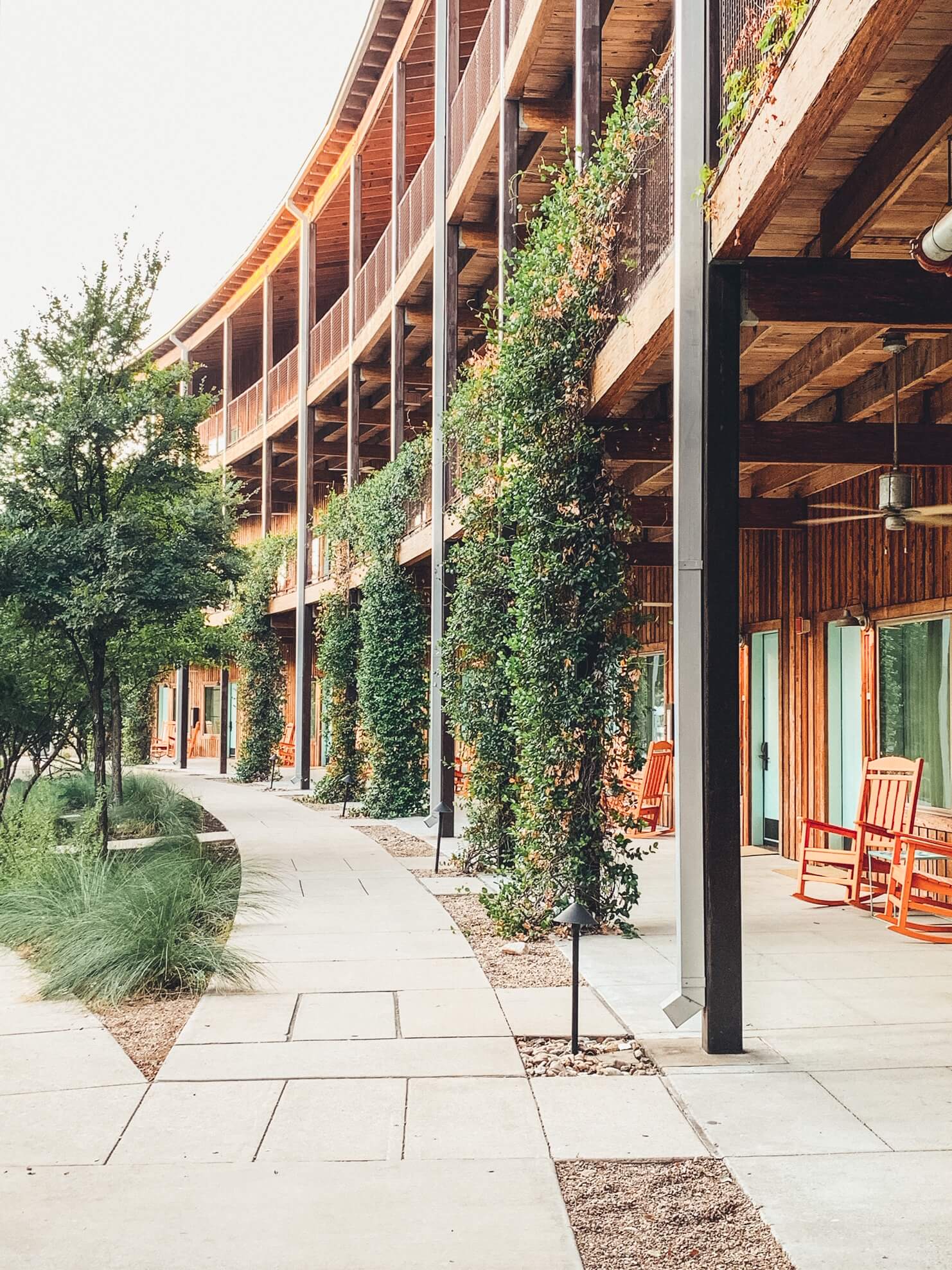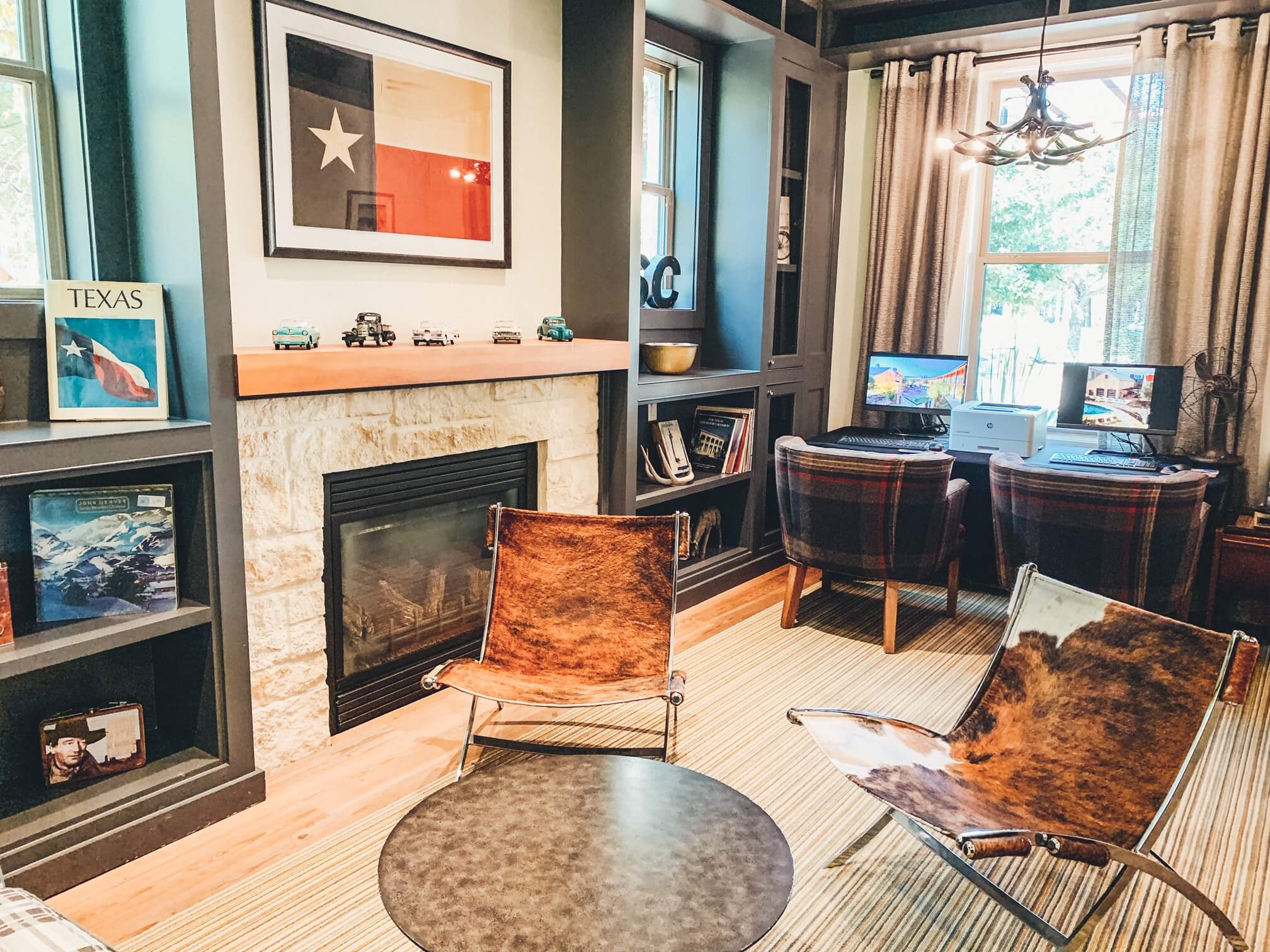 All about the Room and Accessibility
The room we received was a hearing-impaired room on the second floor in building E. After entering our room, about 5 minutes had passed, and we received a call from the front desk asking us how our room was and made sure everything was okay.
That was a first for me! I don't know if it was because they gave us a hearing-impaired room or if that's standard with all guests.
We enjoyed the location of our room because it wasn't right above the music playing but we were still able to hear the band play at night.
Our room was spacious, clean, and inviting. The King Bed was comfortable and cozy. The colors were bright and the special unique touches of cool retro lighting and decor pulled the room together nicely.
I absolutely loved the bedding! The Egyptian cotton linens, the down feather mattress toppers, comforters, and pillows are so luxurious and comfortable.
We slept so well it's inspired me to buy a feather down topper and pillows for our RV bed.
Here is a picture of our room!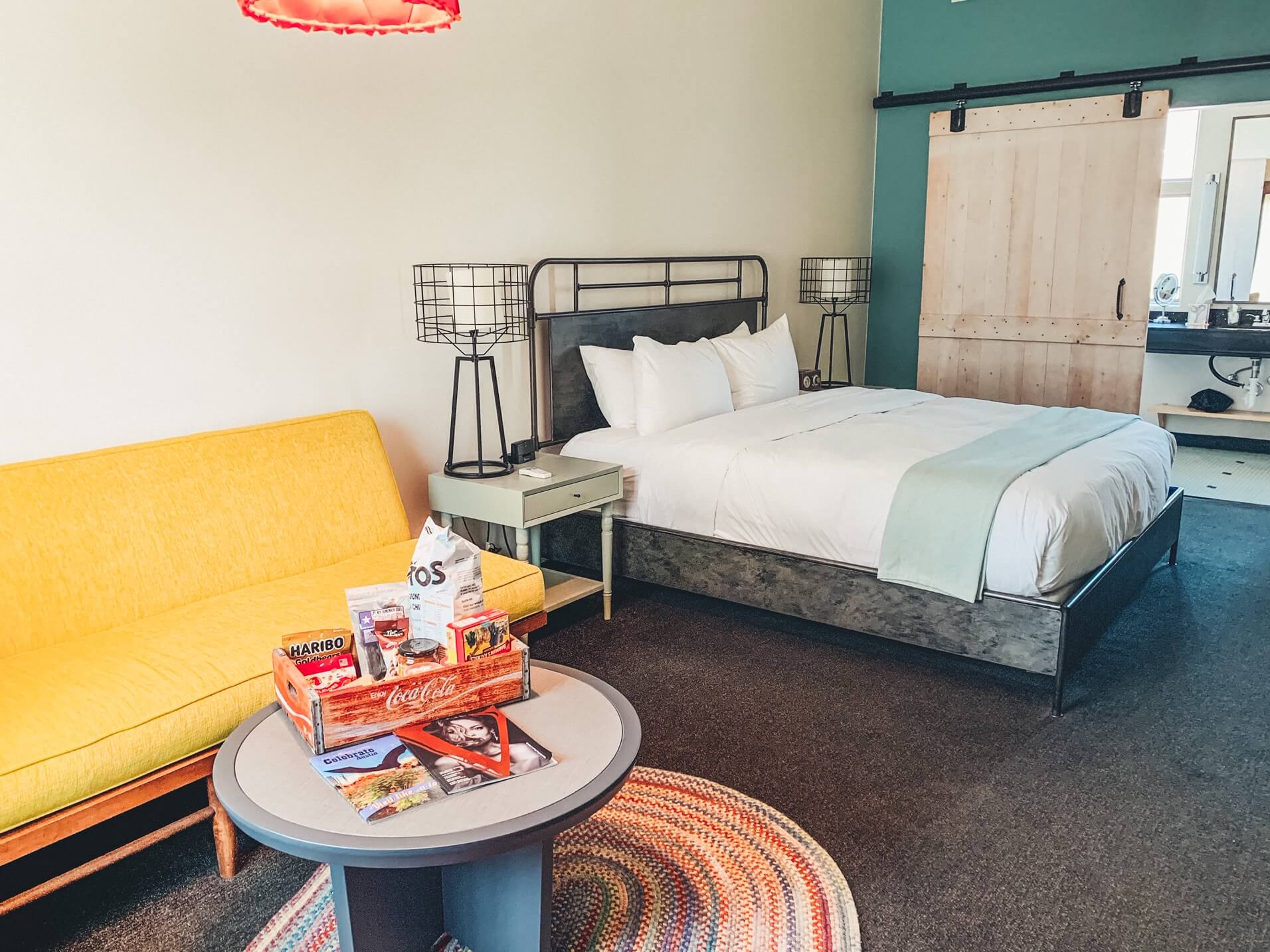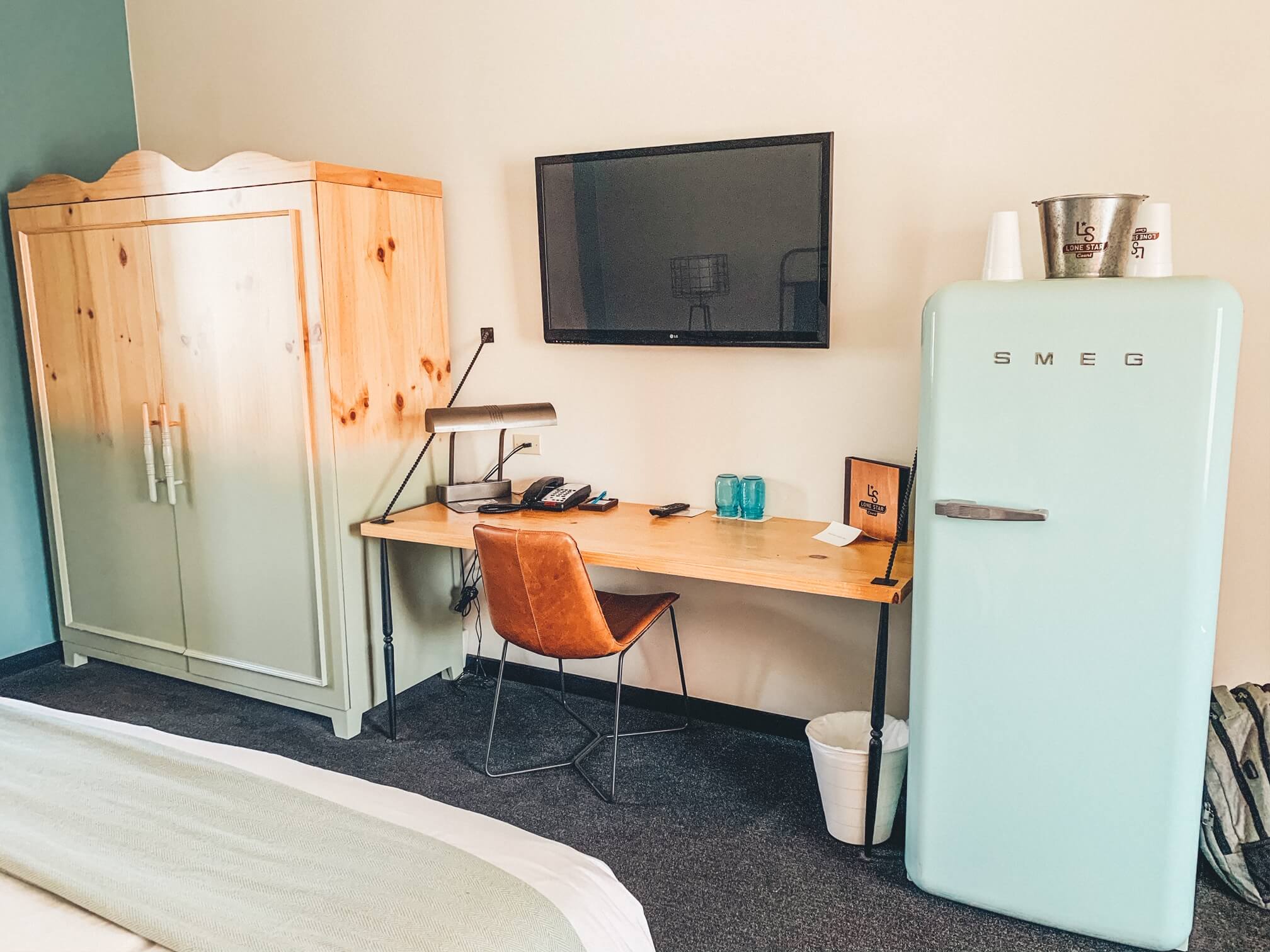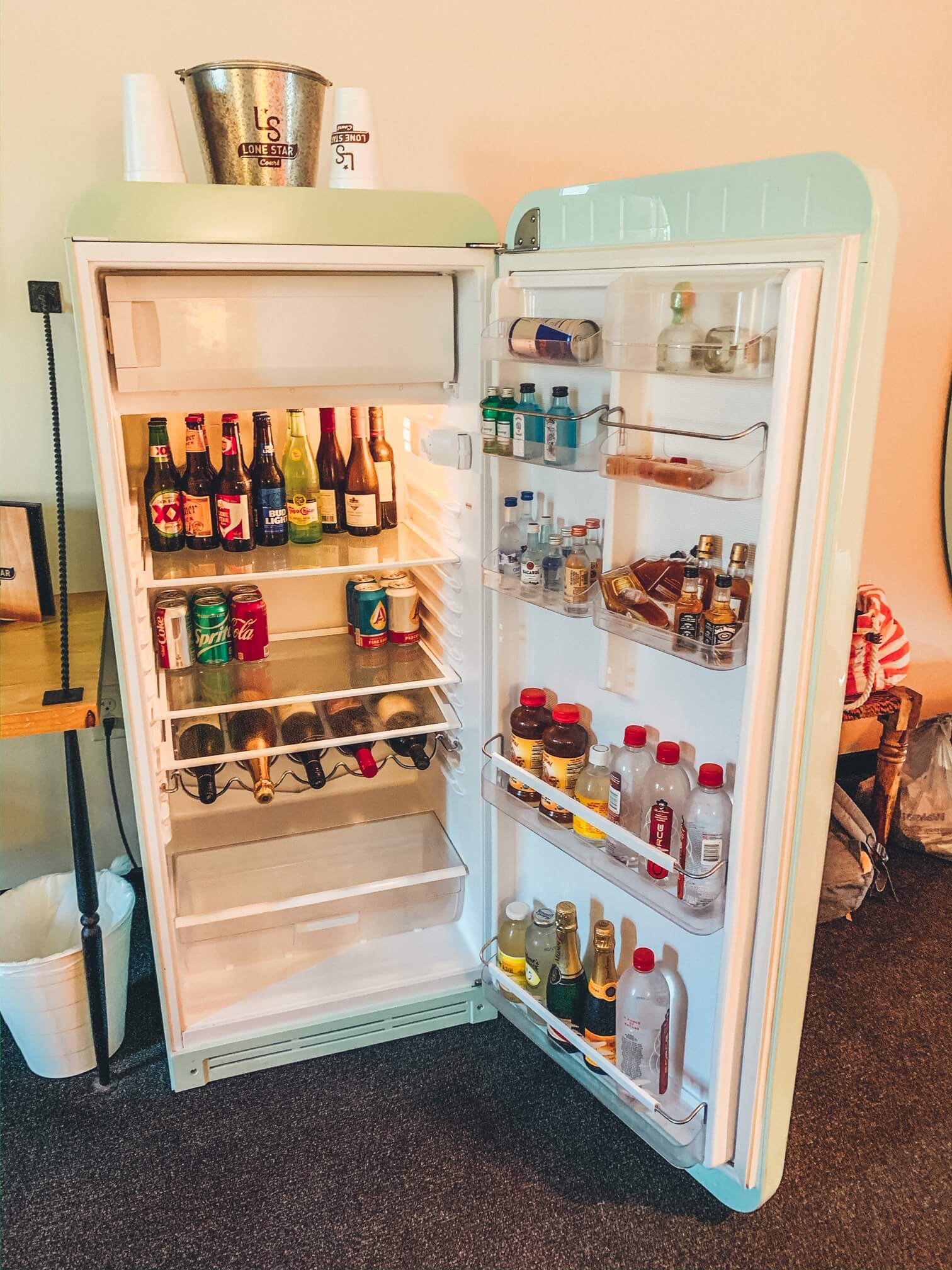 How did we get our Rate and was it worth the price?
We booked our stay at a rate through our insurance with USAA. The room price we paid was around $150 with taxes and fees. It was a simple booking process and only charged us after our stay.
Due to the pandemic, we had 24 hours up to check-in time to cancel for free.
I wish we would have checked the package options and prices on their website before booking with USAA. We will probably never use USAA "discounts" again because we could have received a better deal straight from their website.
What we learned: Always check the website prices before booking to make sure you're getting the best deal with any Hotel.
For being a 3 out 5 Star on the Hotel Luxury rating, I believe the price for the unique hotel experience and the amenities that are available is on point.
When did we travel?
My husband booked our stay for Mid-August right before school was scheduled to begin. It was an end of summer small getaway that we wanted to take and enjoy.
Choosing to stay in the middle of a pandemic, the hotel adhered to all the safety precautions and guidelines.
All staff wore masks and they monitored the pool by allowing 18 guests at a time with 2-hour time slots for each family to enjoy swim time.
Did we enjoy our stay?
We absolutely did enjoy our stay and would book this hotel again for future trips to Austin.
We love Austin because there are so many outdoor activities to do and explore.
The property alone is worth the stay with the courtyard, restaurant, and games. It's perfect for families with kids of all ages!
There are plenty of activities and options to enjoy a full day and night within the hotel property alone.
One thing I loved about the hotel is the feeling you get while inside. You completely forget how busy the exterior is with all the shopping and eateries.  Plus, there are gates to keep non-hotel guests out to provide safety since the hotel is surrounded by apartments and shopping.
We would definitely stay at this hotel again and recommend this place to our friends and family!
Final Thoughts
After our enjoyable stay, I wished we would have booked an additional night. It's worth the price for the amenities and location in Austin. I can see why this hotel is ranked #10 in Austin, Texas by TripAdvisor.
If you would like to book your stay check out their website first; www.lonestarcourt.com


Contact Information

Address: 10901 Domain Dr, Austin, TX 78758
Phone Number: (512) 814-2625
Please know that Hotel prices will fluctuate depending on the season, supply, and demand.
If you enjoyed and found this review helpful, please feel free to share it on social media.
Looking for an Honest Review on your Hotel or Bed and Breakfast, please visit our "Work with us" page for details.
As always, thank you for stopping by!
Like this review? Share on Pinterest