This post may contain affiliate links. Exploring new sights is a participant in the Amazon Services LLC Associates Program. As an Amazon Associate, we earn from qualifying purchases linking to Amazon.com and affiliated links.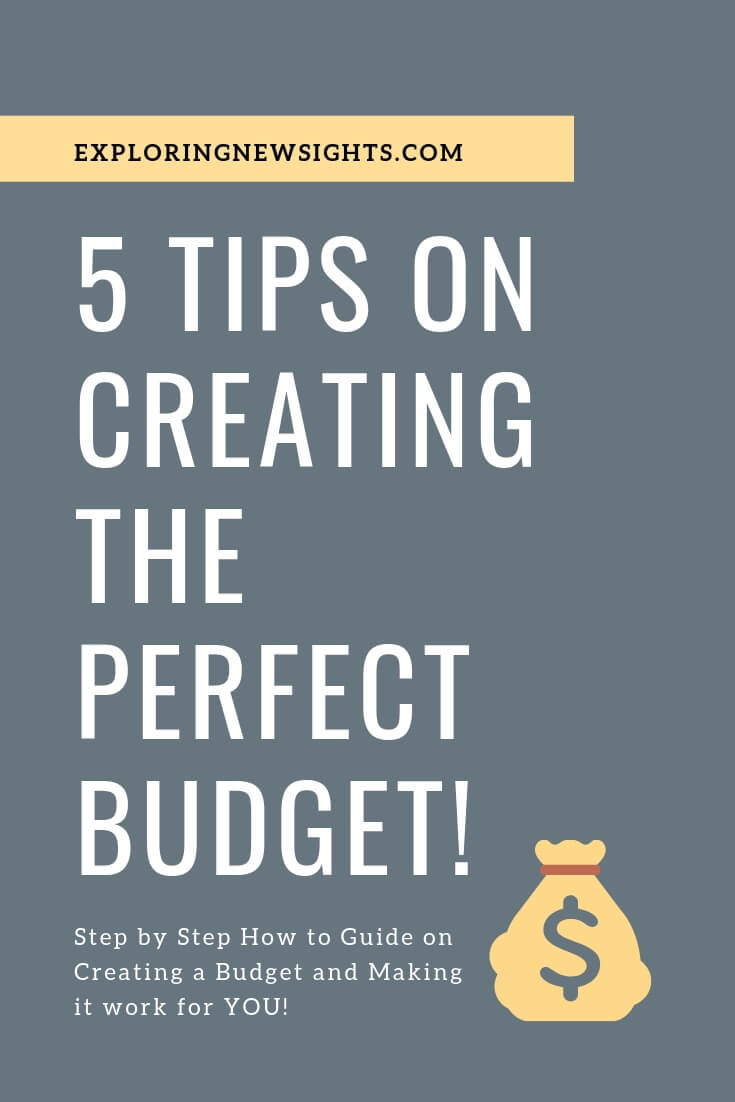 Creating the perfect budget doesn't have to be intimidating or overwhelming. But first, what is a budget?
A budget is just creating a plan for your money. Kind of like how you create a plan to write a paper or create a plan for a day of fun. A budget is similar.
Now, if you don't know how to budget or the thought of a budget causes you to stress, I am here to tell you to not worry! Budgeting can actually help you relieve stress!
It's all about taking it step by step. Just like when you plan your day, you start with a section of the day like the morning and then move on to the afternoon and evening. Budgeting is the same concept and it must be broken down into sections and taken one step at a time.
There are many different apps to help you, or if you enjoy writing things down, check out these budget planners.
Step 1: Look at your Monthly Income
Take a look at your paychecks and see how much you bring in every month. If you get paid Bi-weekly, then add 2 paychecks together. If you get paid every week, then usually that is 4 paychecks that need to be added together. By knowing what you make on average every month will help you become aware of what you can afford.
However, if you wait tables, bartend, or live on commissions, look at your deposits on your bank statements and average a least three months.
Step 2: Subtract your monthly expenses
Monthly expenses are usually the following:
Mortgage
Car/Gas
Insurance
Utilities (electric, water, gas)
Food
Credit Cards and/or Loan payments
Phone/Internet/Cable/Netflix or other programs
Memberships
Savings (Pay yourself)
Miscellaneous
Look at your bank statements from the past couple of months. Take all your expenses and add up your purchases by category. Categories can include bills, food, extracurricular activities, etc.
Once you've categorized all your expenses and added them all together, next subtract the total from your monthly income.
Is the number negative or positive? If it's negative, it's time to prioritize and cut back. If it's positive, you did well last month, but you should still create a budget because you might be able to put more money towards savings or debt.
Step 3: Check your calendar and due dates
Now that you know how much your average income is every month, and how much your bills and expenses are, now it is time to check those due dates. It is important to know when your bills are due every month, this will help you make sure you have the money in your account, so you never miss a payment.
For example; if your rent is due on the first and your car is due on the 20th, write it on your calendar and budget spreadsheet. Then, you will want to make sure that the paycheck you receive before those due dates will cover those bills.
Tip: Always try and make your due dates for bills are spread out through the month instead of all being due on the first or all on the 15th.
Example:
| | | |
| --- | --- | --- |
| Type of Bill Due | Due Date Every Month | Amount |
| Mortgage | 1st | $$$$ |
| Car Payment | 10th | $$$ |
| Insurance (Car, House, etc.) | 15th | $$$ |
| Phone/Internet | 20th | $$ |
| Groceries | 5th & 20th (2x a month) | $$$ |
| And so on….. | ……… | ……… |
Step 4: Break it down and Create a plan
Okay, so now that you know your monthly income, you know the amount you spend on your bills, and you know when all your bills are due. Now is the time to break it down and create a plan. You can create that plan by working paycheck to paycheck or you could work it monthly. Whatever works best for you.
For Me, I know how much I make every month and I get paid bi-weekly. Therefore, I work by paycheck every two weeks, and the total amount I make covers all the bills for a month.
So first, I take what I currently have in my account, then I mark down my next payday. Once I know what and when I will get paid next, I then take all the bills that are due after that payday and before the next payday and subtract what is due.
For Example:
Take your current amount in account left over from the previous month: $100
Next paydays in January:
4th: $1000
18th: $1000
Bills/Expenses due between the paydays of the 4th and the 18th:
| | | |
| --- | --- | --- |
| Bill/Expense | Due Date | Amount Due |
| Groceries | 5th | $200 |
| Cell Phone | 10th | $300 |
| Insurance | 11th | $190 |
| Credit Card | 12th | $100 |
| Loan (Student/Personal) | 15th | $110 |
| Savings | 15th | $50 |
| Total Due | 4th – 17th | $950 |
 (Total paid on the 4th) $1000 + (previous month remaining) $100 = $1,100
Total amount due in bills after the 4th but before the 18th = $950
$1,100 available – $950 bills = $150 remaining
Move on to next payday-> Payday January 18th: $1000 
Remaining after previous payday and bill paid = $150
Calculate what is due from Jan. 18th payday to Feb 1st payday.
| | | |
| --- | --- | --- |
| Bill/Expense | Due Date | Amount Due |
| Groceries | 18th | $200 |
| Car Payment | 20th | $200 |
| Cable/Internet | 25th | $150 |
| Utilities | 25th | $100 |
| Total Due | 18th – 31st   | $650 |
       (Total paid on the 18th) $1000 + (remaining from last month) $150 = Total available $1,150
Total due from the 18th until next payday on Feb. 1st is: $650
$1,150 available – $650 bills = $500 Remaining
And so on…. Work paycheck by paycheck. If you find yourself with not enough money to pay your bills in between paydays, that is ok! Just cut back on some expenses. Work out paying just the necessities only.
If you still don't have enough, take from your savings to cover it until you can get to a point by working this method where your amount from the previous paycheck can overlap to cover the expenses. Also, once you get to the point where you always have the money available to pay and have extra, pay yourself back
5. Work your plan and revisit it every paycheck or more.
After every paycheck is deposited in my account I check my budget. After every bill is paid, I check my budget and mark it off. I re-budget, and if I have extra money or need more money towards something that has come up, I move money around and cut back on non-necessity purchases. This has helped me never go NSF in my account.
This is the exact method of budgeting I use and have used for over two years now. I have completely paid off two loans, one was over $6000 in 5 months and the other I had over $2000 left to pay and paid it sooner than expected.
By working paycheck to paycheck and being conscious of where my money was being spent every week, I have been able to have more money left over after bills to pay off debt faster. I cut out the expenses of eating out and instead started to meal plan before grocery shopping to prevent overspending on food. I have canceled memberships such as gym and massage envy to save money.
If I can do it, you can too! You can pay off the debt, save more, and live without stressing about money again. Budgeting does help relieve the stress because knowing what you spend money helps prevent you from overspending. If you spend $200 eating out every month and it has caused you to go NSF (non-sufficient funds) in your account, you can now say no or at least budget a certain amount for eating out monthly without going over.
Don't be afraid to budget for those fun things like going out or purchasing a new outfit. But, make sure the necessary bills are always paid first.
I hope this helps to see another way to create a budget. It's truly helped me overcome a lot of financial bumps and as I said helped pay and continuing to help me pay off the debt.