This post may contain affiliate links. Exploring new sights is a participant in the Amazon Services LLC Associates Program. As an Amazon Associate, we earn from qualifying purchases linking to Amazon.com and affiliated links.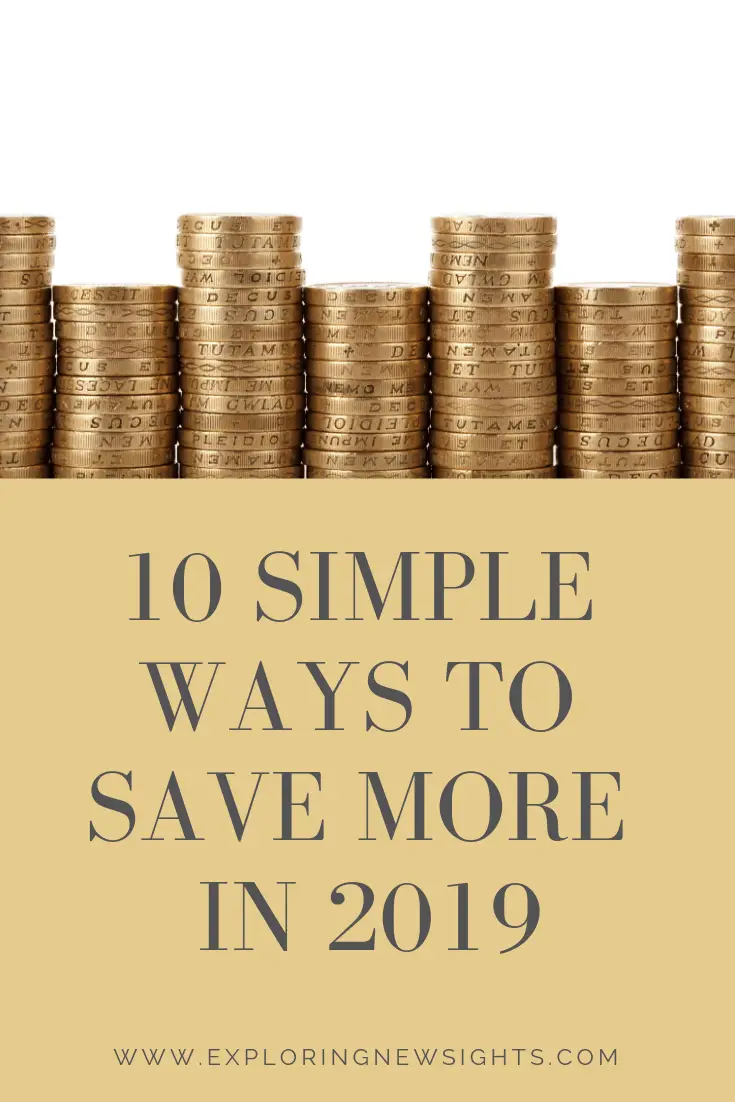 Saving money is so important! Since I was a little girl I would challenge myself to work and save as much as I could. It was like a game for me and when I met my savings goal, I won. I guess you could say I've always been a goal setter and enjoyed the feeling of achievement.
At a young age, I also understood that if I wanted to purchase something like a new TV or new clothes, I had to save up for it. I worked little side jobs and helped out at home to make extra cash to reach my goals. I even had the old lemonade stand at the community pool during the summer to make extra money.
However, saving is more than just getting enough to buy that big-ticket item, it should also be an emergency fund. As I got older I understood that having at least 3 months of living in your savings account is important, for those just in case moments. I say at least 3 months, but really 6 months of living is the ideal amount to have in a savings account. You never know when you might lose your job (been there), or something unexpected happens that you will need that nest egg. This amount of money could take a while to accumulate, but it's never too late to start saving.
Here are my top and favorite ways that have helped us save extra money.
1. Create a savings plan
Most importantly, write down your plan! I believe, when you write something down it takes the idea in your mind and physically makes it a goal. Creating a plan can easily be done by thinking of the amount you would like to have and dividing it by the number of months or weeks you want to save that money by. Ask yourself:
How much do I want to save?
What is my deadline to have this amount in savings?
How am I going to accomplish this savings goal?
For Example: If you want to save an extra $2500 in the full 12 months of 2019, that is about $208 a month you will need to save. Break it down, even more, that is $48 a week, or $6.85 a day. That $6.85 is a simple coffee usually purchased at Starbucks or local cafe. I personally like to work paycheck by paycheck. First I take out my bills that are a necessity like RV payment, Insurance, Truck Payment etc, then what is left over I put the savings goal amount away. Also, don't forget to check your savings account interest rates. You can earn on the money you put away in the account itself. Below you can download free 52-week savings plan to get you started!
2. Create a budget!
This is just as important as creating a savings plan. When you develop a budget, you set aside specific amounts of money to put towards each one of your bills. When you budget, you know exactly where your money is going, and this will help you figure out what you can cut down on to allow more money to be put into savings.
Related Posts:
3. Cancel your cable/Satellite. 
I know, this one may be tough especially for the sports fans, but with all the other possibilities to watch T.V. nowadays it is completely doable. We have Netflix, Hulu, and we share an Amazon prime account with family. You can also get an antenna that will pick up local channels. The one in our RV works amazing, but if you don't live in an RV you can get one like this HDTV Antenna on Amazon.
We watch live football games and popular shows like The Voice and American Idol on the local channels with our Antenna. Cable is expensive and I would rather pay $9 or $10 a month for Netflix and Hulu than spend $70 or more on cable when I only end up watching certain channels and shows.
4. Stop buying and start selling. 
Let's face it, we all accumulate a lot of stuff and sometimes even multiples of one item. My husband and I just completely downsized to live in an RV. We realized all the items we truly didn't need and could go without. We sold and made an extra $1000 in 2018 before moving in the RV. Items like clothes, jewelry, shoes, and furniture or decor items that are just sitting in the garage or taking up space can easily be sold on the Facebook Marketplace, garage sales, or even by word of mouth. I also gathered a lot of clothes that I just haven't worn in 6 or more months to sell at Plato's Closet. That money made was put directly into our savings.
5. Meal Plan and grocery lists! 
Before going to the grocery store, create a couple weeks of meals. This can take some time, which is why we love and use the $5 meal planning service. This service is the best thing ever! Plus, everyone is busy nowadays so to have your meals planned for you, can save you hours of time, as well as, money! Also, only purchase the items needed to make the meals and try not to go grocery shopping while you're hungry. Just a simple tip to keep from overspending on snacks or foods that are not on the list.
When it comes to groceries don't forget the rewards programs. We have and use the Kroger app/reward card! We love Kroger, and it helps us save on groceries and gas. I am sure Tom Thumb, HEB, or local grocery store has a similar rewards program for savings. If they do, use them! Not only do we save on groceries, but we also get points that we use to save on gas.
What about saving on groceries you've already purchased? To save even more, download the Ibotta app. This app lets you get cash back on groceries and much more after purchasing, by simply taking a pic of your receipt and uploading it to the app.
6. Couponing!
There is no shame in heading to the check out line with 20+ coupons for items you know you are going to use to save money. Kroger, for example, has an app that you can link to your savings card. In this app, they provide weekly coupons that you can add to your saving card alternate ID to save even more money. Another great plus with the $5 dollar meal plan is they provide great coupons with your service! Meal plans and coupons, that is a win, win! 
7. Stop eating out! 
This kind of goes with the Meal plan and grocery list, but trust me, I know how tempting it can be to not cook and instead drive through that burger joint. If you enjoy a night out with friends or date night, I have found that budgeting for "entertainment" helps prevent the overspending on eating or going out.
8. Stop using your credit cards!
Instead, pay cash. If you owe on your credit card work on paying them off. Credit cards accrue interest, meaning if you have a balance you're paying more money than you actually spent. So, by not using credit cards you're eliminating the ability to accrue interest. If you do use a credit card to build credit, pay it off every month and research the best reward programs.
9. Check your Insurance policy.
Insurance policies are usually 6 months. Don't be afraid to take a couple hours to shop around for the lowest prices when your policy is ready to be renewed. When Matthew and I purchased our Truck, we called many insurance companies for quotes instead of going directly with our current company. You may or may not be surprised if another insurance company could lower your rates and save you money.
10. Work out at home.
Nowadays, there are some many youtube channels and videos that are dedicated to home workouts. Having a gym membership isn't a necessity. Matthew and I have P90X and Insanity DVD sets. We rotate the DVDs, as well as, watch youtube videos and even Amazon Prime workout videos. You can also go and enjoy the outdoors by taking a hike, going for walk, or a bike ride; whichever type of cardio outside you enjoy.
There it is! I wanted to keep this short, and really highlight the top 10 ways that we have found to save more money. The ability to save money has benefited me in life to buy things I desired as well giving me the ability to pay a medical bill when I got sick or helped out family members.
Also, having savings releases stress. Money is one of the number one things people stress about, but having savings will help eliminate that stress. Knowing that if you lose your job, but you have 3 to 6 months worth saved to live off of is freeing.
So get out there and start saving! You can do it!
What are some great savings tips that you use? Comment below and don't forget to follow us!