This post may contain affiliate links. Exploring new sights is a participant in the Amazon Services LLC Associates Program. As an Amazon Associate, we earn from qualifying purchases linking to Amazon.com and affiliated links.
When I think of a Beach Vacation, I think of Destin, Florida!
Destin is also known as "The World's Luckiest Fishing Spot". This destination was named after the fishing captain Leonard Destin from the mid-1800s. He and his descendants built their homes and lively hood across this beachy area.
Yet, it wasn't until 1984 when Destin gained substantial growth from tourists.
Today, the area receives about 4.5 million visitors a year but is only home to 14,247 fulltime residents according to the U.S. Census.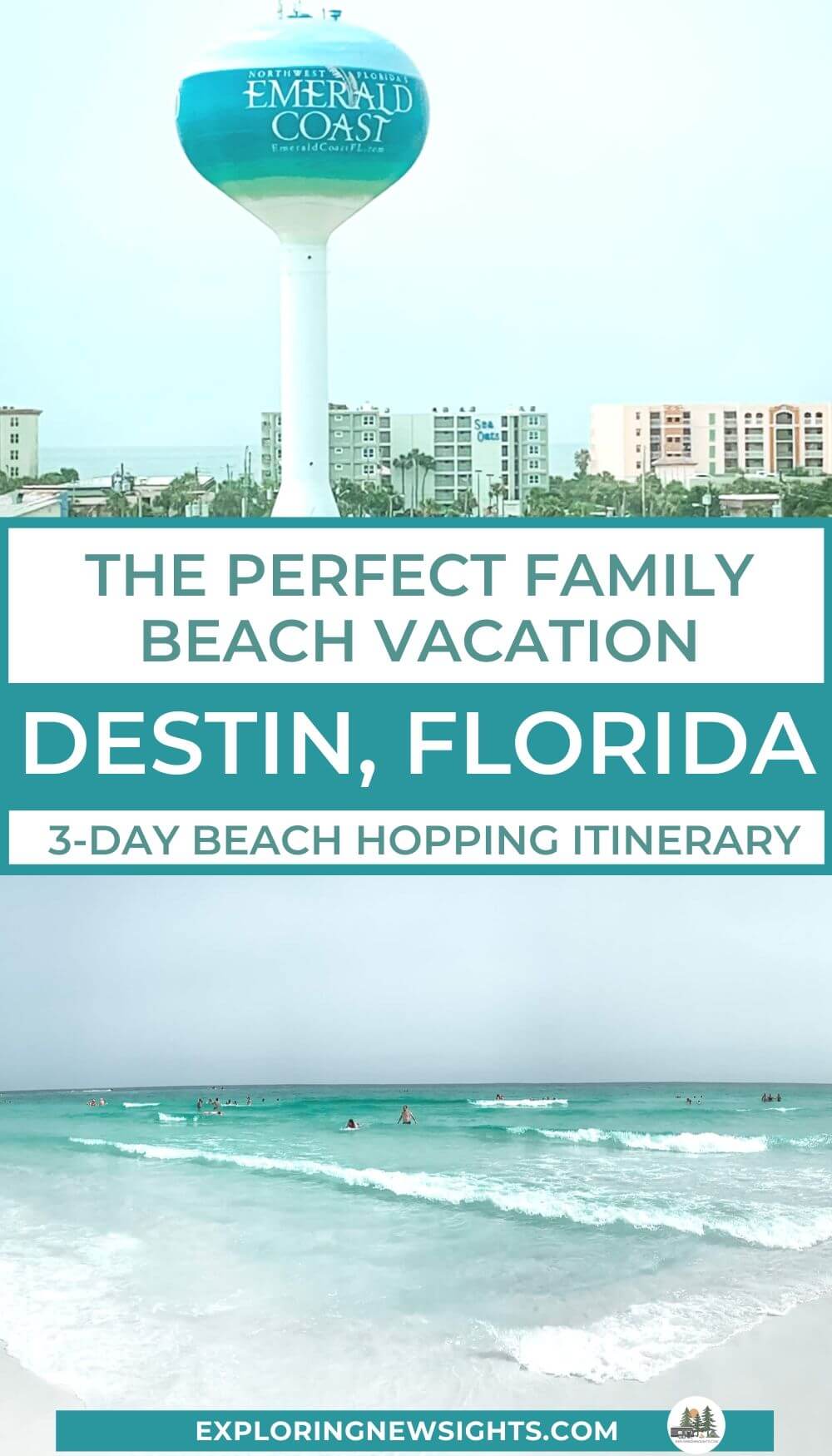 This strip of emerald coast and white sandy beaches is a vacation dream destination. Destin, Florida has been on our bucket-list of travel for a while.
We've been on many beach vacations including Hawaii, San Diego, and Daytona to name a few. However, we always heard how beautiful the white sand beaches were on the Gulf Coast of Florida.
Now, we live in the Dallas/FortWorth area, so for us, it is about an 11-hour drive. That seems like a long trip, but when you have two drivers it's not a bad drive. Plus, we love a good Road Trip!
Therefore, Destin seemed like the perfect place to take our first vacation as a family.
So, here is our beach vacation to Destin, Florida as well as some tips if you plan a visit yourself!
Where we stayed | Hilton Honors
Since we didn't stay in the RV, we chose to stay at the Hampton Inn and Suites in Navarre, Florida. Price, location, and accessibility to different beaches is what intrigued us.
I am a Hilton Honors Member and I get Travel Agent prices with an IATA card since I work for Avoya Travel. Therefore, we were able to get a good deal on the room available.
Navarre, Florida is located in between Destin and Pensacola. This gave us the opportunity to check out 3 beaches during our stay without traveling too far for each one.
Why we didn't take the RV
You may be wondering why we chose not to bring the RV on this trip.
Well, since we live fulltime stationary in our RV we decided to take the opportunity to enjoy a nice hotel stay.
As much as we would have loved to take the RV, we found it cheaper to drive the truck and stay in a hotel. This saved us gas money!
Also, since we only planned to stay 3 days, taking the RV wouldn't have been worth it for us unless we were staying longer.
We did, however, scoop out some RV parks along the way for a future 6-month trip that we want to plan.
Is the Destin area a good place to bring kids?
YES! Destin, Florida is the perfect place to have a family beach vacation! No matter the age of your children, the beaches are perfect and shallow enough for all to enjoy the water.
I would always take precautions depending on your child's swimming capabilities.
There are some beaches that do not have LifeGuards on Duty. If this is something you require, I would research this ahead of time. Also, know the beaches we went to that had a lifeguard was Crystal Sands Beach and Navarre Beach.
One thing to note is the sand is not packed like some beaches you'll find in Daytona. So bringing anything with wheels like a stroller or a wagon isn't recommended. We made the mistake on the first day of bringing the stroller and we ended up having to carry it while on and off the beach.
Besides the white sand and emerald clear water, the Destin area has wonderful places the whole family can explore.
What we brought to the beach
4 beach towels
A canopy cover from Academy Sports
Sunscreen
Tanning lotion
Baby sunscreen
A couple of baby toys
Bottled water
Snacks
It's been a while since we've been to the beach, so next time we have a beach vacation, we are going to bring some chairs.
We saw some at the local Alvin's Beach store less than $10 each. The beach chairs and cooler was the only thing we didn't have with us that we will have next time.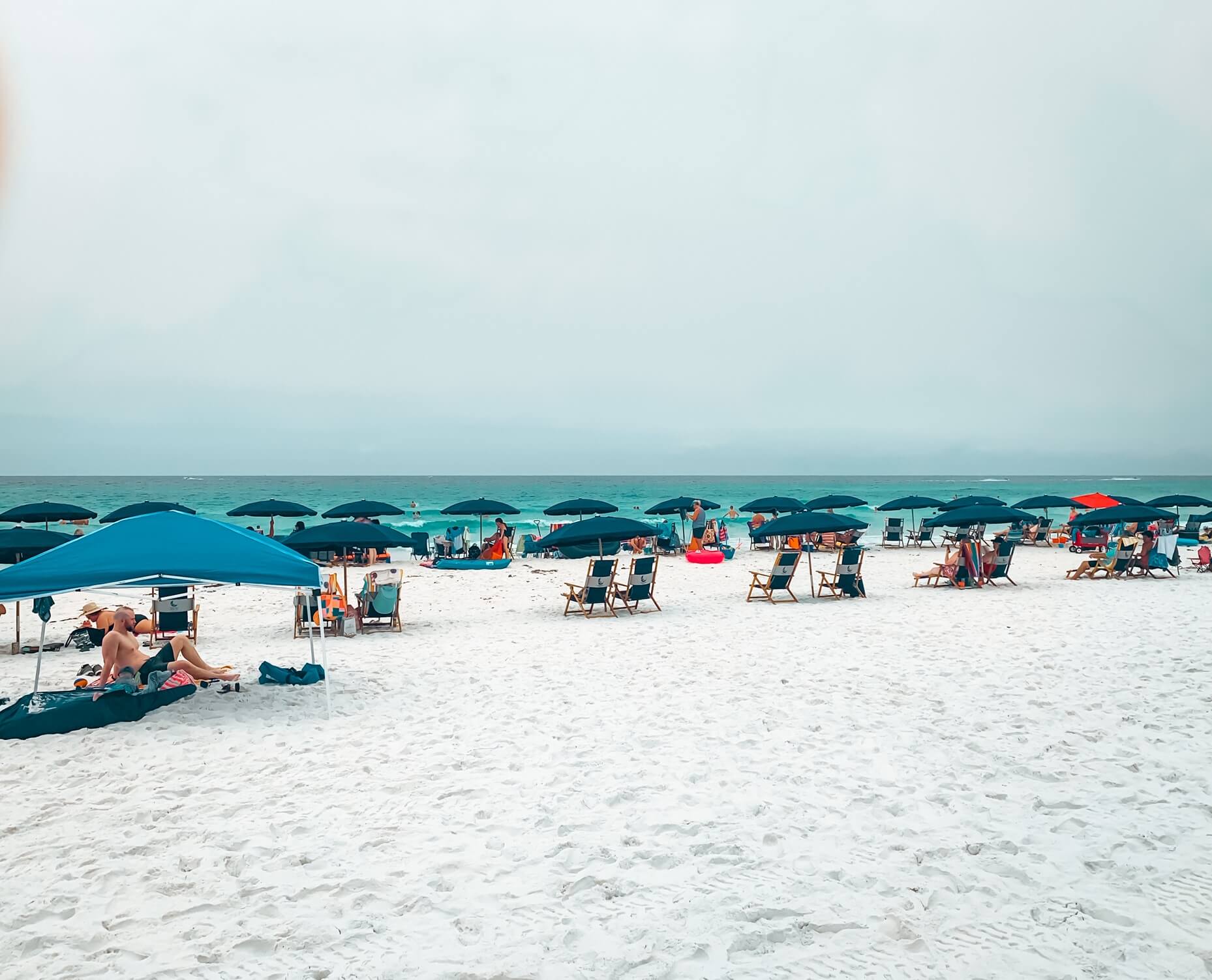 3-day beach hopping itinerary
Day 1: We left Dallas/Fort Worth at Midnight. My husband is a night owl, so driving at night is his feasible for him. Plus, leaving at night prevents us from wasting any time with traffic in the big city. Also, it allowed our 7-month-old to sleep in the car seat longer than he would during the day.
After an 11-12 hour road trip (including stops) we made it to Navarre Beach right afternoon. Since we couldn't check in to our hotel until 3 pm, we took the opportunity to check out our first beach.
Navarre Beach, also known as "Florida's Most Relaxing Place", was semi packed with people. But there was still enough space to have a great time and enjoy the sand and waves.
Navarre Beach has plenty of parking spaces and provides easy access to the beach. If you're looking for a place to eat, Windjammers bar and grill is located right off the pier.
We were only at this beach for a couple of hours then we decided to pack up and go check in to our hotel.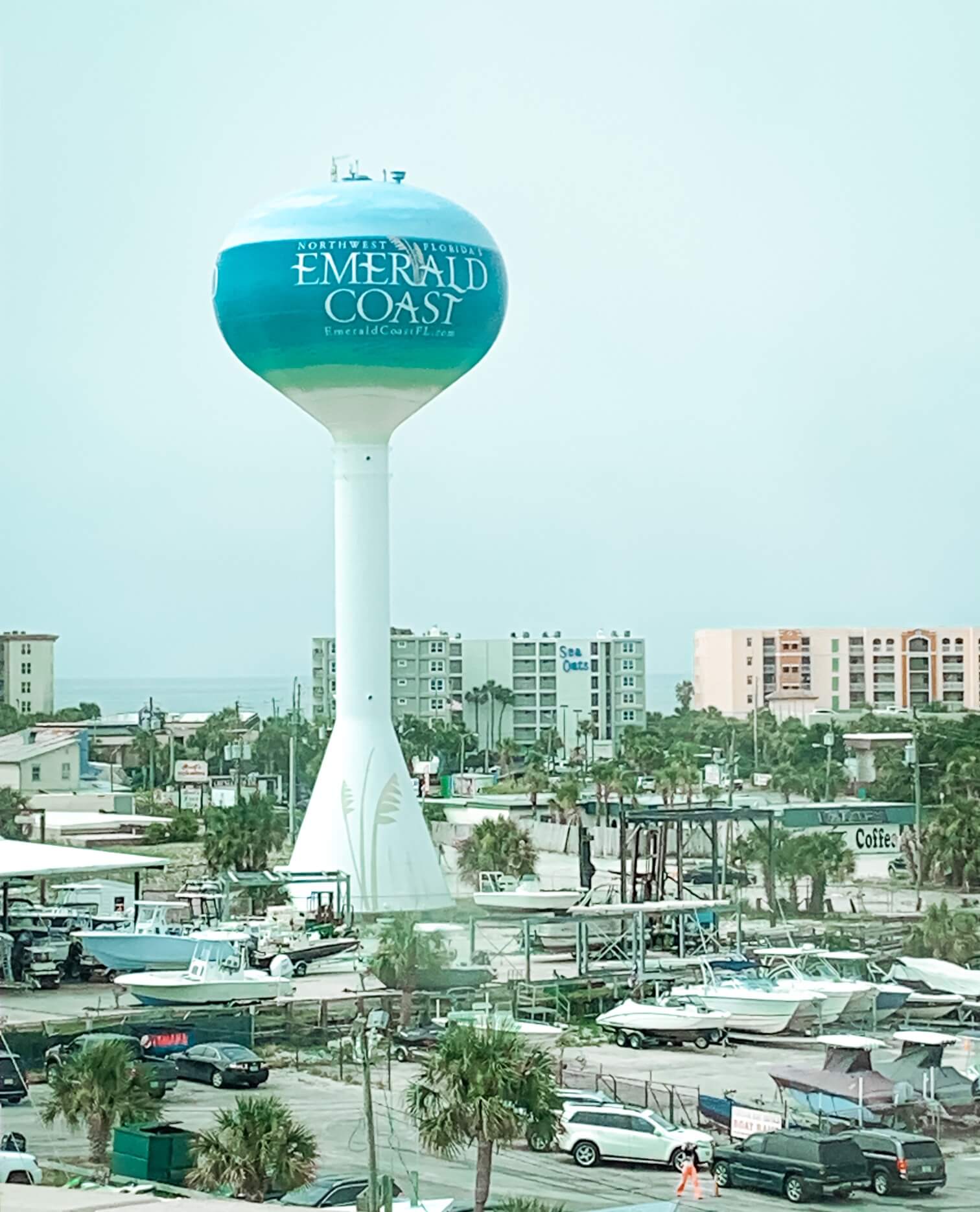 Day 2:
This was the day we looked forward to the most during our beach vacation because the sun was supposed to come out. Also, the whole day was dedicated to relaxing on the beach.
The beach we chose to go to is called "Crystal Sands Beach". It's about a 45minute to an hour drive from Navarre where we were staying. Since we have Luka (who is 7 months old and needs a couple of naps a day) the drive gave us the perfect opportunity for him to sleep.
It's also a nice drive through the towns in between Navarre and Destin to get the entire experience. I love looking at all the different styles of houses along the coast.
Once we arrived at Crystal Sands Beach, we realized the location is more of an upper-class area. There are many resorts and the cutest beach cottages you will ever see. People were riding their bikes, driving golf carts, and running along the sidewalks.
It's a busy little area with little access points to the beach. We got there around 11 am on a Friday morning, and drove around to find parking. There isn't as much parking as there was at Navarre Beach. Thus, if you are looking to check out this beautiful beach, get there early. Also, I overheard that parking would also cost up to 5 dollars starting in July 2020.
After driving around for about 10 minutes, we found a great parking spot with a short walk to a beach entrance. Once we crossed over the wood bridge to get to the beach, I understood why it was rated top beautiful beaches in Destin by TripAdvisor.
The water is clear, the sand is white, and it stays shallow for about 50 feet with gentle waves! Perfect for families to enjoy a beautiful day on the beach.
If you don't want to bring your own canopy or chairs, there are some options to rent on this beach. There are also lifeguards and a snack/snow cone stand to help hydrate and re-energize you from the sun.
Now, I have been to many beaches in Florida, Mexico, Bahamas, Hawaii, California, and Texas. The experience I had with my family on Crystal Sands Beach is one of the top beaches I would recommend anyone to go to! Crystal Sands Beach in Destin, Florida is a top 5 favorite beach on my list.
After a day at the beach, we decided it was time to go. The humidity and sun were draining our energy and we needed to eat a real meal.
Now, when I'm on the coast I love checking out the local spots that have great fish options. We decided to eat in Navarre at Dewey Destin. It was exactly what we needed. I got a fresh mahi-mahi fish basket with hush puppies and a salad.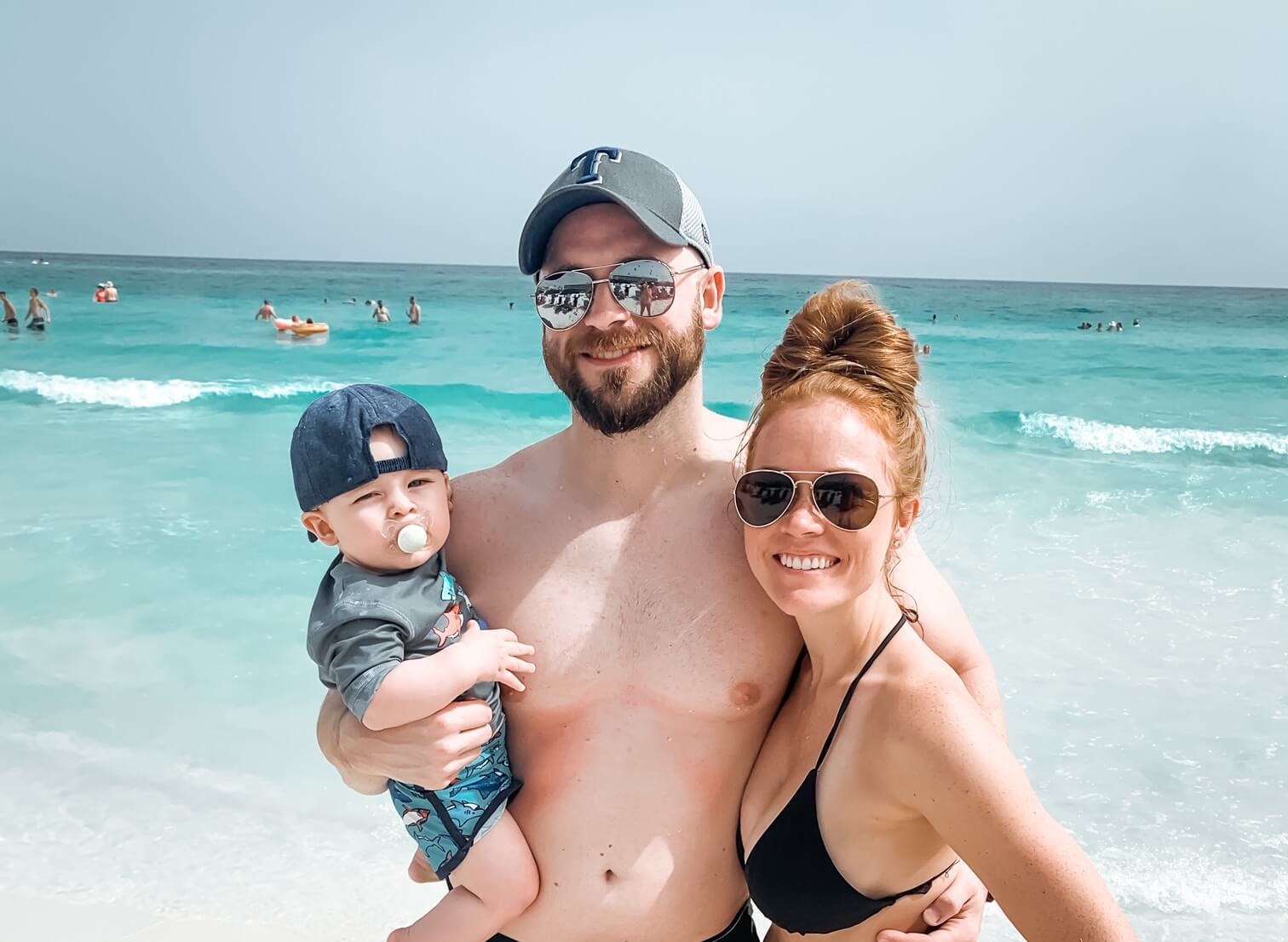 Day 3:
Our plan for today was to check out early and drive up the coast to Pensacola Beach. After all, we wanted to get the feel of 3 different beaches before heading back to Dallas.
The drive from Navarre Beach to Pensacola Beach is only about a 25-minute drive on the highway. However, we chose to drive the island road, which is 20-30 MPH the whole way and an average 45-minute drive. Plus, the view of the ocean, sand, and colorful beach house rentals was nice to look at.
We drove into Pensacola beach town to check out the eatery and shopping. It was about 10:30-11 am and it was incredibly busy. The parking lots were already packed.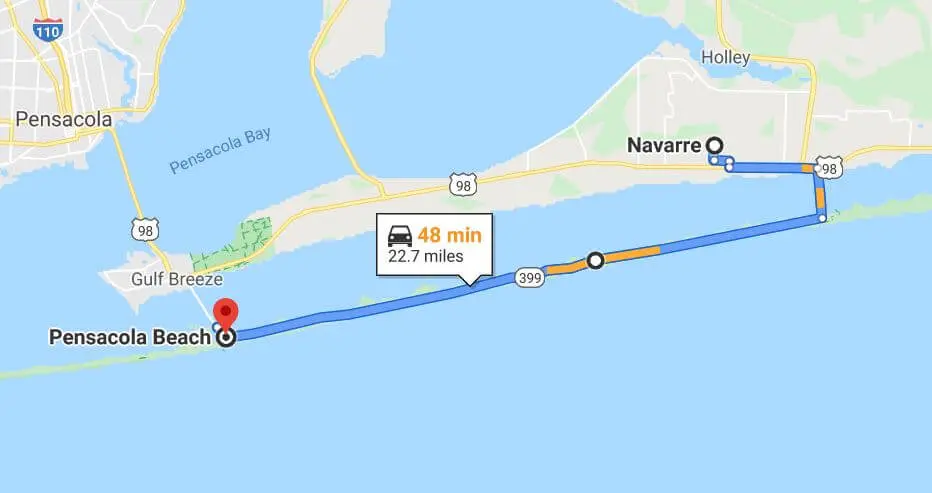 After grabbing some quick pizza, we headed back down the coast from which we came and found a great spot with fewer crowds.
Pensacola Beach has a lot of options for those who enjoy crowds and those who want a more private space on the beach. The area we went to did not have a lifeguard on duty, so this is to keep in mind.
Also, the beach was a little different than Crystal Sands Beach. The waves were a little more powerful and the beach didn't stay shallow and clear to the bottom as the other beaches were. The only good thing about this beach, when comparing them to the other two, is it was private. There weren't many people occupying the area that we chose.
We stayed at this beach for about 2 hours before we made our way up to Gulf Shores, Alabama, and then on home.
Final Thoughts
If you're considering taking a family beach vacation to Destin, Florida I highly recommend the area.
As mentioned before, Destin is the place for a perfect beach vacation for families. With its emerald coast, clear water, and white-sand beaches.
Honestly, we hope to make this trip a yearly beach vacation for our family.
Like this Post? Pin to Save for Later