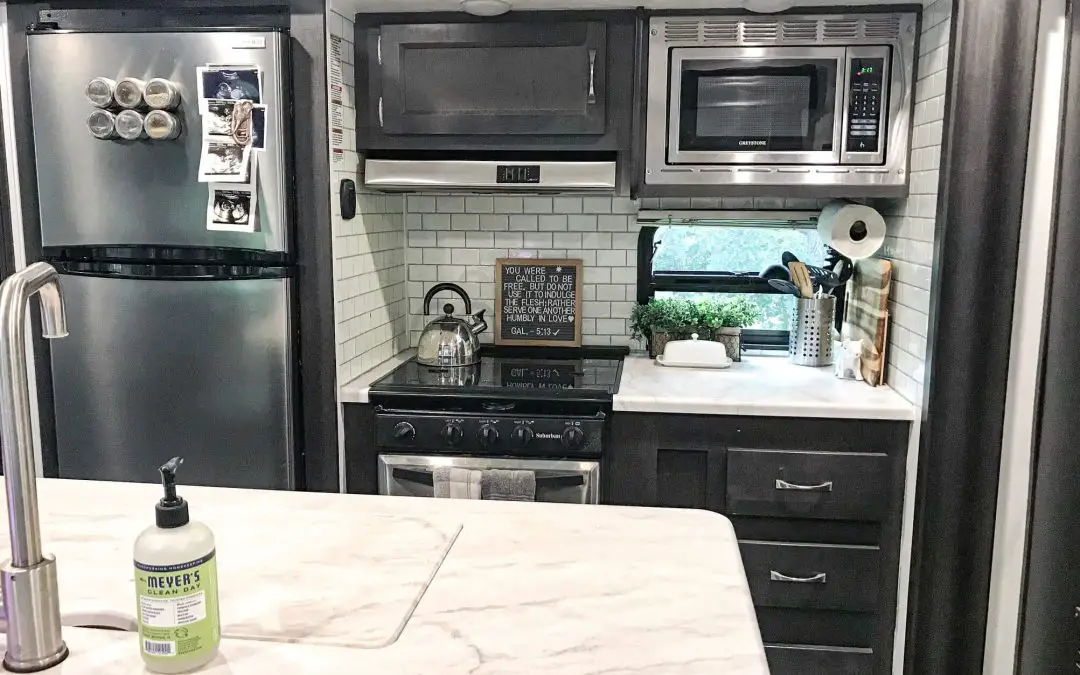 As you may know, an RV kitchen is tiny compared to your average house kitchen.
RV Kitchens have less storage space, smaller ovens, smaller fridges, and a pantry that is tiny or somewhat nonexistent.
However, that shouldn't stop anyone from utilizing your RV's kitchen just as you do at home kitchen.
We live full-time in our RV, therefore, we cook in our kitchen on a daily basis.
There is nothing we cannot cook or bake, except baking is done on a much smaller scale.
After a full year of living in our RV, there have become essentials that we have used to make our life easier in our small kitchen.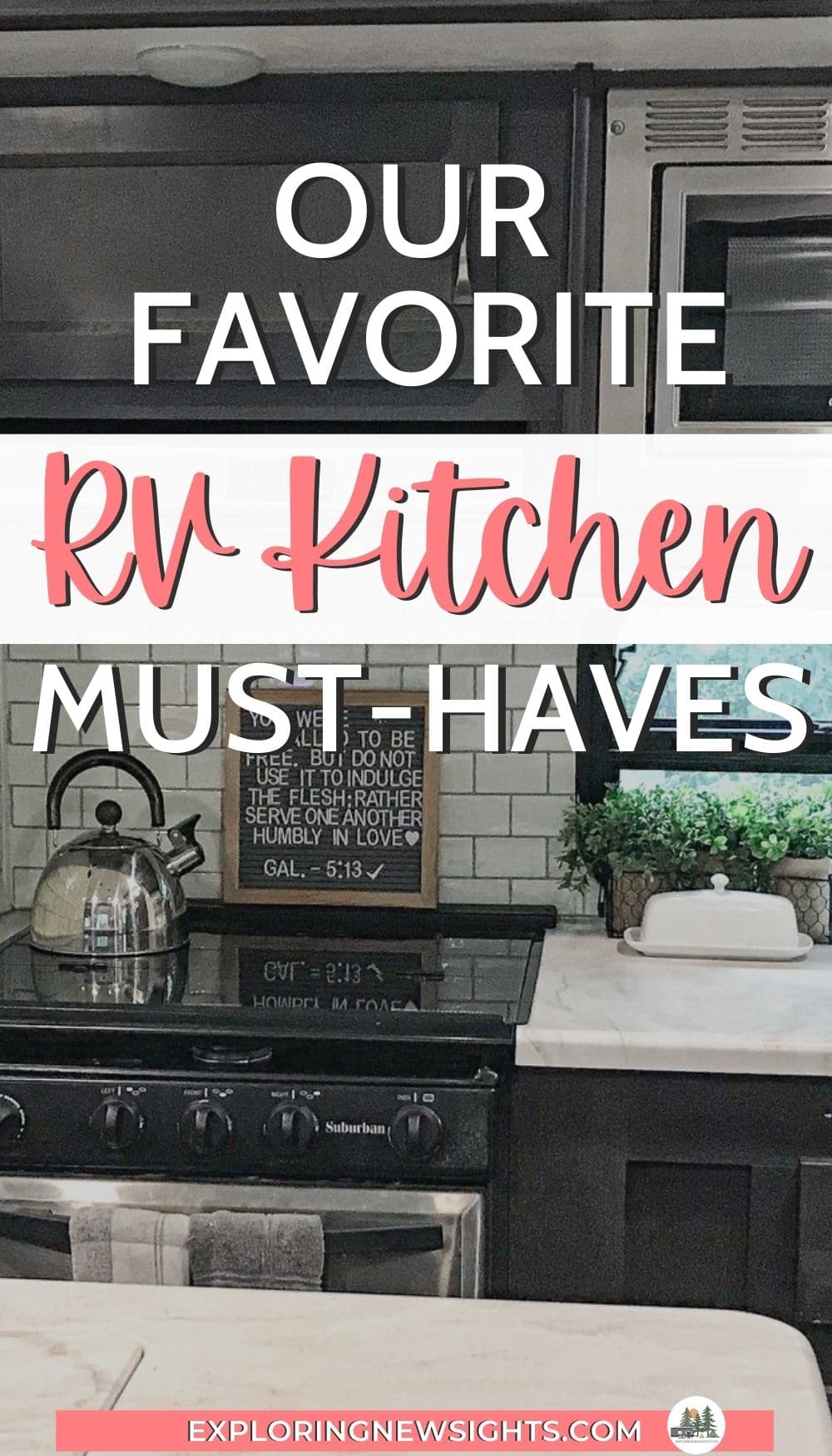 1. Slow Cooker / Crockpot
Slow cookers have been around forever and I feel like they are still an amazing investment. We absolutely love cooking roast, slow-cooked brisket, soups, and so much more in our slow cooker. 
Plus, the recipes are pretty much endless when it comes to what you could make in a slow cooker. Another thing I love about the slow cooker is it can make meals that last for days and it is an easy cleanup.

2. NuWave 14QT Air Frying Oven
This incredible machine will have you baking, frying, roasting, slow cooking, pressure cooking, and more in your RV.
The NuWave oven has made it to our RV Kitchen Must-have list because it is that AMAZING!!
3. French Press Coffee Maker
Making coffee in an RV seems to be a big question on a lot of people's minds.
The French Press is one of my favorites because you can measure exactly how much coffee you want and make your coffee as strong or weak as you'd like.
Using a French press doesn't require any electricity which is a huge plus if you're Dry Camping.
Curious about other ways to make coffee while camping, check out "The Best Ways to Make Coffee While Camping" post!

4. Keurig Single Serve Coffee Maker
If you're not interested in the French Press way of making your coffee, then maybe a Keurig is what you need.
To save counter space, I recommend the Single-Serve Keurig K-Cup Mini to save space but will give you that delicious cup of joe.
5. Hot Water Kettle
Speaking of Hot Water Kettle, this is my third favorite item we have in the RV kitchen.
I love making coffee and hot tea to wake me up in the morning or calm me down at night. Having the ability to boil hot water in a kettle is super convenient.

6. Cast Iron Skillet or two
Cast Iron skillets are the best! Seriously, the variety of meals you can make in a cast-iron skillet is endless.
You can even make some delicious desserts!
I love having our cast iron skillet because of the versatility it has when cooking.
RV kitchens are tiny, therefore anything that you are able to use in multiple ways is a huge plus.

7. Cast Iron Dutch Oven
Just like the Skillet, having the Cast Iron Dutch oven opens up a variety of dishes you can cook in your RV Kitchen.
The wonderful thing about cast iron products is you can use them over a campfire too and not just on your stove or in your oven.

8. Personal Smoothie Maker
The majority of blenders use too many electrical watts, therefore, the smaller personal blender is perfect for the RV life.
We personally love making protein shakes and fruit smoothies. However, the use of the Personal Smoothie Maker is endless.
If you want to whip up a coffee frappuccino or a delicious margarita, then you definitely need to get one for your RV Kitchen.

9. Mounted Paper Towel holder
Surprisingly this is a common question that many RVer's have, is "where do you put the paper towels?"
We had the same question and with very little counter space I was determined to find a solution.
Therefore, we purchased a mounted Paper towel holder. This thing saves space and gives us easy access to towels when they are needed to clean up spills or wipe your hands.

10. Dish Drying Rack
This is a must because the majority of RV's do not have a dishwasher.
I love the ones that are over the sink because they save so much counter space. Plus, when you're dish drying rack is in one portion of the sink, this prevents dirty dishes from piling up.
It also forces you to clean the dishes and set them to dry almost immediately. I don't know what I would do without this in my RV Kitchen. 

11. Ice Making Trays
We live in Texas and the summer heat can be brutal! Having an ice-cold glass of water or tea is highly desired.
Now there are many people who love the portable ice makers, however, when you're limited on counter-space, going for the old fashioned ice-making trays can be more convenient.
You just have to make sure you re-fill them. 

12. Utensil Holder
Just like counter-space, drawer space is also limited in an RV. We opted to use up a tiny portion of the counter space to hold our larger cooking utensils like the spatula and ladle. I love having them in their designated holder because it has relieved the utensil drawer for other items like forks, can opener, and more. 

13. Magnetic Knife Holder
This is one of the first things we purchased when we moved into our RV back in April of 2018.
I saw how much space they saved because you were able to utilize the vertical wall space in your kitchen.
Plus, it provided easy access when cooking. I do recommend that if you plan on traveling, that the knives be removed and placed in a drawer before moving. 

14. Pizza Stone for Oven
If you love to bake, then you definitely want to get a pizza stone to place at the bottom of your little oven.
This helps regulate the heat of the oven so whatever you are baking, bakes evenly.
I have heard many stories of RV ovens burning the sides of dishes and leaving the middle raw.
The pizza stone will help you make those perfectly baked cookies, cakes, pizza, and more! 

Final Thoughts 
These are just the top 14 items that we definitely love using in our RV Kitchen. They have made our journey of living Full-time easier.
Living or traveling in an RV is a different lifestyle than living in a home, so some things have to be adjusted.
By having kitchen items that are versatile is our top priority. If we cannot use an item in the kitchen multiple ways, then it's out!
I hope this list helps you decide on what to bring along on your RVing journey. Maybe one day we will invest in the famous Insta-pot that most RVer's swear by.
Thanks for stopping by and don't forget to sign up for our newsletter to get updated on new blog posts with amazing RVing and Camping information.


Pin Me to save for later!