This post may contain affiliate links. Exploring new sights is a participant in the Amazon Services LLC Associates Program. As an Amazon Associate, we earn from qualifying purchases linking to Amazon.com and affiliated links.
Nothing is greater than waking up, crawling out of your tent or RV to hear those birds chirping and breathing the crisp morning air while the sun begins to peak through the trees, except one thing, COFFEE!!
I love coffee and having a hot cup of joe while sitting by the campfire in the morning is one of my favorite things to do. It's that moment in the morning time where you can relax, take in the scenery, and begin to plan your day before the heat and bugs come out to play.
Coffee has been a staple in households around the world for many generations, so it's only obvious that one must take coffee camping. But how do you make coffee without electricity? We are so used to our Kuregs and Coffee pot brewers that knowing how to make coffee any other way is a little foreign. I get it!
Well, I am here to tell you that there are plenty of ways to get that perfect cup while enjoying the great outdoors without the luxury of electricity.
1. French Press
This is our favorite way to make coffee! I remember when I had no idea what a French press was or even how to use it.
When camping it's as simple as warming up some water on the propane stove (if you have one) or the campfire in a kettle pot. Then pour your favorite coffee grains in, pouring in the hot water and letting it sit. The amount of time you let it sit depends on how strong you want your coffee to be. Once your hot water has set in the coffee grounds for the desired time, simply press the top with the strainer and screens in slowly. Once pressed all the way in, it's time to pour that perfect cup or two of coffee.
The French press is a classic way of making great coffee and perfect for any camping trip!
How much Coffee does it make: Usually 2 cups
Ease of use?: Yes. It's very easy to use and quick way to make a great cup of coffee.
Where to purchase?: Amazon or your local store. They usually have some decent French Presses in stock depending on the quality you prefer.

2. Instant Coffee
Before we discovered the French press, and when we moved into the RV fulltime, instant coffee packs from Starbucks was our go-to for coffee. They are fantastic and a great way to get a quick cup of coffee when you're running out of time. I still use instant coffee for those situations when I just want a quick cup and don't care about the kind of bean or precision in making the perfect cup.
I definitely do recommend this when camping because of how easy it is! All you need is a hot cup of water, and you pour in the pack of instant coffee. That's it! You have a great cup of coffee in an instant.
How much Coffee does it make: 1 packet makes 1 cup
Ease of use?: Super easy and the quickest way to have a cup of coffee.
Where to Buy?: You can purchase from Amazon or Starbucks sells the packets of 7 in the coffee aisle at most grocery stores.

3. Classic Percolator Coffee Pot
Percolator Coffee pots are the most common way many make coffee while camping. They come in different sizes and styles. The Enamelware percolator coffee pot is a staple when it comes to camping. The classic blue speckled enamel makes me want to pack up the truck and go tent camping right now!
If you're not into the enamel look, they have great stainless steel options as well that work wonders. The great thing about the percolators is they can make multiple cups of coffee depending on the size of the pot. Usually, it is about 8 cups total. So if you're camping with a larger group, the percolators are fantastic!
How much coffee does it make: usually about 8 cups
Ease of Use: Pretty easy, just takes some time to brew.
Where to Buy: Amazon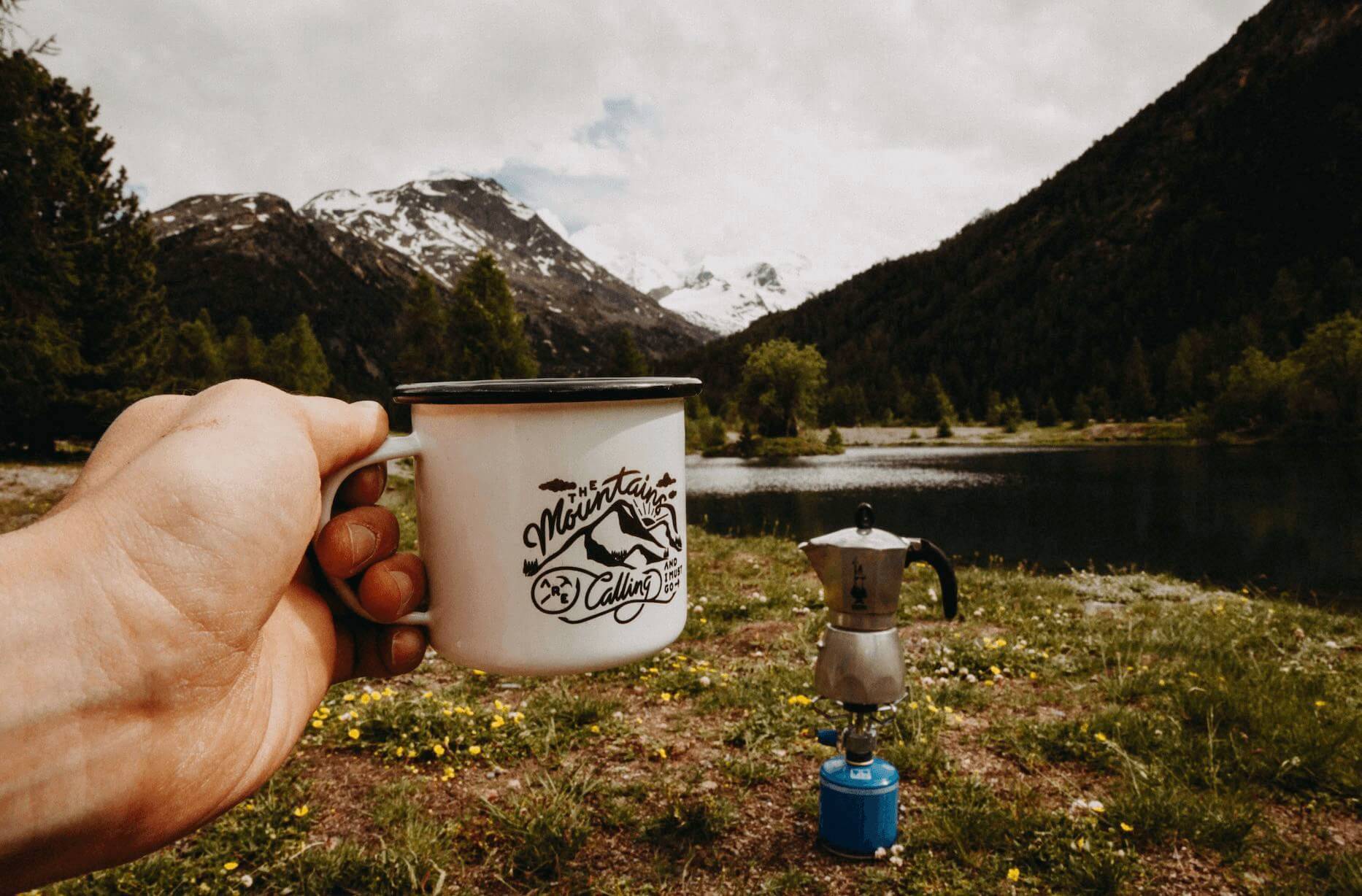 4. Single Serve Collapsible Coffee Dripper
I first saw these on Amazon and thought how cool! They are single serve and collapsible so you can take it anywhere with you. These are nice so you can still have the fresh brewed tasting coffee as the hot water runs through the grounds, but not have to have a pot of any sort to carry or bring along. Plus they are BPA free silicone and super lightweight.
These are great for camping trips if you're the only one who drinks coffee or you're not going with a big group of people.
How much does it make: 1 cup per use
Ease of Use: Easy to use, but must have the paper filter along with it.
Where to Buy: Amazon

5. Coleman Propane Coffee Maker
Coleman, of course, is a huge name when it comes to camping gear. Of course, they would make a propane coffee maker. I honestly think this device is really cool and has the potential last many, many years! Coleman products are great products.
The propane Coffee Maker works just like your pot coffee maker back at home. It has an Instastart push-button ignition that will light your propane and start the brewing process. Great for camping, hunting, or anywhere that you will be outdoors without electricity. Also, it's the best for larger groups because it can make up to 10 cups of coffee and one propane tank can keep the coffee hot for up to 4.5 hours.
How much does it make: 10 cups of coffee
Ease of Use: As easy as your Coffee Pot Maker at home
Where to Buy: Amazon

6. Portable Car Charging Single Serve Coffee Maker
If you're camping, chances are you have a car of some sort. Cars have your 12v power outlets in them that you can plug in a phone charger or other adaptable items. Now, they have come up with the idea of a Portable Car Charging Single Serve Coffee Maker.
Since it is a single server it can use either a k-cup or ground coffee. When it comes to the hot water, you have a choice to either place the hot water in the cup or you can pour non-hot water in and it will warm up the water in about 10 minutes. Once you have hot water and the coffee is in, then all you do is press the button and it begins to brew a cup of coffee for you. It's great for traveling and camping trips.
How much does it make: 1 cup 150 ML
Ease of use: Seems easy, according to instructions.
Where to Buy: Amazon

7. Manual Coffee Brewer for K-Cups
These are pretty cool for those individuals who love their K-cups. Now you can take your k-cups camping! These manual brewers are fantastic for camping or pretty much anywhere because the cleanup is so easy!
All you need is hot water, a coffee mug, and a k-cup. It's also great for the whole family so they can pick their favorite coffee or hot beverage like tea or hot chocolate k-cups.
How much does it make: 1 cup
Ease of use: Easy and cleanup is a breeze
Where to Buy: Amazon

Every single one of these options is fantastic for getting that great cup of coffee while enjoying the outdoors with your friends and family. Whichever you choose, you can't go wrong!
As I mentioned, my favorite is the French press but if I'm going to be camping with a lot of people who love coffee the Propane coffee maker or the Percolators coffee pots are great options. If you love the ease but hate the clean up then the instant coffee packets or the manual coffee k-cup option is perfect.
I hope you enjoy your camping trip and most importantly enjoy that amazing cup of coffee however you choose to brew!
Pin Me to save for later!