This post may contain affiliate links. Exploring new sights is a participant in the Amazon Services LLC Associates Program. As an Amazon Associate, we earn from qualifying purchases linking to Amazon.com and affiliated links.
So you want to live in an RV?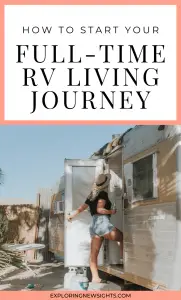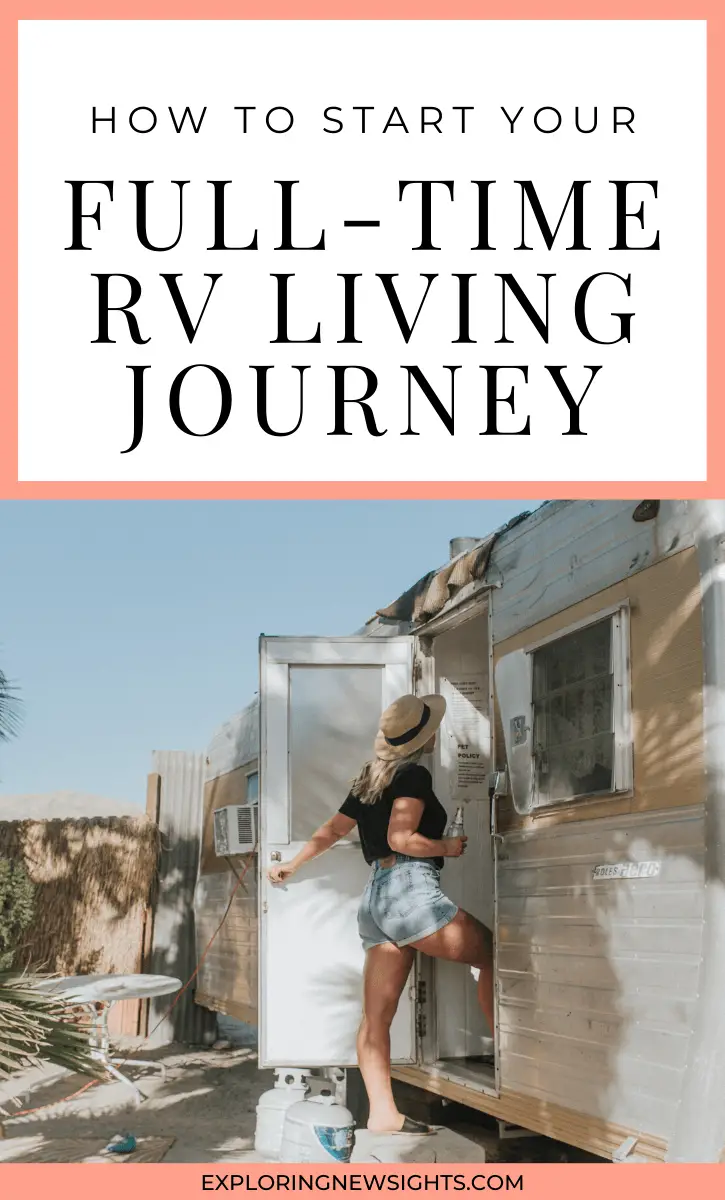 That's Awesome! We started our Full-Time RV Living Journey in April of 2018.
It's been exactly that, a journey! We have enjoyed the lifestyle so far but to be honest, there were a lot of beginning steps and planning that happened before we made the move.
I think when considering any significant lifestyle change, there needs to be a lot of research, planning, and personal consideration before-hand. Living in an RV is an adjustment, especially if you've lived in either a home or apartment your entire life.
If you've been camping with an RV, you're already a step ahead because you at least know how things work like the tanks and slide outs. For us, we had no clue and learned everything when we started full-time RV living and that's ok too!
I'm going to go over a lot of detailed information on what you should consider before purchasing and also how to get in to that RV.
1. Check your Finances, Monthly Budget, and Current Living Situation
This step is extremely important. The last thing you want to do is get into this lifestyle if you can't afford it. It sounds odd because you think you can probably save money by full-time RV living, and in some circumstances, you can.
However, if you plan to stay at RV Parks, then this could up your monthly living cost. In some ways, living in an RV at a park can be just the same living cost as a mortgage payment. It depends on where you live, of course.
I know many RVers who do save money and have paid off their debt by living in their RV. This option is mainly possible by choosing to Boondock or having the ability to live either on family land (like us) or their own land. I'm not saying it's impossible to live in an RV Park and save money, but many RV parks are around $400 to $1000 a month for full hookups.
For us, we chose to Finance our RV because we wanted something brand new. We also live on family-owned land and only pay $100 a month for electricity and water. It has allowed us to save and pay off debt.
To check your finances, you'll want to look at your monthly credits and deposits.
Questions to ask:
How much are you spending on your living expenses?
Are you going to live in an RV to decrease those expenses?
How much are you spending on monthly debt payments, like credit cards or loans, if you have any?
If you're not budgeting monthly, I highly suggest you do so before jumping into this lifestyle, especially if you're planning on traveling.
Also, if you're in a home, are you going to be selling or keeping the home?
If you're leasing, when is your lease up?
These are some of the questions to ask and consider before changing to the RV lifestyle.
2. Research, Research, Research
Read Blogs, like this one.
We started our research by reading blogs and learning from other's experiences. Also, we researched different types of RV's for over a year before we made our purchase.
We considered used and new RVs. If you're torn between purchasing new or used check out the post specifically one the pros and cons of buying new vs used.
Blog Post: Should You Buy a New or Used RV? Pros vs. Cons
Questions to ask:
What style of RV are you looking to purchase?
What are your family's needs?
Will you need a bunkhouse, a toy hauler, an industrial-style fridge, or a king-size bed?
RV's today come in all different styles and features.
3. Consider the Lifestyle Changes (Are you going to Travel or Live Stationary?)
Moving into an RV is a complete lifestyle change. If you're someone who can adapt super easily and quickly then go for it. However, if there are things like taking a long hot shower that is a necessity for you, then understand that it may not happen unless you have a tankless water heater, stay at a hotel, or there is a campground shower.
Another thing to consider is you will have to take care of your own wastewater/sewer. For some, this can be a deal-breaker.
We realized when we moved into our RV that we never thought about the water after we used it or after we flushed our toilet. However, in an RV it became our responsibility to release our own tanks properly. It can be gross and stinky, to be honest.
For 6 months, after releasing our tanks every week, we would suffer from a horrible smell fumigating our living space. I struggled with trying out so many different tank solutions to keep them from smelling so horribly. After about 6 months and many trials and errors, we discovered that best Tank Treatment. You can check it out here and we still use the Happy Camper today.
Blog Post: RV Tank Treatment- Comparing the GEO Method and Happy Camper
Also, are you planning on traveling while living full-time in your RV? If so, there are things to consider like how you will get power, where you will release your tanks, and making campground reservations ahead of time. This alone can become stressful at the beginning until you get the hang of it.
And if you plan on traveling, how will you be able to continue making an income? Will you be Workamping, starting a business, or working remotely for your employer?
Or, maybe you are looking to live stationary in your RV. Will you be staying long term in an RV Park or on privately owned land with power and sewer hookups?
Having a place to bring your RV once you purchase is important. Make reservations with the desired RV park or have the full hookups ready on your land.
4. Minimize your Life
Another step you will want to consider and start as early as you can is minimizing your life. Start selling, giving, or throwing away the things you won't need or aren't taking with you. There is not much space in an RV so minimizing your closet, kitchen accessories and keepsakes is a must.
Another option is to keep what you want in a storage unit. We have on for the items we didn't want to get rid of when we moved into our RV. If you'd like more info on downsizing, check out the Ultimate Guide to Downsizing for life in an RV. Great step by step to make it happen.
5. Purchase and Register your RV
Once you've considered the lifestyle change and researched the perfect RV for you and your family, it's time to purchase. This is the easy step as long as you have your finances in check.
You have the option to finance your purchase or you can pay cash if you've saved enough. Either way, it's exciting to purchase your new home on wheels.
Now, I would check the requirements of your state for inspection and/or registration. If you purchased from a dealer in your same residential state then the dealer should take care of the registration. However, if you purchase out of state or privately, the registration is up to you to take care of. I know in Texas, we had 30 days to have the RV that we purchased in Oklahoma to get inspected and registered.
6. Move-in with just the Necessities first
When you're moving from a larger space to a smaller one, my biggest piece of advice is to start with the necessities. Items like towels, tools, and clothes you wear on a daily basis before you start with the want items.
If you'd like to bring on some keepsakes or heirlooms, do it, but just make sure the daily items you use have a spot first. One cool thing about living in an RV or a smaller space is it allows you to get creative when it comes to storage. In an RV there is plenty of opportunities to utilize vertical storage space on the walls and behind doors. You can check out more vertical storage space ideas here.
7. Enjoy the Full-Time RV Living Lifestyle!
Last, but not least Enjoy the RV Life! Whether you plan on hitting the road and exploring the unknown or living stationary, enjoy the journey and new lifestyle. It's a big change but it can be extremely rewarding. The experiences you will encounter if you travel are one of a kind.
If you choose to stay stationary, I hope you enjoy the Full-Time RV living lifestyle as well. I know we have because it has taught us how to live minimally and be happy with the little things in life.
Share your full-time RV living journey with us by guest posting on our blog. Contact us on our
contact page here!