This post may contain affiliate links. Exploring new sights is a participant in the Amazon Services LLC Associates Program. As an Amazon Associate, we earn from qualifying purchases linking to Amazon.com and affiliated links.
Are you looking for the perfect Glamping tent to make your next camping trip comfortable and memorable?
Are you trying to figure out what the best tents out there are that are also affordable to create this memorable experience? 
If so, you're probably looking for something that has great space and gives you the ability to stand up inside. After all, no one wants to feel cramped in a tent with barely any room to maneuver around or stand up. That to me doesn't sound like a glamping experience.
The point of Glamping is to bring the modern comforts of home and civilization to the great outdoors.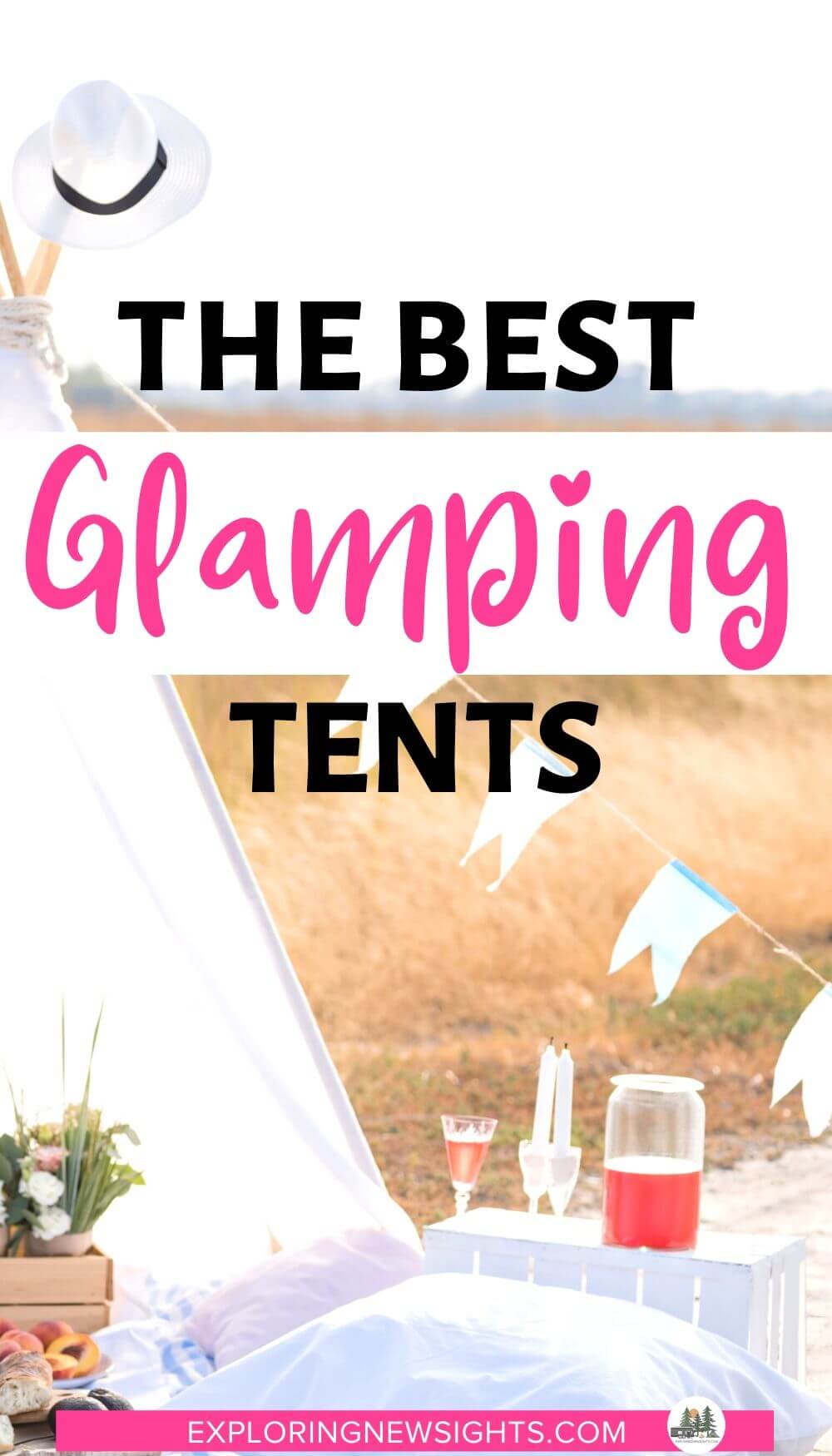 If you have read my previous post on "how to DIY your own Glamping trip" then you know this is the first tip to create that glamping experience you desire. Having a larger tent, even if it's only two people "glamping", is important.
Let's discuss our top best glamping tents that are affordable so you can begin creating your Perfect DIY Glamping Experience.
Cotton Canvas Bell Tent/Yurt by WhiteDuck
Reviews: 4.8 out of 5 stars (29 Reviews)
If you want to go all out and get the perfect Glamping Tent, then this is the ONE! It's worth the money and can be used in all 4 seasons. It made out of 100% breathable cotton. You can fit 4 to 10 people comfortably in this tent.
CORE 9 Person Instant Cabin Tent
Reviews: 4.4 out of 5 stars (697 Reviews)
This tent is perfect for the Glamping experience because of the space it provides. It is 14 feet by 9 feet with a standing height of 78 inches. Large enough to fit two queen air mattresses comfortably. This option has Electrical Cord access that can be fully closed when not in use. The CORE 9 Person Instant Cabin takes about 60 seconds to set up, features room dividers, and wall storage pockets.
Where to buy: Amazon

CORE 10 Person Straight Wall Cabin Tent
Reviews: 4.2 out of 5 stars (97 reviews)
The CORE 10 Person tent is another great option like the CORE 9 person tent. This tent is a little bigger by having space for 1 more person as well as a taller standing center height of 86″. It comes complete with room dividers, front and back door access, as well as, storage pockets and electrical cord access. The CORE 10 person tent comes available in two colors, orange, and maroon.
Where to buy: Amazon 

GigaTent 8 Person Family Tent
Reviews: 5 Stars (3 reviews)
This option is fantastic! It fits 8 people comfortably which is great because if there's only two of you going "Glamping" there will be plenty of room to create that DIY Glamping experience. The walls are almost completely vertical with access points and 6 windows to allow a nice cool breeze through space. It is created with heavy-duty waterproof material to keep the rain out if you ever get caught camping during a storm. This company also carries a "Satisfaction Guaranteed" policy!
Where to Buy: Amazon

Coleman Tent Weathermaster 10
Reviews: 4 out of 5 stars (1,582 reviews)
The Coleman Weathermaster gives you 2 options. You can choose the 6 person tent or a 10 person tent. Either one, they are great options to give you space so you can DIY your own Glamping Trip. Coleman is a huge name in camping products, so you can't go wrong with this brand. This ten is easily set up in 20 minutes with a standing height of 6 feet and 8 inches! The Coleman Weathermaster is equipped with Colemans WeatherTec Patented welded floors for you dry throughout your whole Glamping experience.
Where to Buy: Amazon

Tahoe Gear Bighorn XL 12 Person Teepee Cone Shape Camping Tent
Reviews: 4.1 out of 5 stars (20 reviews)
If you're looking for that Teepee style for your DIY Glamping experience than this tent is a great option. It is 18×18 and can fit up to 12 people comfortably. Due to the cone shape design, it can handle up to 35 mph winds, is completely waterproof and allows the water during a rainstorm to roll right off the tent and no accumulate on top of the tent. The Tahoe Gear Bighorn has 4-floor vents that can be adjusted and fully closed as well as a ventilated to help eliminate humidity inside the tent.
Where to Buy: Amazon

Winterial Teepee Tent
Reviews: 4 out of 5 stars (36 reviews)
Here is another great option that gives you the Teepee Glamping experience you desire. This tent is durable, only weights 15lbs, and can be set up in less than 5 minutes. You fit 6 to 7 people comfortably so it is great for friends and family. Of course, this tent is waterproof made with 210T polyester. The tallest point of the tent is 10 feet so it allows a lot of standing room.
Where to Buy: Amazon

Happybuy Bell Tent
If you really want the Glamping experience, you can't go wrong with this Canvas Yurt Tent. It is great for Camping, Hunting, or any other outdoor events, plus it is 4 season tent that you can add a stove into if you happen to be camping in the winter. It is also waterproof, firm, and stable with strong steel center poles, galvanized frame tunes. and nylon rope for tie-downs. This option can fit up to 12 people comfortably.
Where to Buy: Amazon

Creating your first DIY Glamping experience should always start with the best glamping tent and open spaces. These glamping tent options are fantastic to get you started and enjoy camping. Having space to stand up, sleep, add in your gear is essential.
I love these options because they are affordable, durable, and waterproof! You can't go wrong with any one of them!
I hope you enjoy your DIY Glamping trip and get the most out of the outdoors without sacrificing some comforts of modern life. If you haven't already head over to our previous post "How to DIY your own Glamping Trip" for more ideas.
Thanks for stopping by! Please share, tweet, and pin!
Pin Me to save for later!