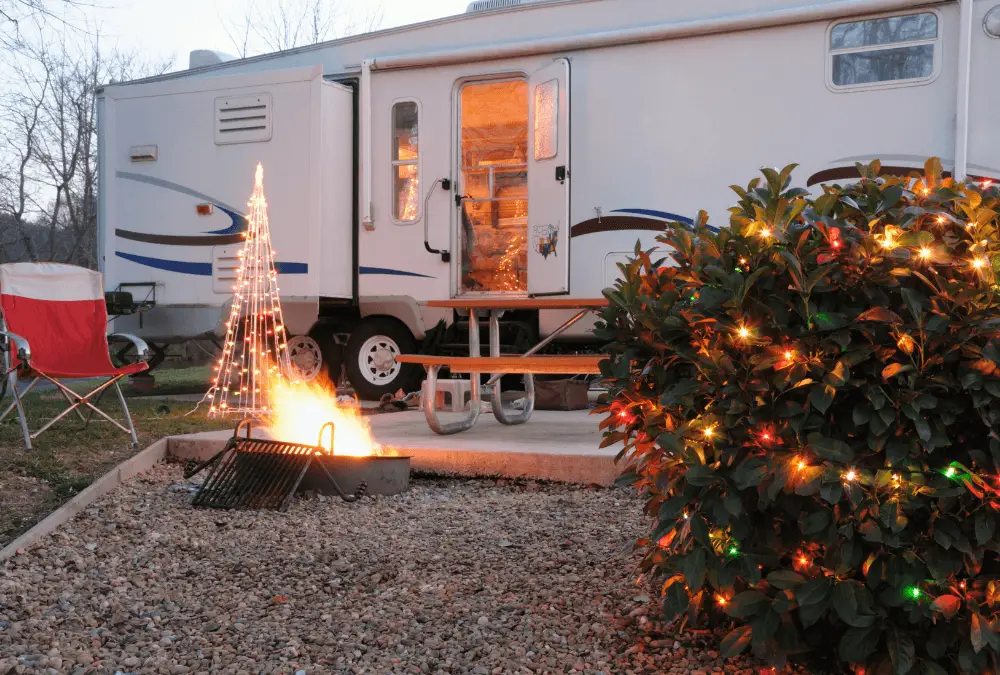 RV Christmas Decorating Ideas | Tis' The Season to bring in the Holiday Cheer even when you live in an RV.
We all know that most RV's are limited in space, so you might be wondering how you can add a Christmas tree and decor to your RV.
If you're like me, sometimes I need a little bit of inspiration from others to help me get creative. 
And, that is ok! 
So, I've put together 12 ways to add that Christmas cheer in a minimal and impactful way, plus many ideas from other RVer's.
(P.S. Don't forget to go follow their Instagrams after reading for more RV inspiration)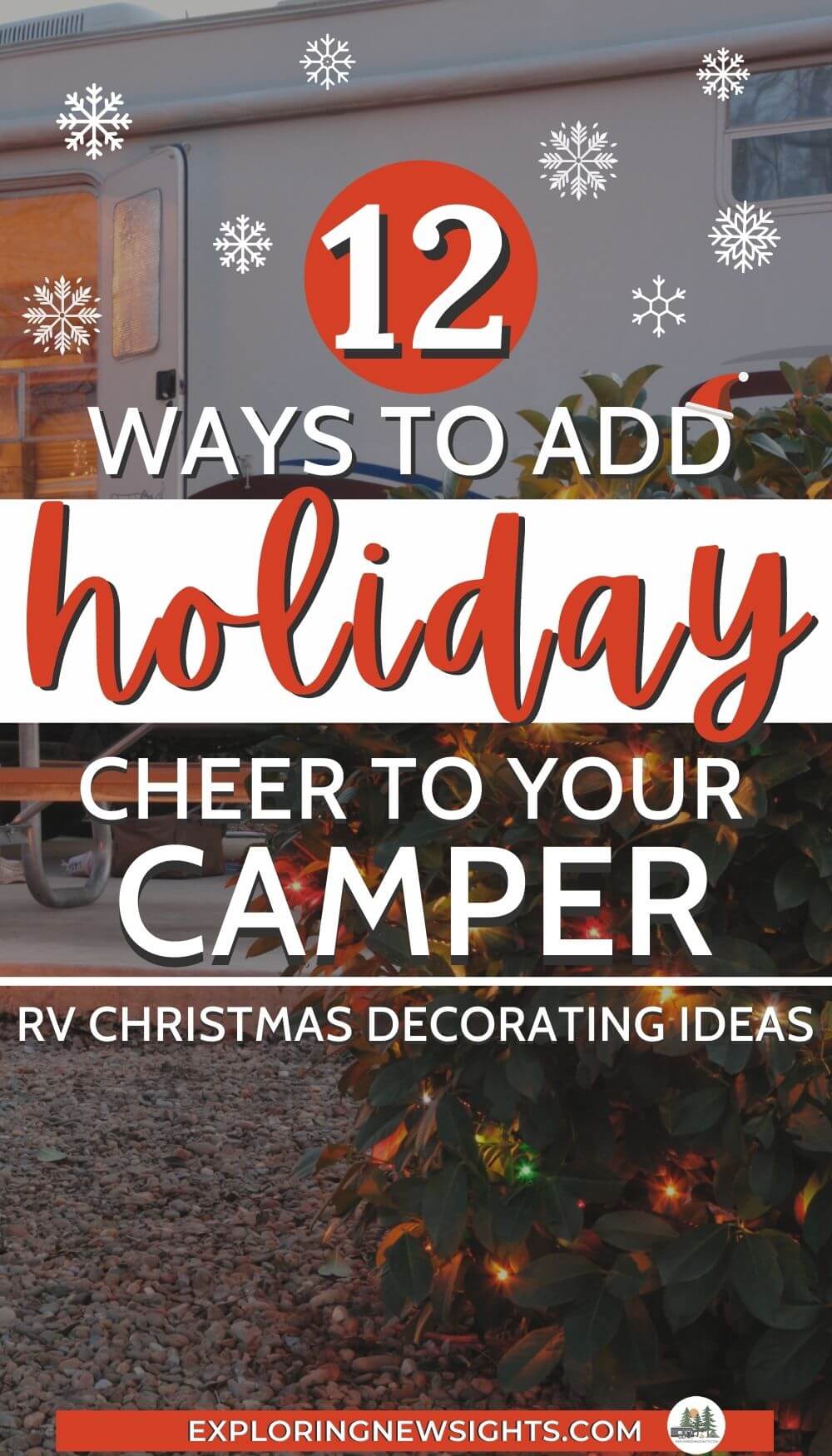 1. Hang some stockings 
Stockings are a classic Christmas decoration that you can still use and hang in your RV. If you have an electric fireplace then you can hang them around that. 
However, if you have a small child, like us, hanging stockings up higher might be a better option. You can hang them around the slide trim with some command strip hooks or they can also be hung on a window. 
2. Use Garland (Pine, Tinsel, Beaded) and Ribbon
Pine garland, tinsel garland, or beaded garland are great ways to add RV Christmas Decorations.
Garland can be hung from anywhere in your RV! Many like to hang them from the slide trim to spruce up the space.
Ribbon is also a classical Christmas way of decorating.
Whether they are used as bows or wrapped like garland, whatever colors you choose will be perfect.
3. Hang Christmas lights indoor and outdoor
Christmas lights are a must when adding some holiday cheer to your RV. You can wrap the lights around the garland or hang them alone around a window seal. 
Also, depending on where your RV is parked and the park's rules, you can add lights around the outside of your RV.
I would check before to make sure you're not breaking any rules.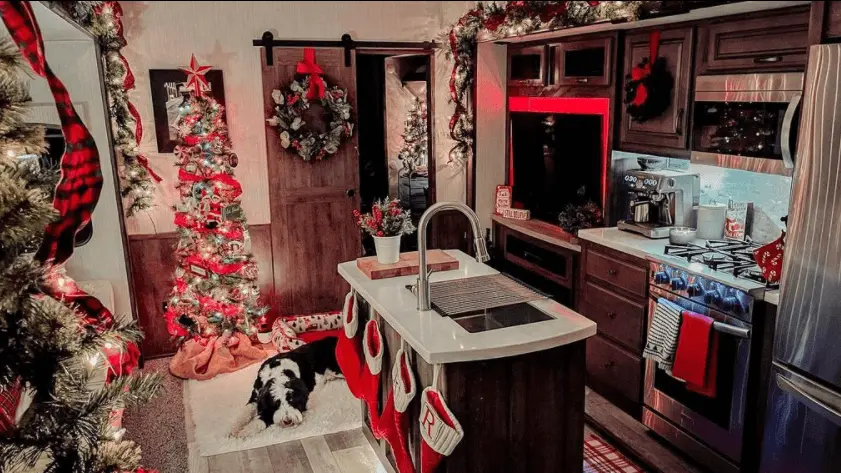 4. Cozy up with RV Christmas pillows and blankets 
This is a simple way to add holiday cheer to your RV. There are so many options out there for Christmas pillow covers. 
In addition to the pillow covers, add a cozy Christmas themed blanket. 
It is amazing how far pillows and blankets on your couches or bed go a long way in adding some holiday cheer.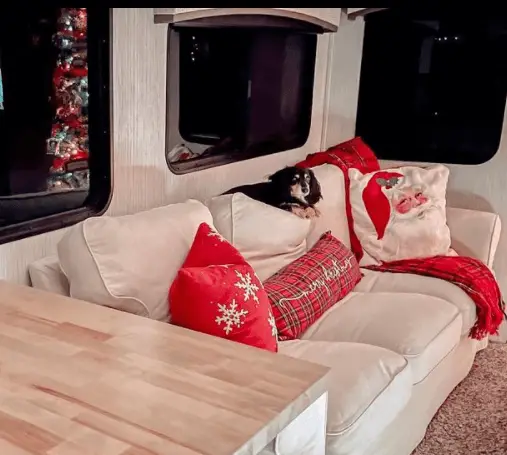 5. Creative options for a Christmas Tree
Having a Christmas tree may seem almost impossible in an RV. However, there are many creative ways to have the tree in a small space. 
One way is to have a tree is to add on to your tabletop. It doesn't leave much space for gifts but it does add some holiday cheer. 
The second option is to get a short and skinny tree. These work great in an RV without taking up too much space. 
The third option is to clear out space by removing the table or a chair and adding a tree. Many RVers move and replace their furniture all the time! 
The last option is to create one out of pine and tinsel garland on a wall. This is an inexpensive and space-saving option. 
6. RV Christmas Ornaments
Camper ornaments are becoming quite the collector's items.
They can be used for little decorations on the counters, tables, or hung on a tree.
7. Holiday Kitchen towels 
This is a super simple way to add a touch of Christmas to your RV. I enjoy hanging a cute Christmas towel from the oven door. 
but, if you don't have an oven door you can always hang one from a kitchen door handle. 
8. Add some RV Christmas Decorations to the Walls with command strips
One thing I love about command strips is they allow you to easily change out the wall decor.
So, adding a sign that says "Joy" or "Merry Christmas" to your RV is the perfect RV Christmas decoration.
9. Add a Christmas wreath or two to your door or windows 
Nowadays wreaths are used for almost every season or holiday, but it all started with Christmas. 
Wreaths can be used indoor and outdoor on the windows and doors. 
There are so many different varieties and sizes to choose from to match your ideal Christmas decor style. 
10. Fill the Space with Your Favorite Christmas Scent
I'm all about the smell of the space as well as the visual decor.
Items like Candles, plugins, or oil diffusers with peppermint, pine, or sweet cookie smells will be a decadent addition to the Christmas ambiance.
11. Add some outdoor Christmas decor 
Just as fun and cheerful as decorations are indoors, it is also fun to decorate outside your RV.
This can be done with a wreath, lights, and maybe even a cute Christmas inflatable.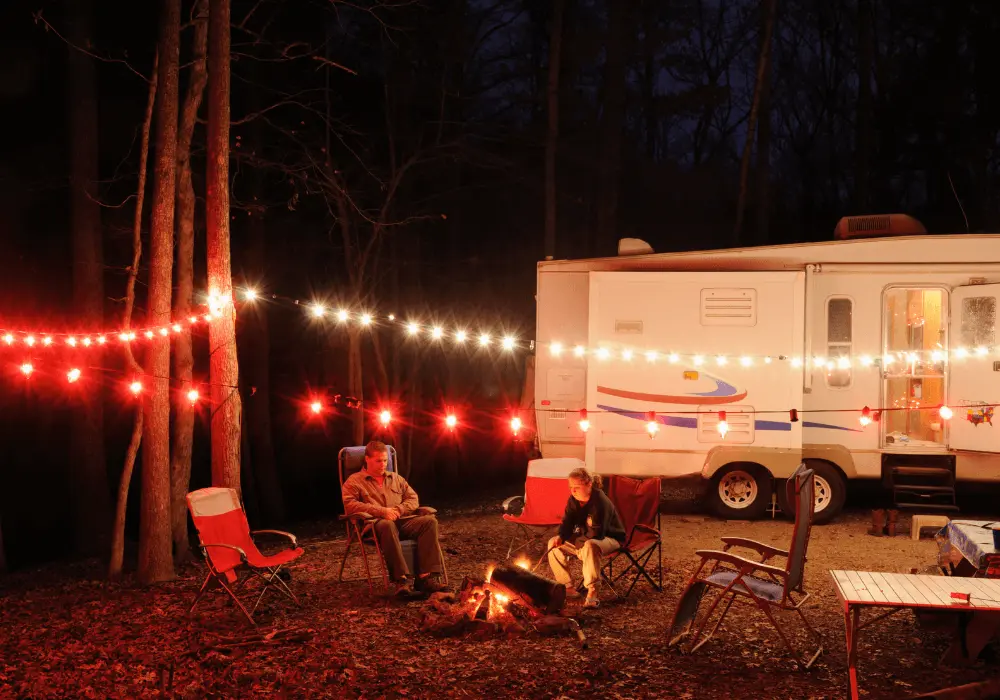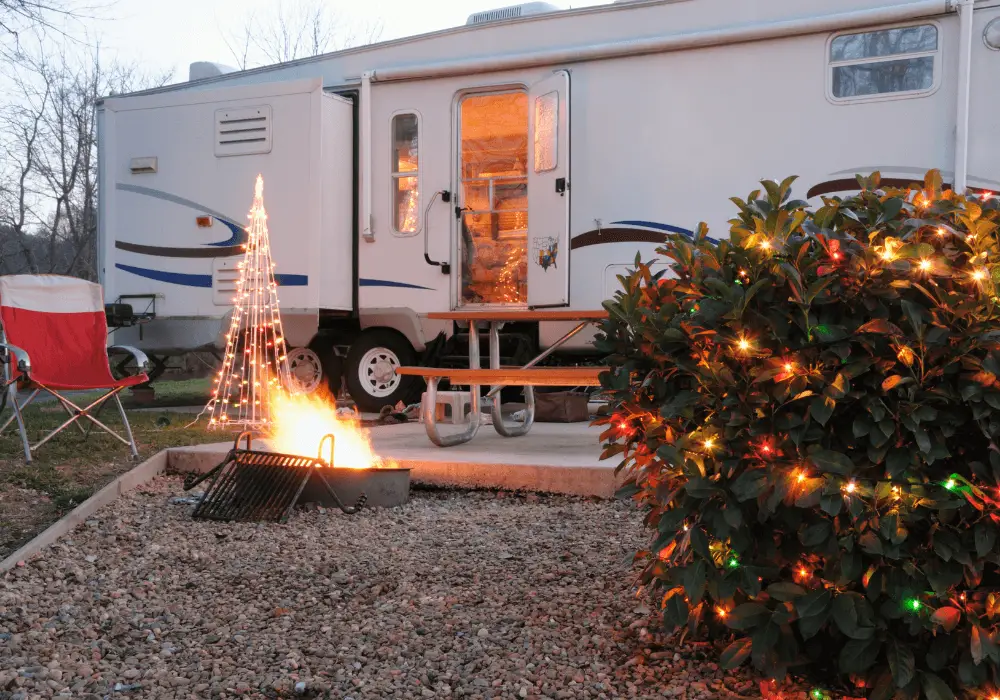 12. Put on a Christmas movie or Music
Last, but not least this one is more about the ambiance than actual decorating. 
Turning on a movie like "Elf" or Holiday music will make it feel like Christmas in your camper! 
Final Thoughts
RV Christmas Decorating can be fun and bring in the Holiday Cheer for the "Most Wonderful Time of the year". 
I hope these ideas and inspiration from other RVers have inspired you to decorate your RV for the Holidays.