RV Living Full-time | What is it like to live in an RV?
Is it all it's presented to be on Instagram and Pinterest?
Seriously, when we were making the decision to go tiny I was so in love with the idea that I would be on Pinterest for hours.
I would look at all of the amazing RV renovations and think to myself, how awesome living in one would be.
A cozy little home on wheels that just happens to be perfectly decorated.
What an amazing way to live!
But is it really like that?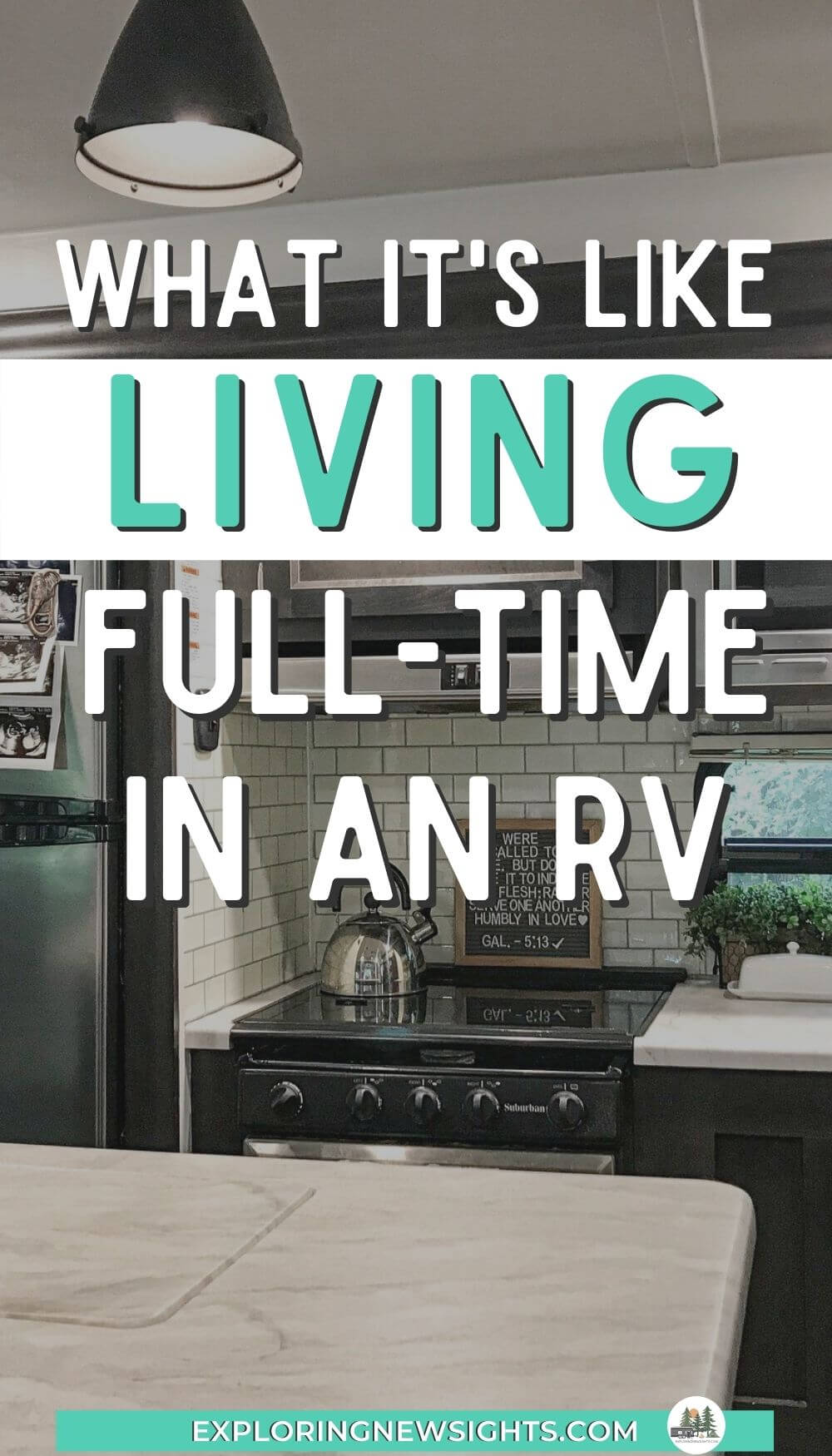 Before we took the leap, we wanted to know what life in an RV was truly like.
We learned quite a bit from reading forums, and also from Facebook groups dedicated to living in an RV full-time.
We found that the majority of those who opted for the minimalist RV life was truly enjoying it. This not only gave us peace of mind about our decision, but it also helped to fuel the drive to make this dream of ours a reality.
Plus my husband and I loved the idea of a simple life and having less. Personally, Matthew and I believe…
"happiness isn't in the things you possess but in the moments

and experiences you encounter."
As I mentioned before, I may have been a little Pinterest and Instagram obsessed during the beginning of our journey. I dreamed of the perfectly organized, cozy, and minimalistic lifestyle that social media presented.
With fewer belongings, I imagined it would be much easier to keep things organized, and simple.
But what is living in an RV full-time really like?
So let's get into it….
What it's like to live in an RV…
Living in an RV is really cool! At least we think it is!
Having the ability to get up and take your home anywhere you want is a sense of freedom that you just don't get in a house or apartment.
Knowing you have the ability to go and travel anywhere, from the Grand Canyon in Arizona one week to the Beaches in Florida the next is exhilarating.
However, if you're planning on staying at RV resorts there is some planning that has to take place. Many RV parks require reservations ahead of time.
– what it's like Cleaning:
Honestly, it takes about an hour to clean the whole place including dusting, sweeping, mopping, dishes and putting away laundry.
Less time cleaning and more time enjoying life.
I hate cleaning and knowing that I don't have to clean an 800 square foot apartment or a 1,200 square foot house is a stress reliever.
Now, we do sweep on a daily basis because dirt and dog hair accumulates a lot quicker in a small space.
– what it's like Hooking up the Trailer:
Hooking up our trailer is heavy work. Therefore, we prefer to have us both working together to get it hooked up properly with our sway bars.
We purchased the Husky Sway bars and had the gentlemen at Route66RV in Oklahoma when we purchased the rig, set it all up for us properly.
The bars were a non-negotiable for us when we bought the travel trailer.
The reason we have the sway bars is to help keep the travel trailer from swaying from side to side.
This swaying could result in dangerous overturning, especially when traveling on flat roads with high winds or passing big 18-wheelers.
– what it's like Leveling:
Leveling the RV is a process that can take either 20 minutes or an hour depending on your site.
It helps when you have leveling blocks. Trust me, we didn't purchase these right away and totally regretted it!
After all, we were newbies and we thought we will be fine.
Our RV was unlevel for the first 2 months of living full time. It was uncomfortable and frustrating.
Also, not every site is going to have level concrete pads to park on.
So again, these are a must and leveling as best you can is not only good for your RV but also good for you.
If you hate things being unlevel like I do, you need to have levelers on hand. We use the block levelers by Camco.
– what it's like Packing:
Packing up the RV to get ready to go on a trip can be time-consuming. We like to have it clean before leaving anywhere.
We also have dishes and things that can break, so we have to pack them up with towels or bubble wrap.
There is a total checklist of things that have to be checked, tucked, packed, and taken care of before actually hitting the road.
Our RV doesn't give us access to the Fridge when traveling because of the slides, so we have to pack a cooler to save on food and buying unnecessary road trip food items.
Luckily, we do have a fridge though that runs off electric and stays cool for up to 4 hours, so we don't have to worry about food spoiling while driving.
– What's the deal with Water?
Water preserving is a learned skill. Shorter showers are a must, turning off the water when brushing your teeth or doing the dishes starts to become a habit.
The more water you use, the quicker your grey tank fills up.
Our Grey tank is only 35 gallons and fills up fast. If you are running only from your fresh water tank, you definitely learn to conserve water even more because that is only 40 gallons.
So, having water bottles, a water filter in the fridge, and jugged water is a good thing especially if you are going boondocking or traveling.
– What it's like dealing with Black and Grey Tanks:
The emptying of the black and grey tanks can get annoying, but it does become a normal process especially if you are living full-time and/or boon-docking. Honestly, it is disgusting and stinky!
We always have disposable gloves handy for release days. Our sensors to our tanks have never worked like they did when we first purchased.
Therefore, we have learned over the course of living full-time when it is time to release the tanks.
Also, We use to use the GEO method, but we quickly moved over to HAPPY CAMPER.
This product is AMAZING! You can read more about our Tank situation and why we recommend Happy Camper in our post: RV Tank Treatment – Comparing the GEO Method to Happy Camper
– What it's like organizing:
The perfect organization takes time and figuring out what you need and what you can go without does too.
We still have things that we want to better organize like clothes and miscellaneous drawers.
However, we have figured out what we truly need to live comfortably, and honestly, it's not a lot.
One benefit of living tiny is having less storage and less wall space because it prevents over shopping. I am a Target Lover!!
I love browsing around Target to see all the cute decor items, but I find myself thinking "where am I going to put that?"
Less space, less shopping, less money spent on miscellaneous items.
– You will Never STOP Learning!!
There is so much to learn about RVing! For example; how to clean out your hot water heater or check and seal your windows and roof.
Always staying on top of things, checking them and providing preventative maintenance is a must when living in an RV.
Driving and having a flat because your tire has developed dry rot is not fun and can be a disaster.
We personally have not experienced that, but have heard and read horror stories on Facebook RV groups we are apart of.
Also learning and planning a travel route is a skill and takes time and research.
Again, NEVER stop learning!!
Final Thoughts
I do have to admit, it is a lot like what I imagined but it does come with some lifestyle changes, and the renovation process is time-consuming if you choose to make interior changes.
You do, however, come up with some creative ways to store and organize your things.
Also, the many items that are not used on a daily or weekly basis end up not having a place in your new RV home.
So, while some things have changed with the way we live, the RV feels like home.
We've lived in a nice 1-bedroom apartment after we got married and the RV doesn't feel any different.
We still watch our favorite shows, cook normally on our stove, take a little quicker showers, and enjoy life as we did in our apartment, plus now we can take our home with us anywhere.
I hope this helps anyone looking to go out and buy an RV understand, at least our perspective, on what it's like to live full time.
Do you live full-time or plan on making the transition?
If so, what is it like for you to live in an RV or what do you expect it will be like? Leave a comment below!!