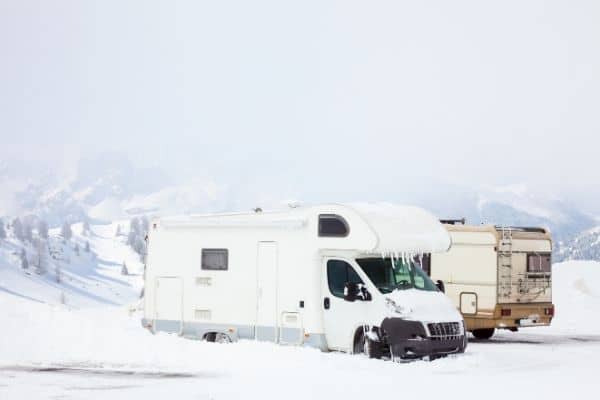 Winter RV Living | Surviving an overnight freeze during the winter in an RV while also living full-time, was a first for us in November 2018.
We live in Fort Worth, Texas, so while we don't experience the snow very often, we do get below 32 degrees.
I searched the internet on advice on how to prepare your RV for an overnight freeze, and I just couldn't find much.
I did learn how to winterize your RV if you're going to be storing, but not if you're living in one.
So, I am writing this for those living Full-Time or staying in an RV during the winter who have the same questions I had the day we had a freeze warning.
Questions like:
What do I do?
How to keep my RV tanks and pipes from freezing?
Should I get more propane or space heaters or both?
1. Shut off the water and clear the pipes
Our freezes are usually just an overnight affair here in Fort Worth, Texas.
So, once it warms up the next day we don't have to worry about our RV pipes or hoses freezing. Therefore, shutting the water off while we sleep isn't a big issue.
We also made sure we had water bottles or jugged water in the fridge filled and ready to go.
So, the night before (since we did not have a heated hose) we completely shut off our water and detached the RV's water hose.
We then make sure our lines and RV pipes are free of water by turning on the faucets inside to clear the lines.
We don't worry about the water in the water heater because it's electric and stays warm.
If you do turn off your water heater, the best suggestion is to release the water to prevent freezing and ruining your hot water tank.
Another option is to purchase a heated water hose and some styrofoam to cover your pipes for extra insulation.
A good practice is to keep your cabinets open in the kitchen and bathroom. This allows the RV's sink pipes to stay warm.
If you don't have a heated water hose, you can get one right here at Amazon! So worth it! 
2. Released the Black and Grey tanks
The next thing we did was released our RV's tanks and kept our valves closed.
Now, if your tanks are 1/3 full, and have a heating element or heating pads that keep them from freezing then it's okay if you don't release them.
However, I always like to be safe then sorry so since we could release them, we did!
3. Stock up on Propane and Buy a Space Heater
After shutting off the water and releasing the tanks, next we checked our propane tanks.
(We actually ran out of propane right before the freeze and kind of freaked, so we learned this one the hard way.)
Luckily, my brother-in-law had an extra tank that we could use for the night. Therefore, we didn't have to run to the store.
So, lesson learned, when it's cold and your Winter RV Living you always want to have extra propane.
Another option if you don't want to rack up a high bill of propane during the winter RV living is to buy a space heater or two.
Our RV has an electric fireplace, but even that doesn't put off enough to heat the whole RV when it is below 32 degrees outside. So, having an extra space heater won't hurt and will save you money on propane.
The best space heaters we have found are this Ontel Handy Heater and the Trustech Oscillating Ceramic Tower Heater.
The Ontel Handy Heater plugs right into the wall and is great for bedrooms or bathrooms. It saves so much space too!
4. Get a Dehumidifier
Another thing is the condensation!
With the cold air outside and the warm air inside, this causes condensation on the windows. Over time, if not properly dealt with can cause mold issues.
Therefore, purchasing a dehumidifier is very handy and helps prevent future mold issues. This is a must when your winter RV living.
Also, we love using the Arm & Hammer moisture absorbers.
We place these in the bedrooms, closet, bathroom, and can be put pretty much anywhere.
5. Insulate your RV windows
To keep the warm in and winter out, insulating your windows is recommended.
This can be done with bubble wrap, styrofoam, insulation boards, and some velcro or tape. This will also help with the condensation too that can accumulate on your windows.
For a quick buy, you can just check out the local hardware store like Lowes or Home Depot.
6. Purchase an RV Skirt
RV skirts are great, especially if you are going to experience snow or freezing temperatures.
These skirts provide protection from wind, snow, debris blowing underneath, and insulting the underbelly of your RV to help further prevent your tanks and pipes from freezing!
7. We Bundled Up!
And last, but not least…BLANKETS!
Stay bundled up with blankets, socks, warm clothes, and yes… even gloves! RV's walls are thin and having extra blankets to stay warm during winter RV living is a must!
Our favorite blankets are wool blankets specifically because that is one of the warmest materials.
Wool blankets are great for indoor snuggles or outdoor sitting by the fire. 😊
Also, Don't forget the Coffee, Hot Tea, or Hot Chocolate for extra warmth!!
Final Thoughts
So, let's recap on what we did to keep our RV from freezing and how we stayed warm during our Texas Freeze.
Turn the water off and clear water lines. (Unless you have a heated water hose. I don't recommend keeping the water faucet dripping because it can fill up your grey tank)
Release Tanks
Purchase Extra Propane or a Space Heater
Purchase a Dehumidifier
Insulate your Windows
Purchase an RV Skirt
Bundle up! Wool Blankets, socks, warm clothes! Stay Warm!!
I hope you enjoyed reading and I hope this helps answer some questions on staying warm while winter RV living full-time.
While we make these suggestions, we are not responsible for any mishaps, freezing pipes, hoses, or fires.
We do recommend you use safety measures and read your RV's owner's manual.
If you have any other tips that have helped you during a Freeze, please leave us a comment!
Don't forget to follow us on social media and sign up for our newsletter!