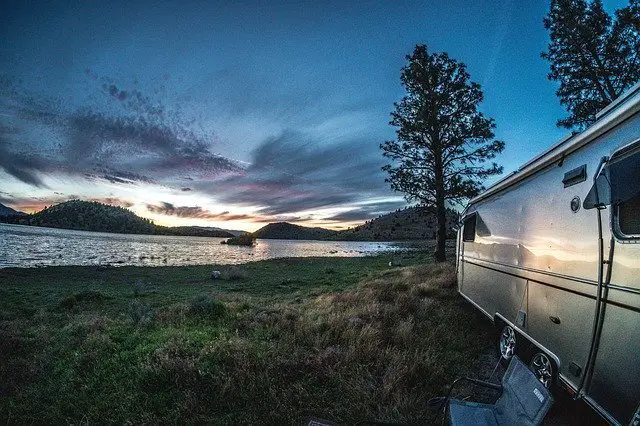 Living stationery in your RV is becoming quite popular. Maybe it's the cost of living that is driving many to make this life decision or maybe the draw towards a simpler and minimalist lifestyle.
However one chooses to live in an RV full-time is up to them. For us, we decided for many reasons, but one was the simplicity of the lifestyle. We also loved the idea that we could travel anywhere and take our home with us. You can read more of Why We Chose to Live in an RV Here.
We have lived stationary in our RV for over two years and have enjoyed almost every minute of it. I say almost because no matter where you live there is always going to be some hiccups along the way.
If you're looking to live stationary in your RV and you are looking for ways to make it feel like home, then you're in the right place. We have the experience and are here to share our tips and tricks.
Choose a larger RV for Stationary Living
The first tip we have for you is to consider choosing a larger RV. When you live stationary, this means you are more likely to accumulate things so having more space is a good thing. Plus, having a larger RV with an open floor plan makes living stationary doable and tolerable.
The RV Travel Trailer we chose has three slides. There are two large ones that open up into a nice living space with an island kitchen. While living stationary space has become imperative, especially now that we have a child.
I also recommend finding an RV with Washer/Dryer hookup, especially if you're stationary. Having to run to a laundry mat every time you need to do laundry is a pain and can become expensive.
Find the Right Location
Before you purchase your RV, we recommend picking your location in which you will be living.
Are you going to live in an RV park? If so, you will want to call ahead and reserve the spot as well as get pricing for a month to month living. Some RV parks may not even allow you to live full-time in their park or they may have size restrictions and hookups. So you may want to do some research.
Other options is to buy land or "famdock". "Famdocking" is like boondocking but on your family's land. We "famdock" on our family's land and installed power and sewer so we could live full-time.
Do you need a tow vehicle?
If you're choosing to live stationary, then purchasing a tow vehicle is not really a necessity unless you plan to travel. There are many people who live stationary and when they decide to move they hire a company to tow their RV for them.
Also, if you purchase your RV from a dealer, they can deliver your RV to any destination that you have picked out. By choosing not to buy a tow vehicle will help with cost and further save you money.
Don't sell your second vehicle
When you live stationary in your RV there really is no need to sell your second vehicle, especially if you are still commuting to work. Having a second vehicle is nice to be able to run errands or see family.
For the first 6 months that we lived in our RV, we still had two vehicles. However, we did decide to sell our second car to save money because I was now working from home.
Don't be afraid to Redecorate!
RV interiors are not the best and if you want to make the space your own, then go for it! It's your RV, so don't be afraid to repaint, switch out some furniture, or hang some new window coverings.
When we purchased our RV, we decided to paint the interior walls white and replace the window valances with homemade curtains. It made such a massive difference. It feels like home in our RV and I love it!!
Looking to paint your RV? Here is a post on How to Easily Paint Your RV's Interior (with a supply list).
Own your Living Situation!
Living in an RV is unconventional to a majority of people out there. You may get a lot of questions and concerns for choosing this lifestyle. Many times people's concerns and questions can be discouraging even if they don't mean to be.
We get it! We were told RVs just depreciate in value and they even tried to discourage us in buying one. However, we saw the potential to pay off debt and travel when we wanted. Less stuff and more experiences!
So if you are choosing the RV Life, then own your living situation!
Allows you to get closer to nature
When you live stationary in an RV it's a small space to spend a lot of time in. Living in an RV almost forces you to spend more time outside. So having some chairs, a rug, and even a small fence around the side where your door(s) are is nice when living stationary.
My tip: If you plan to live at a park, try and pick one that has a nice location with trees and hiking trails nearby.
Stationary with Kids
If you have kids then choosing an RV with a bunkhouse or a second bedroom is key! RV's are smaller than houses and it's good for kids to have their own space, especially if they're older. It's also important to maintain a normal schedule as if you were living in a house. Kids thrive on having structure!
If you plan to keep your kids in public school, there are ways that you can do so while living stationary at an RV park. You would just need to check with the RV park owners/employees.
Homeschooling is another option that many RVer's choose to do with their kids to keep the freedom and ability to travel. By homeschooling, you will have the opportunity to explore your area, go on hikes, visit aquariums and zoos for learning experiences besides being stuck in the RV all day. These are just some examples of what you can do to live comfortably with kids in an RV.
Dealing with the Tanks while Stationary RV Living
The tanks should be pretty easy when living stationary because you will constantly be hooked up to water and sewer. This eliminates having to fill up your freshwater tank.
When you are living stationary in your RV, you can leave your grey tank open because that's just wastewater from, laundry (if you have a washer), showers, and dishes.
My advice though, keep your black tank closed, always flush with a lot of water, and release it when it gets full. Even if you're stationary and hooked up to sewer this helps prevent the solids from accumulating in your tank and sitting at the bottom. I would also periodically flush your tanks to keep them free of solids.
Our RV has a built-in sprinkler system for the black tank. All we have to do is hook up the hose to the designated black tank connection and when the water is turned on it sprays the inside of the tank to clean it of any solids. Our RV is a 2019 Palomino Puma 31RLQS.
You will also want to make sure you're treating your tank with Happy Camper! This stuff is gold to RVer's because it helps break down the solids, eliminates odor and continues to work even after dumping your tanks.
Cleaning is Much Easier!
I've said this before in our post about "What's its really like to live full-time in our RV", and I stand by it! It's so much easier and quicker to clean an RV than an apartment or house. The smaller the space, the faster and easier it is to pick things up.
It also easier because you don't have as much stuff to deal with as you would in a house or apartment.
Final Thoughts
Live comfortably in your RV while you are stationary! Make the RV inside and outside your own and own your living situation. Don't let people bring you down for choosing the lifestyle. Remember there are thousands of people that choose to live in an RV or a tiny home, so you are not alone.
If you have kids own your living choice even more and make sure everyone in the family is comfortable and maintains normal schedules.
Living stationary in your RV should bring about a sense of freedom, and it should give you the ability to pay off debt, live minimally, and a higher purpose than materialistic things in life.
We enjoy living stationary in our RV. Our living expenses are way lower than before and we don't have to worry about yard maintenance.
Also, choose to spend more time outside, enjoy nature, and overall love your lifestyle!