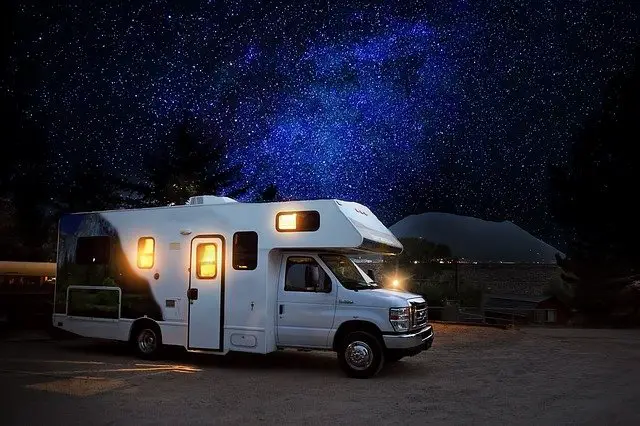 Should you buy a New or Used RV?
When it comes to buying your very first RV or even your second or third, there are so many things to consider. There is also the age-old debate that has many people confused about whether purchasing their RV new or used will be the better option.
For us, we thought about this the entire time we were searching for our home on wheels. We read Facebook groups, asked questions, and saw other people ask the same questions. We found that the majority of people said to buy "used".
However, I was still so skeptical. Is buying used really the best option? During our research and purchasing timeframe, I set down and examined the pros and cons of purchasing an RV New VS purchasing an RV Used.
I also always kept in mind that I was purchasing our home. This was a place we will sleep, cook, play games, and live life full-time. I did NOT approach this purchase as the same as buying just a normal vehicle.  After all, a car doesn't have a bathroom, fridge, sink, or propane tanks and generators.
So, let's get to it and first examine the Pros and Cons of purchasing your RV New Vs. Used.
Pros and cons of purchasing a Used RV
Used – Pros
Usually cheaper than purchasing brand new. This make's it easier to pay cash instead of financing.
Less guilt if you want to make any renovations whether major or minimal.
All the "Kinks" are worked out from others "breaking it in".
Anything that needed to be fixed has usually been taken care of by the manufacturing warranty if the previous owner took advantage of the warranty.
Easier to negotiate price.
Lower Insurance
Less Depreciation from your point of purchase.
Used – Cons
Usually Sold AS IS without any warranties
If purchased used with a loan, you will usually have a higher Loan Interest Rate.
Unknowingly could purchase a LEMON or one that was not been maintained properly.
Could have mold, leaks, or more.
Unable to have your true pick of floorplans.
If purchasing a Motorhome, less fuel-efficient than a new motorhome.
Hidden Maintenance Issues.
Other people or pets misuse now becomes your problem.
Usually outdated appliances and décor (Unless you are going to be making décor renovations and upgrades, this isn't a con)
Pros and Cons of Purchasing a New RV
New – Pros
It's yours! No one has ever owned it before. (Nothing in the tanks that are foreign to you)
New Appliances, new furniture, and that new home smell.
Greater options and flexibility to search and choose the right amenities and floor-plan that is best for you and/or your family.
Manufacturers warranty
Ability to purchase directly from Manufacture and customize to your liking
New – Cons
Premium Price (Don't be afraid to negotiate and check the prices nationwide for the same RV)

High Depreciation
Higher insurance
You have to work out the kinks and issues yourself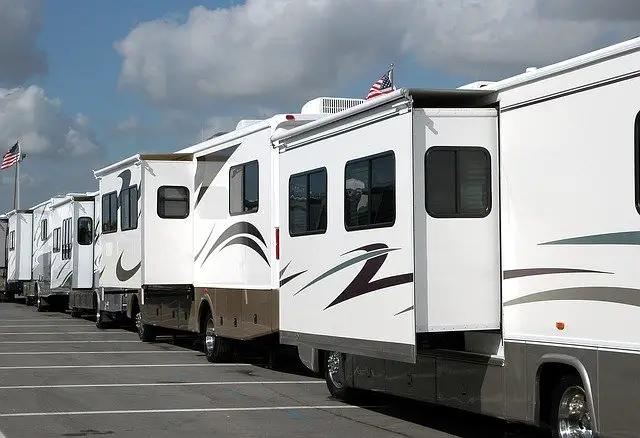 Now that you know the pros and cons of purchasing a used RV vs. a new RV, which is better?
Honestly, it really comes down to your own finances and your own personal reasoning. What is important to you and/or your family? Is it the money and not wanting a loan or is it making sure your floorplan and amenities supply the right needs for your family? I feel like there is really no "right" answer to the new vs used debate.
What we chose and why…
For Matthew and I, we searched all the floorplans and prices. After 6 long months of conducting comparisons on RV Trader and going back and forth on buying new or used, we found what we needed.
Ultimately, we decided to buy brand new, took out a loan, and got the perfect floorplan that fit us. We made the decision to buy new because we were going to live full-time and it needed to fit our needs. Making sure we were comfortable, happy and had a Washer/Dryer prep in our space was a top priority.
Also, we realized with our research that the type of RV we needed and wanted was the same price new as it was a few years older.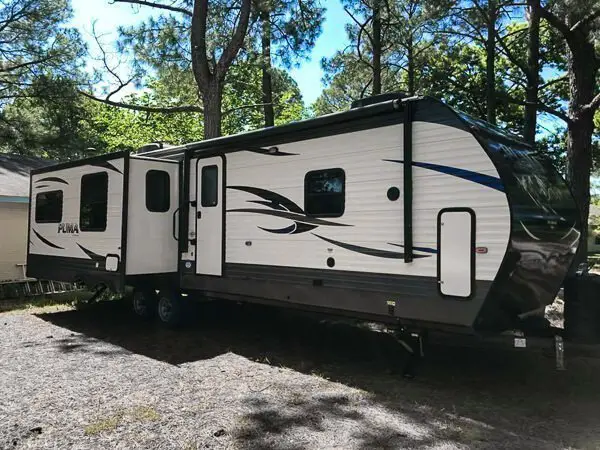 When you buy used, all the "kinks" are worked out, right?
Honestly, you can purchase a brand-new RV or a used RV and still have problems. There is no true guarantee that it will be perfect. We have only had one leak in a side window that was an easy seal up. So far we have been full-time living stationary for almost a year now.
So, just figure out your priorities and needs that are personal to you. I hope this helps and don't forget to check out RV Trader to search for your perfect RV, whether you're looking for a used one or a new one!