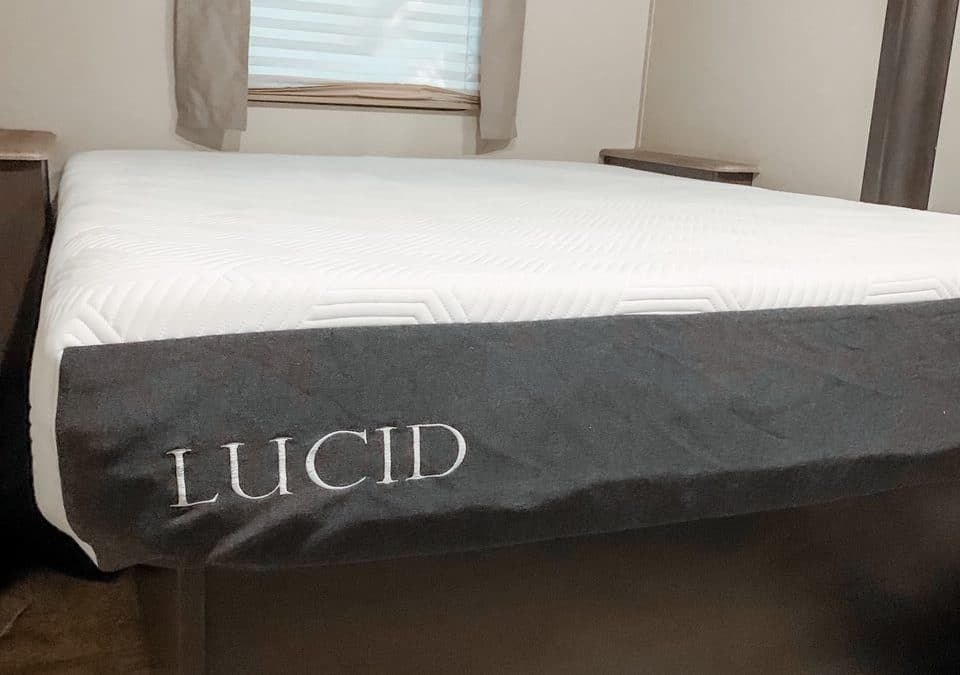 RV Bedroom | If you're reading this, you're wondering how you can make your RV Bed a place that you enjoy laying down and falling asleep in.
After all, camping doesn't always have to be roughing it. RV camping adds a special touch of luxury while enjoying the great outdoors.
So, let's imagine for a moment that you've been hiking all day and all you want to do is lay down in a nice comfortable, and cozy bed. However, you lay down in your RV bed and it's like you're lying on a flat rock?
That doesn't sound enjoyable to me and that's what RV mattresses are like.
We know firsthand that the mattresses that come standard in RV's (unless you have it custom ordered) are far from being comfortable.
For us, the Mattress that came in our RV was the most uncomfortable mattress I've ever slept on. So, since we were going to be living full-time in our RV, getting a new mattress and making our bed comfy was a necessity.
Whether you plan on living full-time or enjoying your RV during the RV season, being able to relax comfortable is a necessity.
So here are some tips to get your RV bedroom ready for a comfortable night's sleep.
1. Buy a Comfortable RV Mattress (LUCID RV Mattress Review)
The first thing you want to do in making your RV's bed comfy and cozy is to check the quality of your mattress.
As I mention, RV mattresses are usually horrible to sleep on and made with cheap material. We slept on our mattress the first night we got our RV. It was the worst sleep I have ever had. Therefore, purchasing a new mattress was at the top of our list.
Side Note: At the beginning, we tried memory foam mattress toppers, but with the quality of the mattress, it began to sink in the middle and made it so uncomfortable.
So, we searched throughout the internet because we had to one that was an RV Short Queen to fit. These are hard to find at a good price and there are not many options to choose from.
We also didn't want a spring mattress and always enjoyed memory foam.
After some research and finding different options, we decided to purchase the Lucid Mattress from Amazon.
We chose the Lucid Memory Foam Mattress in a box because of its reviews and availability in the size we needed. Plus, it was Free Shipping with Amazon Prime. This helped make our decision easier.
Another positive about purchasing this bed is how easy it was to set up. It's just like any other bed in a box.
This mattress came with an envelope cutter/opener to cut the plastic wrap around the bed and protect the mattress from getting cut. That was a nice surprise when opening the box.
Once the mattress was removed from the plastic, we unrolled it and laid it flat on the bed platform. We allowed about an hour for it to inflate before placing our sheets and blankets on top.
The Lucid Mattress has been one of our favorite and best purchases we have made for our RV Bedroom. Getting a good night's sleep is so important to us and the Lucid Mattress is so comforting.
The memory foam works perfectly in adhering to our bodies for a comfortable night's sleep. It's like sleeping a cloud that forms for your body!
I honestly have yet to have any negatives with our purchase. So far, the bed has held up and is still as comfortable as the day we got it.
Also, the price is unbeatable. Other RV beds cost hundreds of dollars more than the Lucid Mattress.
View this post on Instagram

 
2. Buy Quality Soft Sheets
In all honesty, I have wasted so much money trying to cut corners when it came to buying sheets.
There are so many options out there! It can become a bit overwhelming to purchase the perfect sheets when you don't know any of the sheet lingo.
You have terms like; thread count, material, and woven pattern.
But what are the best and most comfortable sheets?
Well, just like mattresses have different comfort levels, so do sheets.
Now, when you search for sheets, the thread count is usually what many get hung upon. If you stay above 500 to 600 thread count, you'll be good with softness, durability, and affordability.
In my opinion, however, it's more about the quality of the material and woven pattern.
Also, you don't have to spend a fortune on Egyptian cotton sheets, unless you want too, to get a good quality comfortable sheet set.
After many purchases, I know I will NEVER buy microfiber sheets again. The synthetic material is not comfortable or soft.
I found that 100% cotton sheets are the best. Also, a sateen woven pattern with more threads going vertical than horizontal is what we enjoy.
We recently purchased the Hotel Style, 600 Thread Count, in Grey from Walmart for like $50. It's a set of one fitted sheet, one flat sheet, and two pillowcases. These sheets have been great for our RV Bedroom and didn't break the bank!
Here is a set on Amazon that is like our purchase – > 600 Thread Count 100% Cotton Sheets – Soft and Silky Sateen Weave https://amzn.to/2PDGUzR
3. Down Comforter or Duvet
Grab a comfortable comforter set with matching decorative pillow-cases.
If you enjoy a lightweight quilt or duvet cover then go with what you enjoy sleeping with. The point is that you're comfy!
We purchased this pretty and neutral crisp white comforter set for our RV Bedroom. It's the perfect amount of warmth and comfort for a good night's sleep.
When it comes to the perfect comforter set, search for your style! Whether it's cabin plaid, black and white boho, or full of colors and patterns.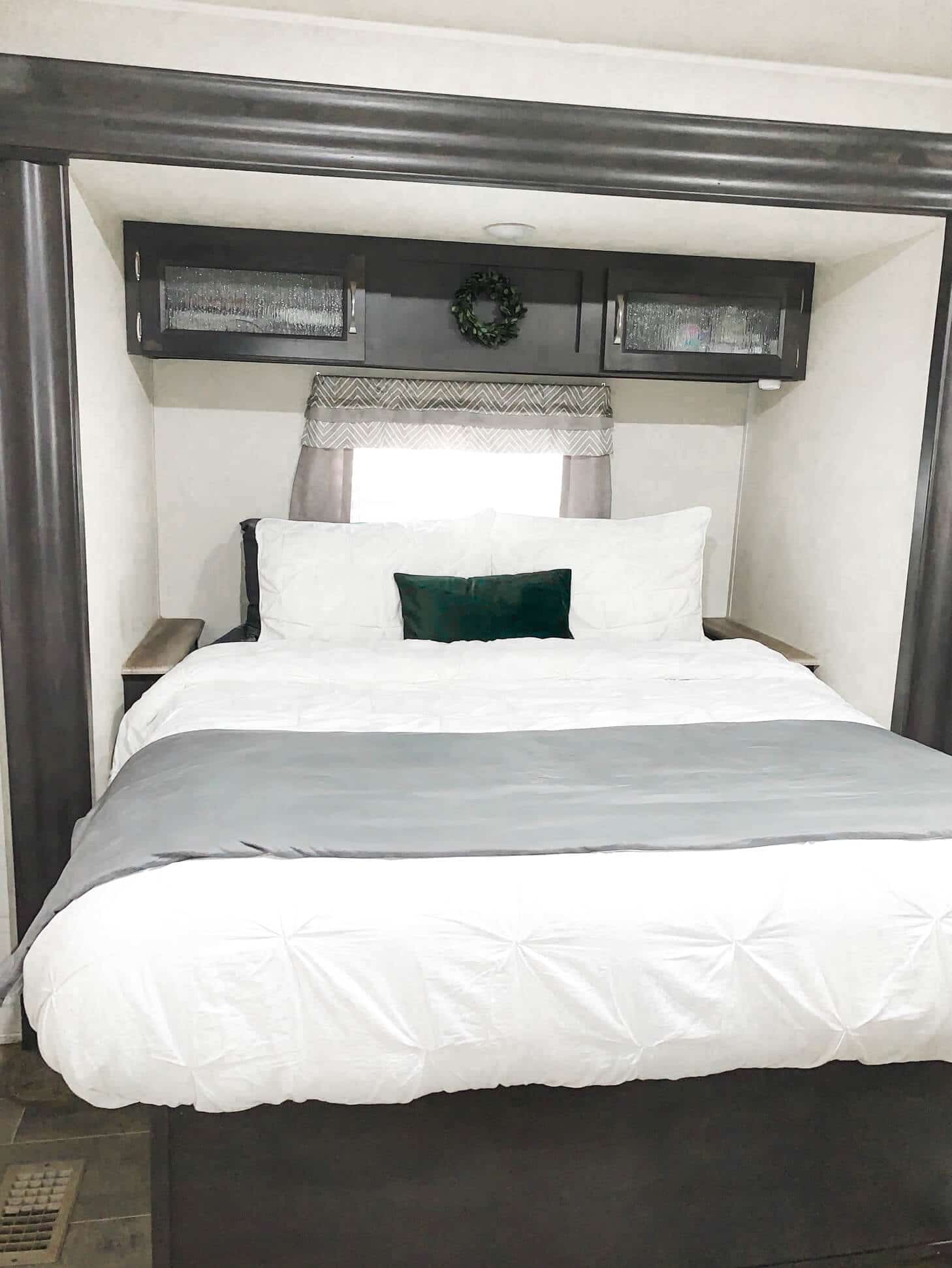 4. Extra throw blanket
I love the look of an extra throw blanket on the bed.
They keep you warm and gives you something to take a quick nap with, without messing up the perfectly made RV bed. And, we all know how difficult those RV beds are to make up.
For us, we have a weighted blanket that we place at the end of our bed as our extra throw blanket. I love it because it stays in place and is super comfy to cover up with for nap time.
5. Comfy Pillows & A Throw Pillow 
You can decide if you want to add a nice throw pillow for character or not.
I would advise that if you do like decorative throw pillows, to keep them at a minimum in an RV bedroom.
There is not much room, to begin with, and trying to find a place to put decorative pillows when you sleep isn't easy.
Plus, less is more!
We have 4 pillows, and 1 throw pillow to add extra coziness.
Also, make sure the standard pillows you choose are what you enjoy sleeping with. Whether that's a flat pillow, a fluffy pillow, or a memory foam pillow.
Final Thoughts
Now that you know how to make your RV's bed comfy and cozy to have a good night's rest while you're camping, get out there and camp!
Enjoy your RVing journey with restful nights. We absolutely love our Lucid Mattress, our budget-friendly soft sheets, and cozy pillows.
They make all the difference and I'm sure they will make the difference in your RV bedroom as well. If you found this article helpful, please feel free to share!
Also, if there is something you have found that makes your RV bedroom Comfy and Cozy, let us know in the comments below!
Don't forget to follow us on Pinterest, Instagram, and Facebook!
Share this post and Pin for Later!