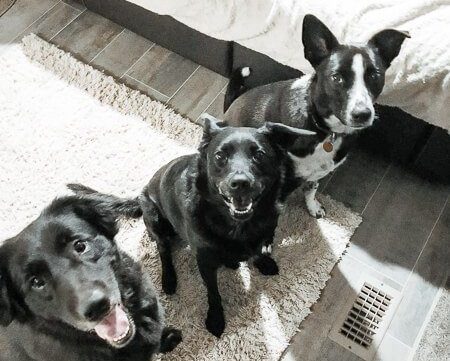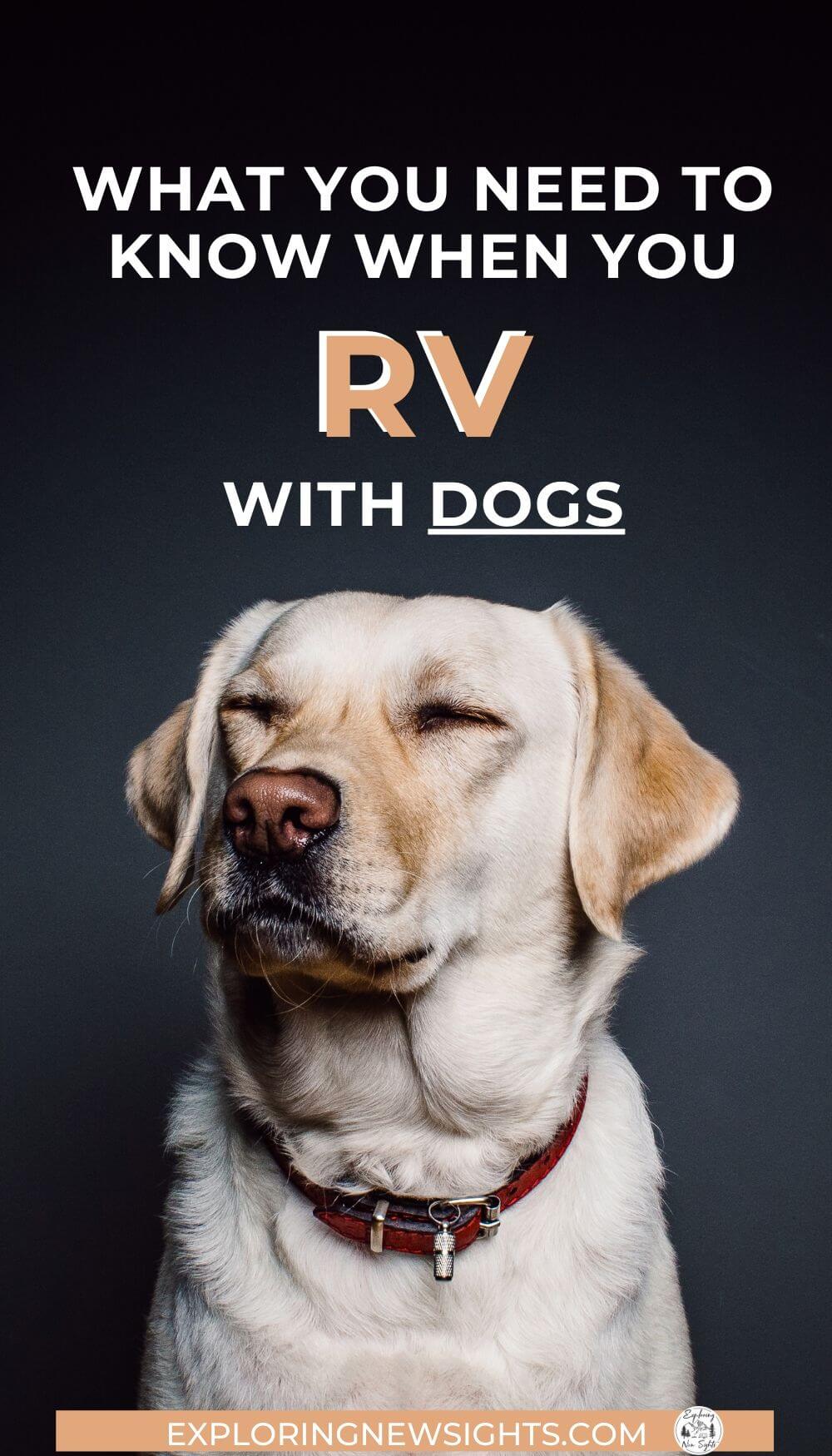 Traveling in an RV with Dogs is an experience all on its own. As my husband and I started the RV journey we had two dogs, Piper and Finley.
We are now living in an RV full time with three dogs because we adopted  Blaze from my husband's sister.
With our experience with dogs and living in an RV, there are some things we would like to share.
But first, I would like to say that Dogs are incredible animals. The inspiration to write this post came from complaints I saw on Facebook that somehow pets ruin the RV experience.
Personally, I disagree with that statement because I believe pets are comforting, funny, and intelligent.
Our three fur babies are apart of our family!  With that being said, if we could take them absolutely everywhere with us, we would! However, they are not service animals and do not have a license to do so. So when we do travel, we try to always make sure that parks allow them to come along.
When it comes to living in such a small space with pets, I would be lying if I didn't say it is an adjustment, not only for you but also for the pets themselves. Luckily, our dogs are pretty resilient and happy as long as they get to play, sleep, and fed twice a day.
So let's get into it. What should you expect when moving into a small RV with your pet or pets and travel?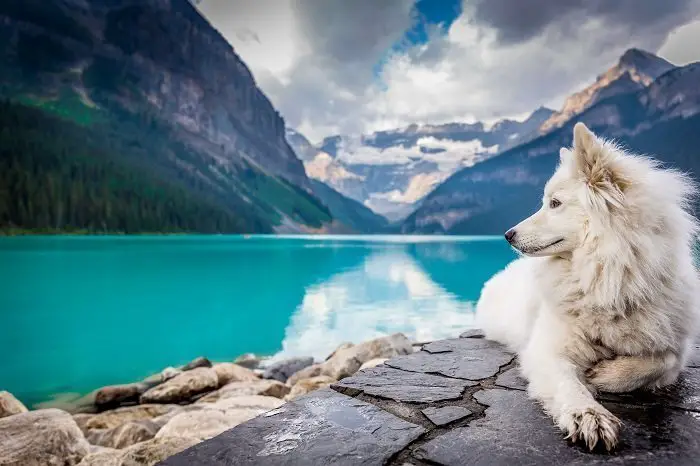 1. There will be hair!
I know, I know. This one is kind of a given but in all seriousness, with the space being so tiny in an RV the hair accumulates a lot quicker than in a house. I can't tell you how much hair we accumulate in a single day, but if you didn't like sweeping before, you'll hate it even more.
We have to sweep our RV almost every day. We even wash/change our bedding twice a week because our little one, Finley, is a night cuddler and sleeps at our feet.
2. They Will Bark
It's an inevitable event that happens when they see people walking around the RV park. Piper, our lab, sees a Squirrel and will whine. Blaze, our Ball Boy, barks when a doorbell sound goes off on the TV.
Whatever it is, they will bark and we do our best to correct their behavior but we understand dogs will be dogs. If you have a barker, the best thing we have found is to distract them with a toy or bone. This will help prevent them from the desire to stare out the window.
3. Leashes are a Necessity!
I can't express how important it is to keep your dogs on a leash. This is pretty much a necessity mainly for the safety of the dog. There is no telling what other animals are out and about that could hurt your animal if they get loose. Many RV parks and national parks do require that dogs have to be on leashes.
Trust me, this is one area I struggled with when training my dogs. I tried everything to teach my dogs to walk easily on a leash, and I mean everything, but the only thing that works is the Gentle Leader. With the Gentle Leaders, I no longer have issues taking all three dogs out together at the same time. I know that if they see a squirrel I will not get pulled down to the ground.
4. Pick up the Poo!
Yes! This is a must and a foreseen event that has to happen when being a dog owner. Having poo bags is a necessity because who wants to walk outside in a nice RV park and step in dog poop? Picking up your dog's poop is just common courtesy as well as doing your part to keep areas nice and clean.
5. Toys, Toys, and More Bones?
We have ropes, balls, and of course bones for our pups. The bones especially, keep the three occupied when we want and need them to be quiet. When you have people walking around or animals scurrying in the trees, the bones allow for some peace and quiet.
6. Exercise!
Dogs need their exercise and when RVing that means leashes and long walks if there is no dog park. RV's are small spaces and any dog of any size can get cramped and have bursts of energy that needs to be released. Walks in the morning, afternoon, and evening become normal.
I believe a well-behaved dog is a tired dog!
There are also other methods to give a dog more outside time like portable fences and temporary tie outs. However, we personally never let our dogs stay outside unless we are out there with them.
7. Dirt & Mud … oh My!
Along with the dog hair, there will be a ton of dirt that gets tracked in, however, this isn't only the dog's fault. Our shoes bring in the dirt just as much as the dogs. Also, rainy days suck when living in an RV, especially when you are in an area that gets really muddy. It's not only taking the dogs out but also having to clean them off and wipe their paws every time they come back in.
There you have it! These are our top 7 things to expect when RVing with dogs, whether you're just going for the weekend or plan on full timing it like us. We hope this brings some insight into what it's like to have dogs in an RV.
Our three fur babies are apart of our family. We will sweep every day and buy more and more toys as long as they are happy dogs. Dogs and other pets live very short lives and giving them the best life we can is what we strive for. Like we mentioned before, If places or hiking trails do not allow dogs, we skip it and move on. Let us know if you have any other suggestions on how you RV with dogs!