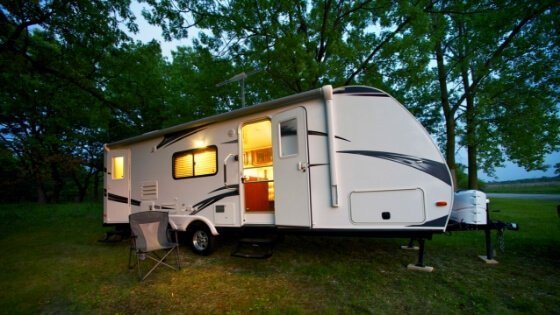 Out of the many types of RVs including Pop Up Campers, Fifth Wheels, and Motorhomes, Travel Trailers take the lead as the most commonly purchased style of RV. They are also the cheapest way to get into RVing. So, if you are on the market then this Travel Trailer Overview will help you get started in your RVing Journey! 
First, what exactly is a travel trailer? A travel trailer, also known as a camper trailer, has the same amenities as a brick and mortar home, just on a smaller scale. They have sinks, bathrooms, beds, dining, and of course kitchens. Travel Trailers provide a much more comfortable and secure sleeping arrangement, compared to a tent.
All travel trailers both large and small require a tow vehicle that is adequate in size and always hooks to the bumper or tow hitch. This is what they call a "bumper pull". Due to the fact that they require an SUV or Pick up truck to tow, this allows you to continue to use your vehicle while the Trailer sits during off-seasons or at the campground. If you are in a great area and need to run to the store or want to explore, you don't have to completely unhook everything from the trailer just to pick up some milk or go hiking. Whereas in a motorhome (unless you tow a lightweight vehicle with your motorhome) you will have to unhook the entire motorhome to go anywhere.
Another great advantage of the tow vehicle is the safety features including crash protection, blind spot detection, and more. Tow vehicles also allow you to safely travel with children and their car seats, which is not usually available with motorhomes.
When did the Travel trailer first make an appearance?
Travel trailer first appeared in the 1920s. Those who enjoyed them were often called "tin-can tourists". Throughout the decades, travel trailers became a livable option for many people, and this sparked the nickname "house trailers" by the 30s and 40s.
However, it wasn't until the 1970s that the demand for a full hard-shell travel trailer rose to new heights. This was when the modern-day fiberglass body made its first appearance. The travel trailer industry boomed, as more North American and Canadian families enjoyed taking road trips for their vacations.
How has travel trailers changed over the years?
The Travel Trailer industry has continued to grow. Manufacturers began to build a smaller class, called Light Weight travel trailers, that are under 3,000 lbs. and average 11 to 18 feet in length. There are also mid-size trailers usually about 18 to 25 feet in length that weigh around 5,000 lbs or more. The mid-size and lightweight trailers are easily towed with a 1/2 ton pick up truck or SUV. Both trailers have many of the same amenities as the larger trailers but tend to sleep fewer people.
Larger travel trailers generally ranging from 25-40 feet are designed for seasonal and even full-time users in mind. The weight of the larger travel trailers can range from 9,000 lbs. to 12,000 lbs. These trailers usually need a heavier tow vehicle that is built to pull the required amount of weight such as the 3/4 ton or even a 1-ton pickup truck.
The larger style travel trailers also boast more variety of options, including multiple slide outs to open the space up. They fit more people for sleeping by including pull out couches and bunkhouses.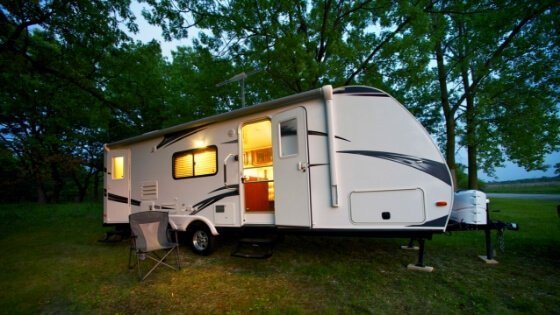 Who are the top manufacturers?
There are many manufacturers today that specialize in travel trailers, one of the most popular is the Airstream.
Other manufacturers include;
Coachman
Forest River Inc.
Palomino RV
Dutchman
Heartland
Jayco
Winnebago Industries
Keystone
Grand Design
And more…
Each Manufacturer has its own styles, amenities to choose from, quality of products, and much more. For us, the floorplan was the most important, then we began our search for Manufacturers that had the plan or similar plans and compared the quality.
What are the different styles and amenities to choose from?
Here are just a few of the options for style and amenities you can choose from.
1 to 3 Slides to open the spaces.
Outdoor Kitchen and Entertainment Areas
Bunkhouse for extra sleeping space for families
Stainless Steel Appliances
Solar Ready Equipment
Electric Fireplace
Kitchen Island
Washer & Dryer Prep
Dining booths or Table with Chairs
Theater Seating
Variety of Colors and Styles/Floorplans to Choose
As you can see there are many choices to make when choosing the right Travel Trailer. When we decided on what amenities we wanted, we tried to make sure it was amenities that would make us happy and enjoy the full-time RV lifestyle.
For you, the amenities can vary depending on what you are planning to use your Travel Trailer for. If it's just weekend camping trips, the smaller lightweight trailers are a great option! However, if you're seasonal, or full time like us, there are larger options that work great for singles, couples, or families!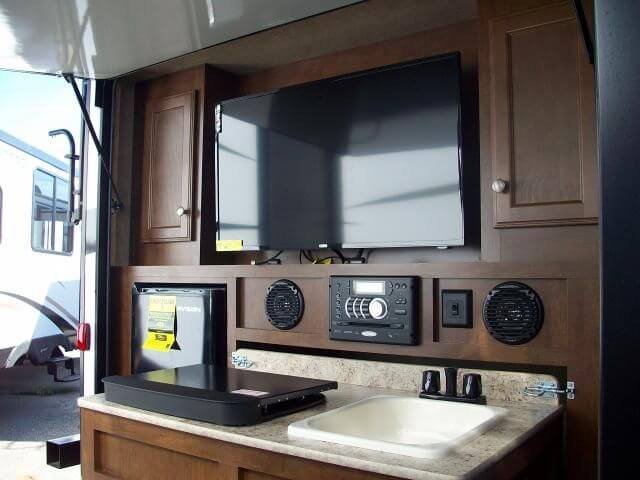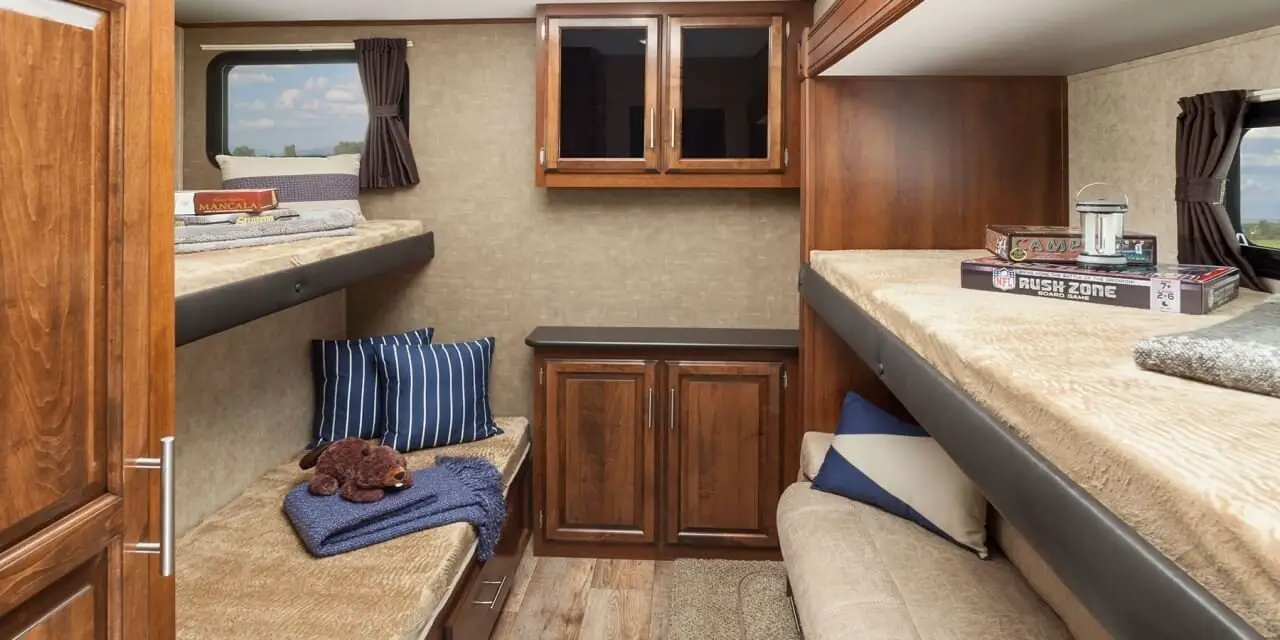 What are the Pros and cons of a Travel Trailer?
Pros
Lightweight options
A large variety of styles, manufacturers, price, and sizes
Lower price compared to fifth wheels and motorhomes
Better Insulation than a popup camper or tent
Easy setups
Cons
Needs a tow vehicle adequate to the size of the trailer.
Difficult to park and back up. Takes practice.
Some large trailers can be too big for campgrounds
Depreciate in value
Quick Travel Trailers Overview
Travel trailers range from 8 ft to 40 ft.
Weight averages from less than 3,000lbs up to 10,000lbs.
They have the ability to sleep either 2 to 10 people.
Average price starting under $10K for your small lightweights and can skyrocket to $200K
Great to take camping and will keep you more secure than a tent.
Larger Travel Trailers can even be used for seasonal or full-time living.
What We Chose
Our journey to finding our Travel Trailer took almost a year of research and planning. We shopped and compared an endless amount of floorplans and amenities before we made our final decision. We also had to make sure that our Tow Vehicle was the adequate size to pull whichever trailer we chose.

After all the research we decided on the Palomino Puma 31 RLQS. Our travel trailer is about 9,000 lbs, 32ft long, and we chose the 3/4 ton Dodge Ram 2500 Diesel with a Max tow of 10,750 lbs.
For us, the floor plan was the most important. We wanted the couches/living area to be a true living space with the T.V. in front of the couches. We also loved how the three slides opened up the area for a more comfortable living.
The final and most important feature we needed was a washer and dryer prep. Surprisingly, there are not many options for Washer and Dryer preps in Travel Trailers, so with that being a number one must have, it cut our options quickly to the Palomino or Jayco. We chose Palomino, which is owned by Forest River Inc., but handle their own manufacturing and have a great price point.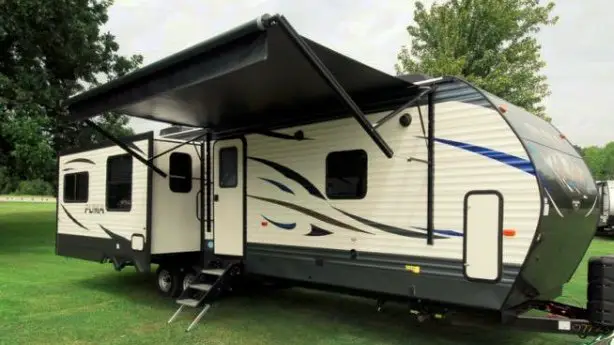 Travel trailers are great options for anyone looking to live a life of adventure while also maintaining the comforts of modern technology. As technology increases so does the RV industry.
We chose to purchase a travel trailer due to floor plan and price. They are usually cheaper than fifth wheels and many have the same amenities.
I hope this travel trailers overview helped you on your journey of searching for the perfect RV.
Whatever you fancy, there is bound to be a travel trailer out there that has it all for you.
Do you have a Travel Trailer? If so what is something you enjoy about it? Comment below! Also, don't forget to share so others can learn more about Travel Trailers!