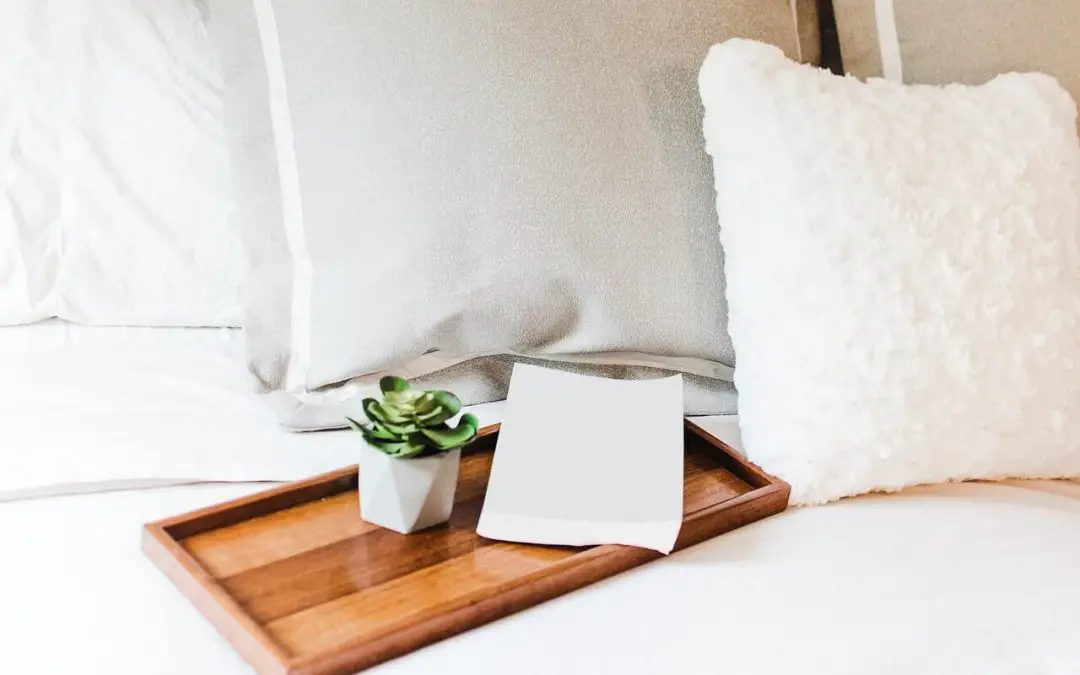 Making your RV Bedroom comfortable is what all RV owners desire.
We live fulltime in Texas where the summers are hot, and the winters can get down to below freezing on occasions.
Therefore, having the right items to keep you warm or cool in your RV bedroom is a must!
Through the years we have figured out what worked and what didn't while living in a small space.
So, here are 15 RV bedroom must-haves that have helped us stay warm, cool, and organized in the tiny bedroom.
Comfy Sheets
These are a must because a goodnight's sleep really depends on the quality of your sheets. The last thing you want is scratchy sheets that make you itch.
You also want to buy sheets that fit your mattress. There are some specialty sheets for RV Beds in case you have a Short mattress like us.
Not all RVs have special sizes of mattress so usually, you can buy normal sheets, but it's nice to have the option.
After all, having your sheets fit the mattress properly means you won't wake up to the corners always coming off. That can get annoying.
There are items to help prevent that, but a good fitted sheet should always stay snug on the mattress.
Comfy Pillows
If you want a goodnight's sleep then having the proper pillow for you is key.
Whether you're a stomach sleeper, side sleeper, or back sleeper make sure you have the right type of pillow for you in your RV bedroom.
I recently stayed in a hotel that had featherdown pillows, and I loved them so much that I'm purchasing them for myself for a better night's sleep!
Comfy Bedding
Comfortable Bedding is a must-have in your RV bedroom.
Whether you enjoy a thick feather down comforter or a light duvet, having the right bedding for your comfortability is important even in your RV.
So, don't skip out on the quality, especially if you're living full-time.
A New Mattress
Having a good mattress in your RV bedroom, just like sheets, will make or break your good night's sleep.
Most RV's come with mattresses that are ridiculously uncomfortable and hard.
We recently purchased the LUCID RV Short Queen Mattress from Amazon and we love it! It's a 10-inch memory foam and changed our sleep for the better in our RV.
A Heater for cold nights
If you don't want to use your RV's heater and go through propane like crazy, then purchase a space heater. Seriously, it is the best thing to have during those cold winter nights.
The one we have has the option to set the temperature, therefore, once it reaches the programmed option it shuts off. It also has a tip-over automatic shut off for safety in case pets or kids knock it over.
It the best thing to have to ensure you don't freeze if you're RV camping or living full-time during the winter. Definitely an RV bedroom must-haves for everyone! 
Small Fan for Hot Summers
Those hot summers camping can get even hotter without a fan. We have two A/C units, one for the main living space, and another for the bedroom.
The one in the bedroom is always on!
However, not all RVs have two units, and having a personal fan to help circulate the air is a must-have in an RV bedroom.
For some, the noise is also very helpful if you have loud RV park neighbors because RV walls are thin.
You can actually purchase a space heater with a fan-only option so you save space as well. 
Moisture Absorbents and/or Dehumidifier
These are RV Bedroom MUST-HAVES for anyone who owns an RV.
RV's accumulate moisture, especially during the rainy seasons or in high humidity locations.
Having some type of moisture absorbents is important to keep your RV free from musky odors and mold or spores from growing.
You could also get a dehumidifier. I personally use both a dehumidifier and moisture absorbents especially when it rains.
Drawer and Closet Organizers
The type of organizers is going to depend on your RV's closet space but having some type of organization in your tiny closet is key in a small space.
Things can get really cluttered and out of control quickly in a small closet.
So, by utilizing baskets or tubs to organize your clothes will bring peace of mind when searching for something to wear.
I think this is key for any closet whether you're in an RV or a home.
Skinny Hangers/Drop hangers
Purchasing skinny hangers and the drop hangers will save you so much space in your RV closet.
You can hang up more clothes with the combination. They also help with keeping things organized in your closet.
We have the drop hangers and love them because living full-time, we have all of our clothes, not just the ones for a weekend camping trip.
Of course, we do switch out our clothing options per season to help limit the space.
Space Saving Bags
Like I mentioned before, we switch out our seasonal clothes depending on the time of year we use the space savings bags.
They help tremendously in reducing the size to allow more space for other things.
Being able to suck the air out of the bags and place them under the bed is so easy and saves us so much storage space.
These are RV Bedroom must-haves!!
Command Hooks/hat rack
Hats, Hats, and more hats! This is my husband 100%!
He loves his hats, and I love him in his hats but finding places to store them in an RV is a challenge.
So, having command hooks, over the door hooks, and/or a hat rack is essential. This is where creating vertical storage on your walls and doors will come in handy.
The Command hooks and over the door hooks are great for sweaters and jackets during the fall and winter months for quick access.
Check out our related post: 7 Ideas to Create Extra Wall Storage in Your RV
Having the jackets and sweaters hanging on the door also leaves you more space in the closet. It's a win, win!
Shoe Storage
This is one of those topics that so many RV'ers try and find solutions for. I get it, there are so many options and so many shoes to consider.
There are over the door shoe hangers, which we use in our closet door. You could also have baskets per family member to place their shoes in by the door.
You could also cut the over the door shoe storage into strips and velcro them to the sides of the bed.
Ikea also has a great shoe storage options that are skinny enough to place against a wall. This depends on the style and size of your RV.
There are many other options and is a separate post for another day. But, having shoe storage is a must-have in an RV bedroom.
Dirty Clothes Hamper
You'll want to consider where you will place your dirty clothes. When you're camping, hiking, or swimming, having a place to store them is an RV Bedroom must-have. 
There are different options like a hamper or laundry bags that you can choose from.
Whatever you decide, having a place to store your dirty clothes will help keep things organized as well.
Bed Side Reading Light
Okay, some RV's come with these, but some don't!
For me, these are an RV Bedroom must have!
We have one light above our bed that is separate from the main bedroom lights. However, that one light is so bright that having a smaller reading light is a must especially if you enjoy reading.
The small reading light also allows you to have light at night without disturbing your partner.
Bed Side Storage for TV remote/books
There are different options you could use to store the RV Bedroom's TV remote or your favorite book by your bedside.
One is a simple thin shelf with a ledge to keep the items from falling and to keep them organized.
These can also be used in the bunks for children's books as well!
Final Thoughts
I hope you've got a lot of great information about your RV Bedroom. These are the RV bedroom must-haves that keep us sleeping well, organized, and comfortable in our small space.
We have now lived over two years in our tiny RV bedroom and even added a baby to our space. All the items have come in handy, especially with a baby on board.
If you found this post helpful, please feel free to share it! 😊
Like this post? Pin for Later & Share with Friends