Why did we choose to live in an RV? There are many reasons and we are going to discuss our process and why we made the decision.
But… First, I would like to mention how much thought went into this major life decision of ours.
We have never bought a house, but I feel that we put just as much time, energy, and thought into the buying process of our home on wheels, as we would have if we were buying a brick and mortar home.
We chose to live full time in an RV for a combination of reasons, but one of the main reasons/goals was to save money and to become debt free.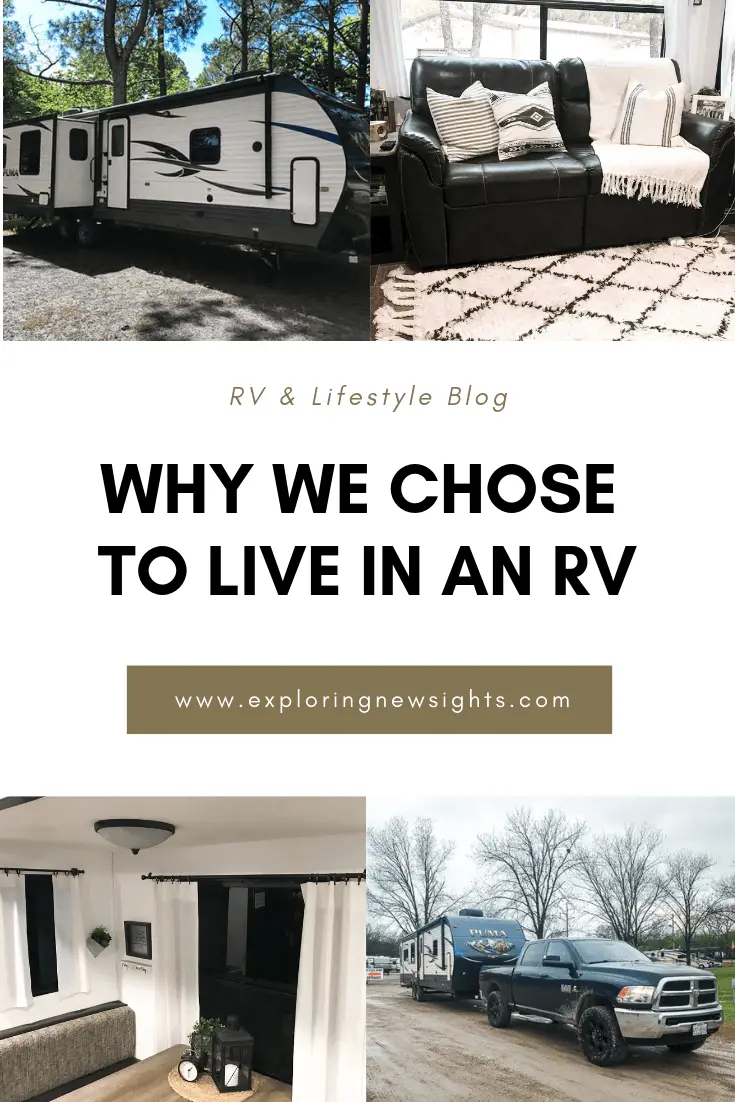 Prior to moving into our RV, we were enjoying living together as newlyweds, in our first one-bedroom apartment. We were loving life with our two fur babies, a view of a gorgeous park from our balcony, close to family, and commuting even distances from our jobs.
However, those commutes were becoming monotonous. I was also becoming listless about my work and felt that we needed a change. I wanted to explore life outside of my hometown and begin a new adventure.
Thankfully Matt was on the same page and just as eager to see what the next step would bring.
We discussed purchasing a house but ultimately felt that it wouldn't help us meet our goal of being debt free, not to mention that we didn't have a clue as to where we wanted to settle down.
We also considered moving to Florida, where some of our family friends live. But that would mean we would have to completely start over, and let's face it, that is a big feat that we weren't quite ready for.
The Beginning Stages
During the time we were contemplating our next step, my sister in law mentioned the idea of living full time in an RV. Without hesitation, I began researching the possibility. It intrigued me!
Being an opportunist, I don't usually cast things aside without consideration and research. I scoured Pinterest, Instagram, Google, and even found Facebook groups dedicate to full-time RV living.
After much research, I felt that this could be the change and adventure we were longing for! This could be the answer to us becoming debt free, giving us the ability to travel, and live life on our terms.
So I mustered up the courage to talk to my husband about it, fully expecting some reservations on his part. To my surprise, Matthew was all for the idea!
The Planning Stage
Now that we had a goal and the next step was decided on, we had more research to do. The planning and preparation process took many months. I would be lying if I said that during that time we didn't question our decision and wonder if we were crazy. I would think,
"Are we crazy? Shouldn't we be purchasing a home, building equity, and having kids?"
The Doubting Stage
Being in our mid/late twenties, and newly married, there seemed to be some social pressures about settling down in a house and starting a family. And even though it was easy to look at others our age and feel like maybe we were wrong to not follow the same path, we had this dream to do things a little differently.
We reminded ourselves, and still do, that everyone's dreams and ideas of happiness are different. It is okay to take the road less traveled.
Even though we had overcome our own doubts, that didn't mean we wouldn't face doubt or disapproval from others about our choice. After deciding and announcing our decision to RV full time we were met with comments like "RV's depreciate." "You'll never get equity out of it." While those comments were true, those facts weren't factors for us. We weren't worried about building equity or depreciation.
We dreamed of traveling and we were motivated to pay off those student loans and personal debts! To us, that was worth investing in.
What do we have to lose stage
Experiencing our beautiful country, with all of its magnificent wonders, without worrying about a ton of monthly loan payments is a dream! A dream that with a couple years of hard work, and budgeting could become a reality for us.
We felt like we had nothing to lose, but everything to gain by choosing this lifestyle. We had the opportunity to travel if we are able to or stay stationary. That is Freedom with our home base.
Update
April of 2018 was our beginning journey in living in our RV full-time. We have lived in our RV stationary on our Families land for about 2 years now. We had a surprise baby in 2019 and he has blessed our lives more than what we could have ever imagined.
I think with everything in your live, you must be able to pivot, to change, and go with the flow. Nothing is going to go as planned, but you have to keep going and taking those risks to make your dreams a reality. So if living minimally and traveling in an RV is your dream, GO FOR IT!