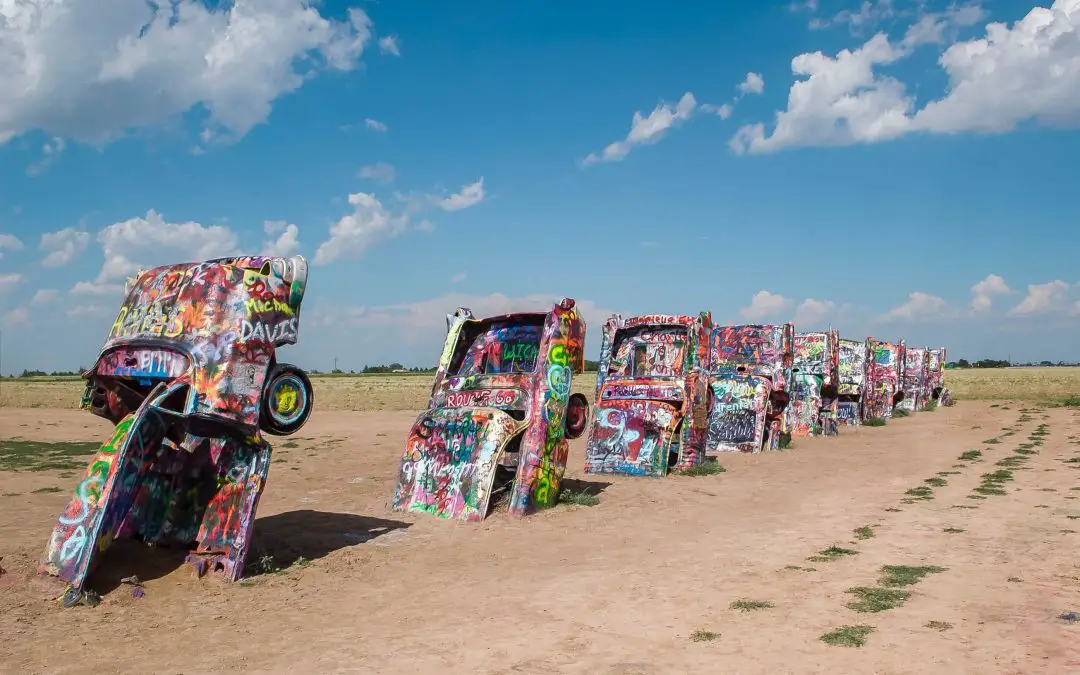 Hidden Gems in Texas | My home state is full of gorgeous landscapes and hidden gems to experience.
Whether they are carved out naturally through years of environmental changes or artwork that has stood to the test of time.
These gems are sights to see and explore and this list is the BEST of the BEST! 
I even included one of my favorite places to go every time we visit Waco, TX. It's a Texas Size place that you can visit with the whole family, do some shopping, and have a full day of fun!
So, if you enjoy hiking, nature, caverns, or even the famous HGTV show "Fixer Upper", then you will find the gems in this list worth the visit!
1. Hamilton Pool Preserve
This beautiful hidden gem called Hamilton Pool Preserve is in Dripping Springs, Texas just outside of Austin.
My husband and I visited in 2017 to celebrate our Anniversary!
The natural pool was preserved in 1990 by the Travis County Commissioner's Court. For about 3/4ths of a mile hike through the gorgeous, lush wilderness, you will come to an open pool with a 50-foot waterfall.
At times during a drought, the waterfall could become scarce, but the pool is always filled with cool natural spring water.
Once you reach the pool, you can walk through the canyon for even more gorgeous views from inside.
View this post on Instagram
Hamilton Pool and the hiking trails are a great place to visit and spend time outdoors to enjoy a day hike, have a picnic, and cool off with a swim.
After your time at the pool, take a hike the other way towards Pedernales River for more natural beauty.
VISITING HAMILTON POOL TIP: You will need to make a reservation before visiting. There are time slots in which you can visit and a cost per vehicle and person.   Also, due to the Pandemic; Swimming and the hike to the Pedernales river is closed but you can still visit the pool and enjoy a picnic.

Check out the link here for updated information.

Address: 24300 Hamilton Pool Rd, Dripping Springs, TX 78620
2. Terlingua Ghostown
Located in South-West Texas, Terlingua Ghost Town is a great stop if you plan on visiting Big Bend National Park.
This town is an old quicksilver mining town that will take you back in time to the old western days.
It is a beautiful place with some magnificent mountainous desert landscaping views that will have you amazed.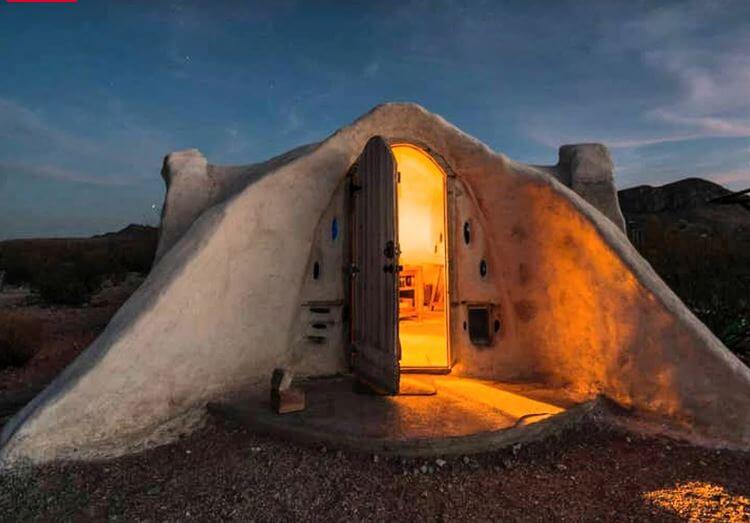 The town also has some cute shops, historical landmarks, and some super unique places you can stay the night.
If you have ever wanted to spend the night in a tipi or a dome and star gaze all night, then this is the place!
You can rent the HGTV famous Off-Grid Adobe home for a quiet and secluded evening. You can book that home here or click the button above.
3. Magnolia Markets: HGTV's Fixer Upper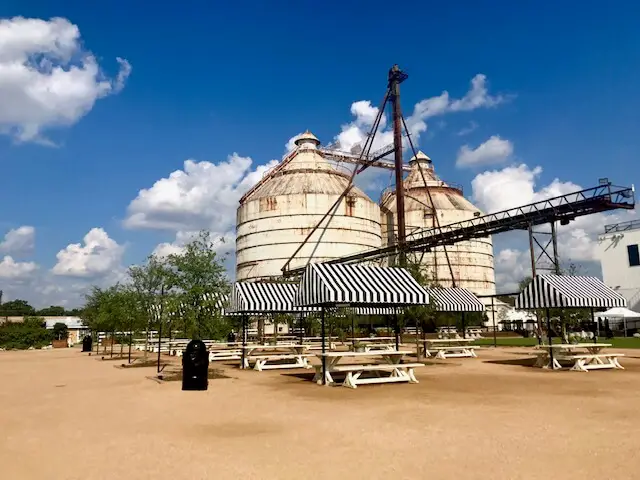 Magnolia Markets is a New Hidden Gem in Texas. It's a great place to visit for the entire family.
Whether you are just passing through or looking to spend a day in Waco, Texas, the Silos are a must-stop destination.
The Magnolia Team finished a complete rehaul of the entire silo's space in 2020 with a church and more. It's a gorgeous venue with coffee, cakes, and shopping that will appeal to everyone.
I've added this to the hidden gems of Texas because I've been a couple of times, and every time it just gets better and better!
You can read about our most recent visit here.
If you'd like to visit, here is the address: 601 Webster Ave. Waco, TX 76706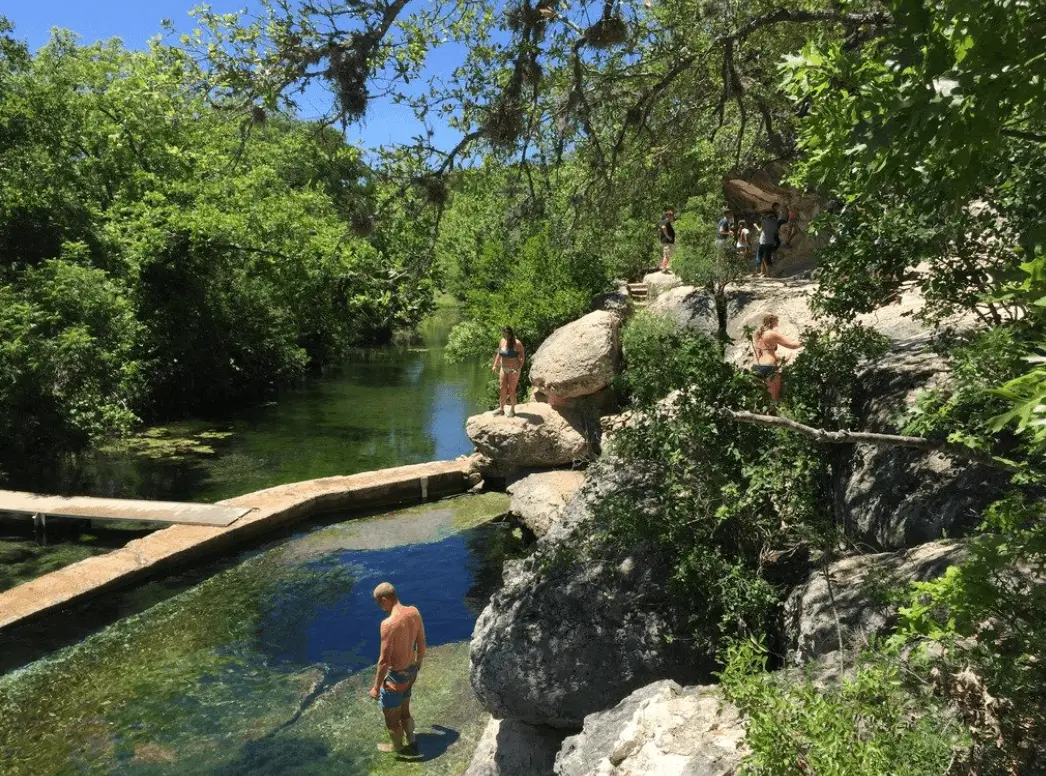 Image Credit: Tripadvisor.com
This beautiful natural Area well is a great place to hike and swim during open seasons.
Jacob's Well is located in Wimberley, Texas, and is a 130-foot Artesian spring well that attracts many scuba diving enthusiasts.
It is a free location to visit with amazing hiking trails.
However, If you would like to swim, you will need to make a reservation and pay a small fee. (However, Swimming is currently prohibited due to COVID) Also, pets are not allowed in the park.
I suggest planning 2 to 3 hours or more for the visit! This way you can get the most out of this beautiful hidden gem in Texas.
Address: 1699 Mount Sharp Rd, Wimberley, TX 78676

Hours: 8am – 6pm

Website: https://hayscountytx.com/departments/hays-county-parks-recreation/jacobs-well-natural-area/ 
All the caverns in Texas are true hidden gems. They are glorious, beautiful, and perfect learning experiences for kids.
As an accidental discovery by the Ranching Mayfield family in the '20s, the Caverns of Sonora go back 500 feet.
It wasn't until the '50s though, when a caver from Oklahoma saw the human impact and developed a plan to preserve the caverns for the future.
Now, you can purchase tickets and explore the caves with the whole family.
Address: 1711 Pvt Rd 4468, Sonora, TX 76950  

Website: http://www.cavernsofsonora.com/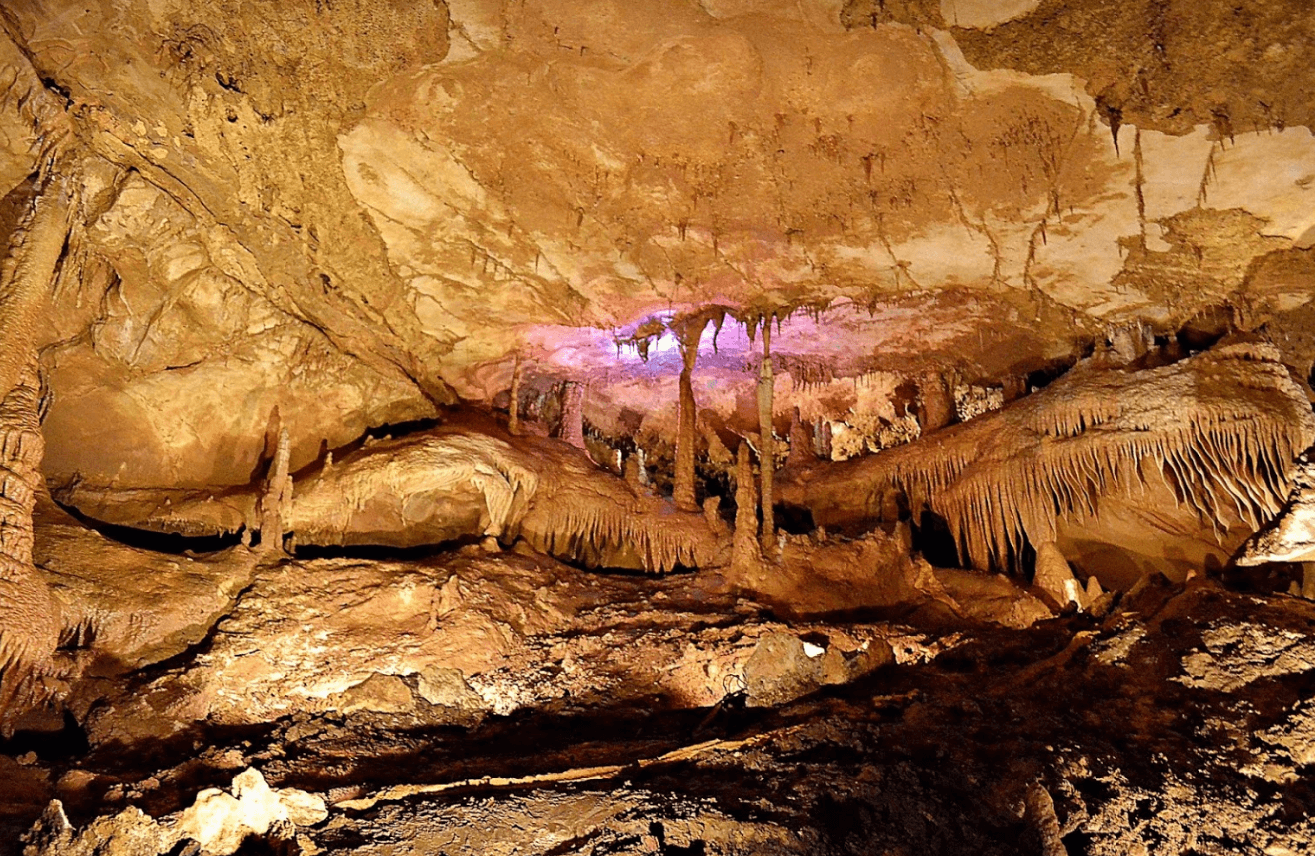 One of my favorite places to stop on road trips with my family. We have so many great memories in these caverns.
Discovered in 1963 by the Texas Highway Department when they were drilling nearby. With over 7,000 feet of cave dwelling, the Inner Space Caverns opened to the public to explore in 1966.
If you visit, there are three tours to choose from: Adventure Tour, Hidden Passages Tour, and Wild Cave tour. You can also do a Virtual Adventure Tour Here.
Another fun activity for the kids that is available is Gemstone Panning. You can teach the young ones a little about the history and how gems and gold are discovered.
The tickets to visit and explore the caves are all reasonably priced starting at $14.95 for kids and $21.95 for adults depending on the tour purchased.
If you would like to visit and make this place your next family vacation stop, here is the address and more information.
Address: 4200 S. I-35 Frontage Rd. Georgetown, TX 78626

Website: https://innerspacecavern.com/
The infamous Cadillac Ranch is located in Amarillo, Texas. It is 10 Cadillacs buried nose/front end at the same angle in the ground. It has been visited by thousands of people since 1974.
The area is free and is a great place to stop, stretch your legs, and enjoy a historical site.
If you would like to leave your "mark" you can bring your own spray paint or there are usually some left by others.
Address: 13651 I-40 Frontage Rd. Amarillo, TX 79124
8. Enchanted Rock, Fredericksburg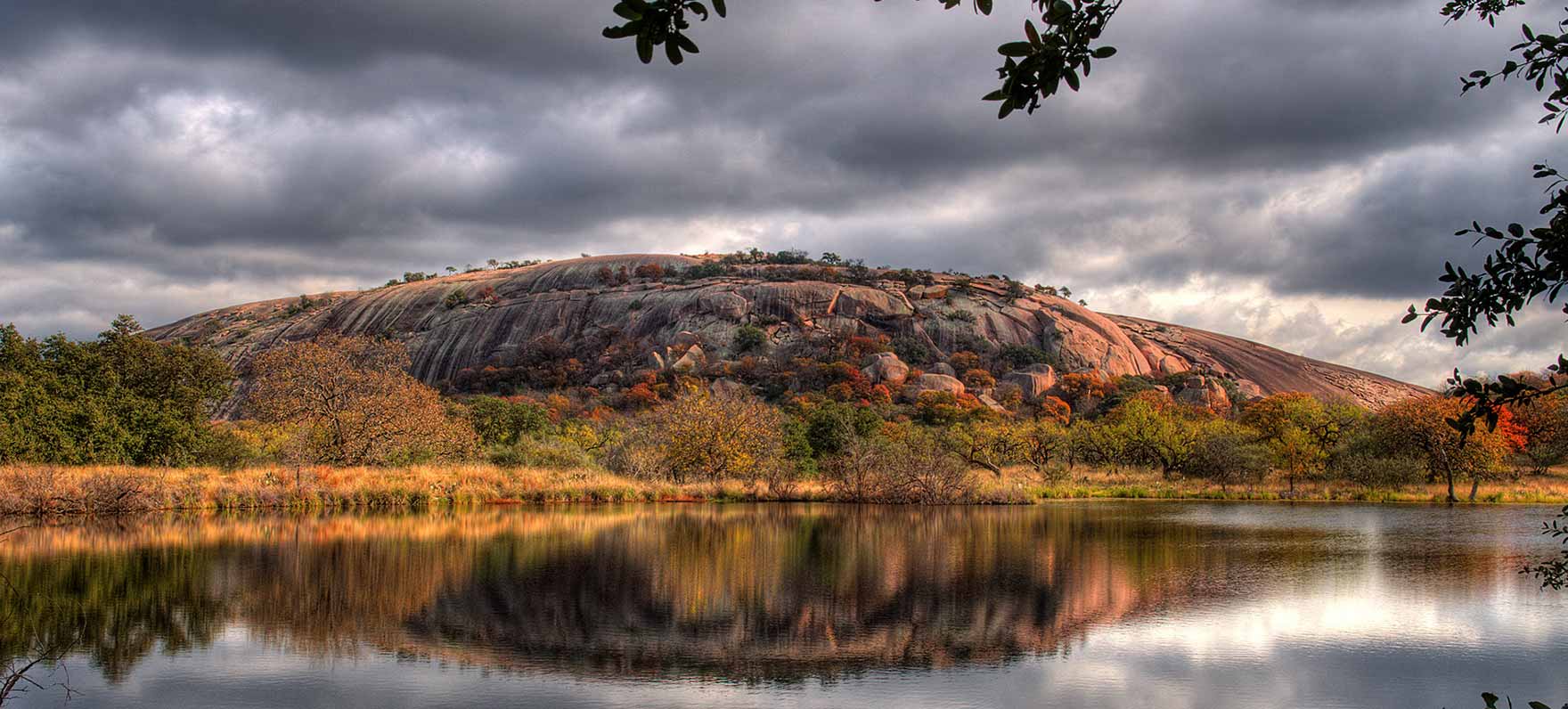 Looking for a great place to hike with the family? The enchanted rock in Fredericksburg is a natural pink granite rock that brings thousands of hikers every year.
The hike is short and moderate for beginner to advanced hikers.
Once you reach the summit you experience gorgeous views of the Texas Hill Country.
It is a great place to camp, hike, and bring your family and pets to enjoy a day in the beautiful Texas wilderness.
Address: 16710 Ranch Rd. 965 Fredericksburg, TX 78624

Entrance Fee: $8 a day for Adults, Children under 12 is Free

Open Daily: 6:30am – 10:00pm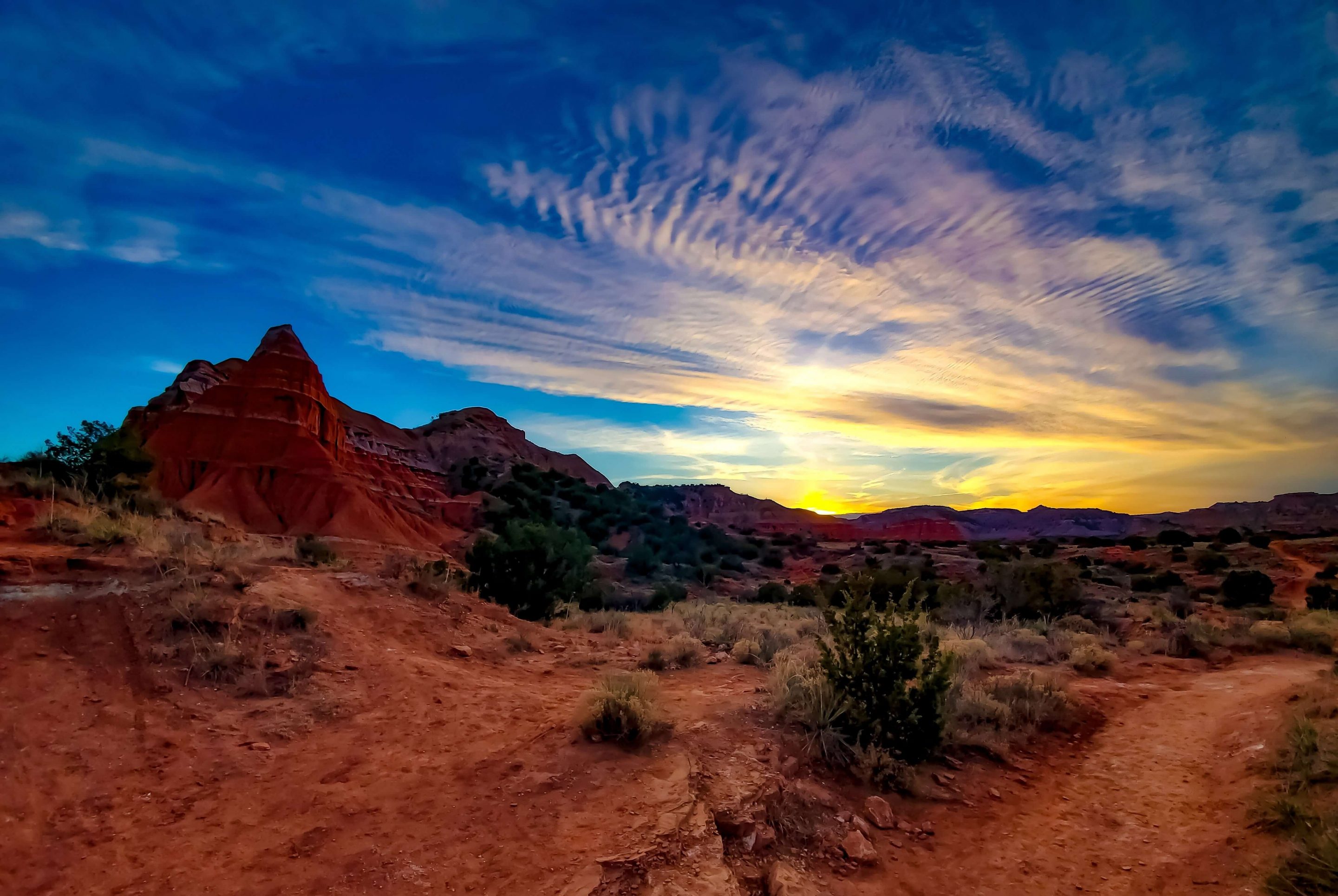 Image Credit: Thomas S. on Unsplash
Palo Duro Canyons also called the Grand Canyon of Texas. It is the second-largest canyon in the United States.
These canyons are perfect for an adventure of hiking, camping, biking, and more. The rugged scenery is just breathtaking!
If you have your own horse, you are more than welcome to bring them along for a nice horseback ride!
Don't have horses, well you can still go horseback riding with a guided horseback tour with "Old West Stables". Perfect family or date activity!
There are also RV parks you could plug in to and stay awhile to enjoy the beautiful Texas scenery and sunsets.
Address: 11450 Park Road 5 Canyon, TX 79015

Price: $8 Daily Fee, Children under 12 is Free.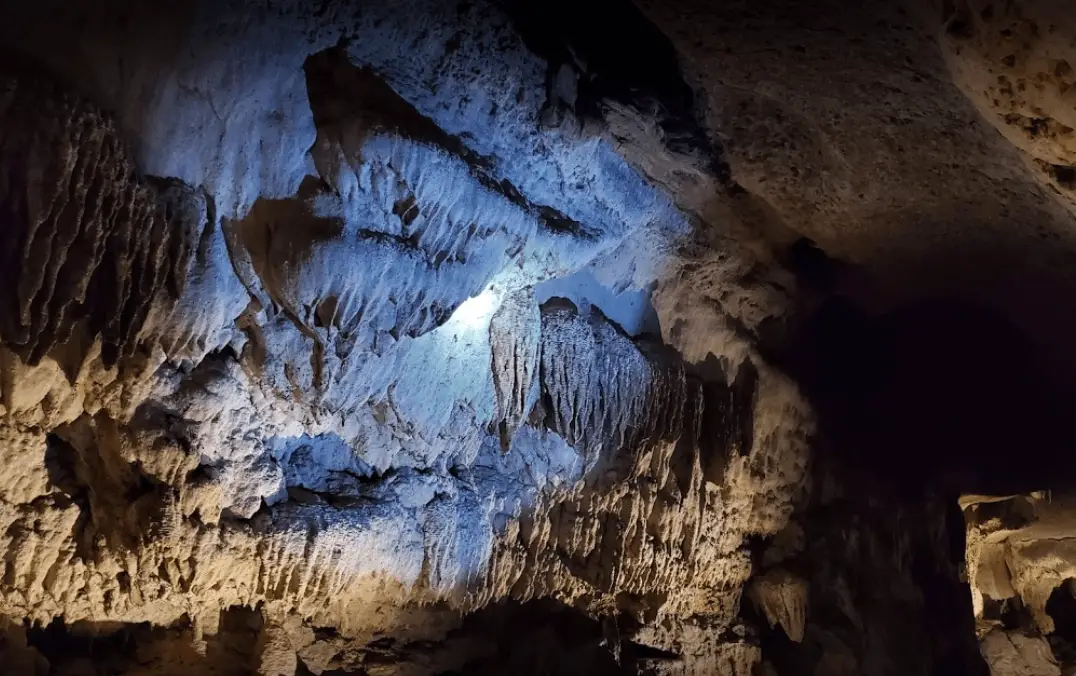 Image Credit: Kenneth Leblanc – Google Images
Another area of beautiful caverns to explore is located just north of San Antonio. The Cascade Caverns is Texas's oldest living cave attraction. The caves always stay around 59 – 63 degrees year-round so they are nice places to go to escape the Texas summer heat and view the beauty of nature.
You can choose from 3 different tours: Downunder Tour, Flashlight Tour, and Adventure Tour. Prices start at $12.95 for kids and $19.95 for adults.
If you enjoy camping, either in an RV or a tent, you can plan your stay and camp out at the Caverns campsite.
Address: 226 Cascade Caverns Rd. Boerne, TX 78015

Website: cascadecaverns.com
11. Monahans Sandhills State Park
Image Credit: Brain More – Google Images
Texas is home to multiple types of climates including the desert.
Have you ever dreamed of going sledding down a sandhill like they do in Egypt?
Look no further than Monahan's Sandhills State Park in Texas. This place is described as an ocean of sand! It's a Texas-sized sandbox for kids and adults of all ages.
There are many activities you can do including exploring the sand dunes, ride your horse (if you have one), Camp, have a picnic, sled, and more!
Address: Park Rd. 41 Monahans, Tx 79756

Open daily – Adults $4 entry fee and children under 12 are free. (The busy season is March through August)
12. Austin's Congress Avenue Bat Bridge
Image Credit: Pablo Pratt – Google Images
I have been here a few times and it truly is a cool sight to see when the Mexican free-tailed bats emerge from the bridge at sunset. The show usually goes lasts from 7:30 pm to 9:45 pm.
This attraction has brought millions of people to Austin to view the nightly. It is not all year round though. The bats migrate from Mexico each spring to call the Bridge cave their home.
Starting in March when the weather begins to warm up and continues into early fall is when you will see them. There are estimated to be 1.5 million bats!
If you plan on going to experience this 'urban meets nature' event, go early and get a parking spot. It can get packed with people quickly, so you also want to bring a blanket, chairs, and maybe even a snack to enjoy the show.
You can also bike, hike, and even get on the river with a kayak or canoe to see the phenomenon as well. There are also "Bat Tours" as well if that is something you enjoy.
Address: 305 S. Congress Ave. Austin, TX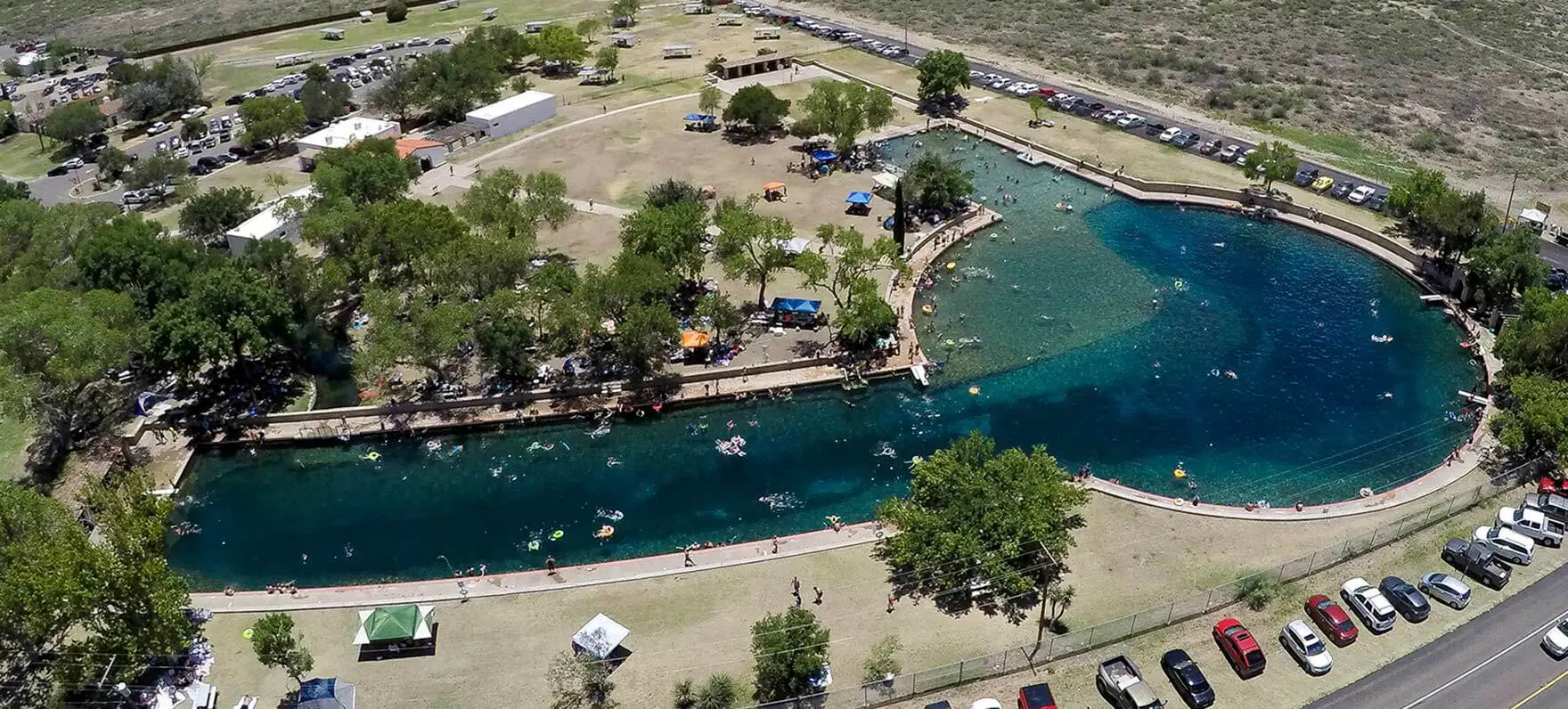 Balmorhea State Park is home to the Worlds Largest spring-fed swimming pool. It's a perfect place to cool off when the Summer Texas heat become too much to bare. 
Bring the family and make it a full day with swimming, snorkeling, picnic, and more! If you like to geocache there are great places in this state park for that as well.
There is a one-time park entry, but the swimming is included. Anyone under 15 must be accompanied by an adult to swim as there is no lifeguard on duty.
Address: 9207 TX-17 Toyahvale, TX 79786

Entrance Fees: Adults is $7 Daily and Children under 12 is Free
14. Hueco Tanks State Park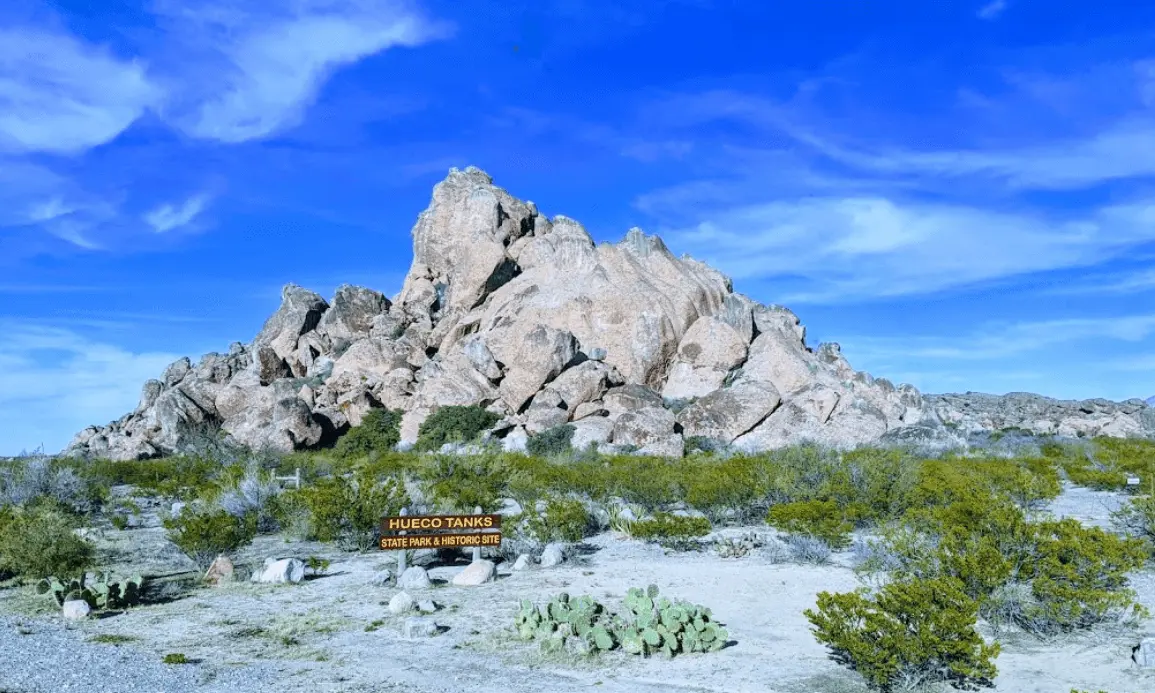 Image Credit: Google Images
A beautiful and historical site that is worth the visit to explore the history. There are old petrographs through the park from ancient Indian tribes.
The park has an interpretive center that will provide you with all the information and history to make the trip a great learning experience.
There are guided tours and self-guided tours available. If you want to camp, you must create a reservation and do not show up late. 
Address: 6900 Hueco Tanks Road No. 1 El Paso, TX 79938

Entrance Fee: $7 Daily for Adults, Children under 12 are free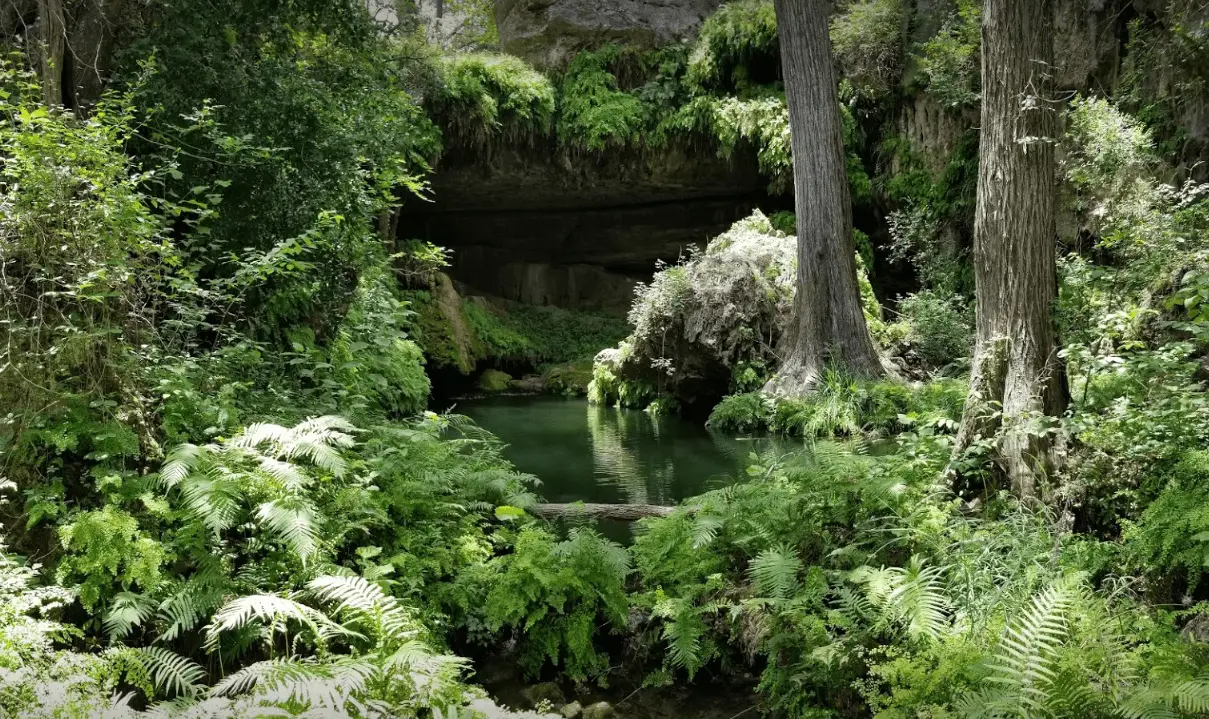 Image Credit: Karen Q – Google Images
The Westcave preserve is a gorgeous place to go and take the entire family! It is perfect for kids to explore and learn.
There is the popular "Grotto" which is a beautiful walk through the limestone and down a 100-foot canyon into lush plant life. At the head of the canyon, you will reach a 40-foot waterfall that is just breathtaking!
You can explore this wonderful area and setting your reservations at the WESTCAVE Outdoor Discovery Center.
Address: 24814 Hamilton Pool Rd. Round Mountain, TX 78663

Website: westcave.org
16. Longhorn Cavern State Park
Image Credit: Google Images
This hidden gem in Burnet County is one to visit and explore. The Longhorn Cavern State Park is a unique treasure that is full of natural beauty.
You can choose to take a guided tour or hike the trail on your own while admiring the natural water-carved stone.
The Park provides two different tours. One is a general and easy walking tour for the whole family. However, if you are the adventurous type and like to be challenged, there is a "Wild Cave Tour" that can take you through and make you must wiggle, climb, and crawl through spaces.
You can check out prices and times at the Visitlonghorncavern.com
Address: 6211 Park Road 4 South. Burnet, TX 78611
Whatever tour you desire, you are guaranteed to have a great time and enjoy the beauty of the Texas Hidden Gem.
Final Thoughts
These beautiful hidden gems in Texas are so unique.
If you live in Texas or happen to be visiting and driving through take some time to make a stop or more. 
Even if it's only for an hour or so to enjoy the Texas beauty, you will remember the moment and time forever! 
Like this post? Pin for Later & Share with Friends