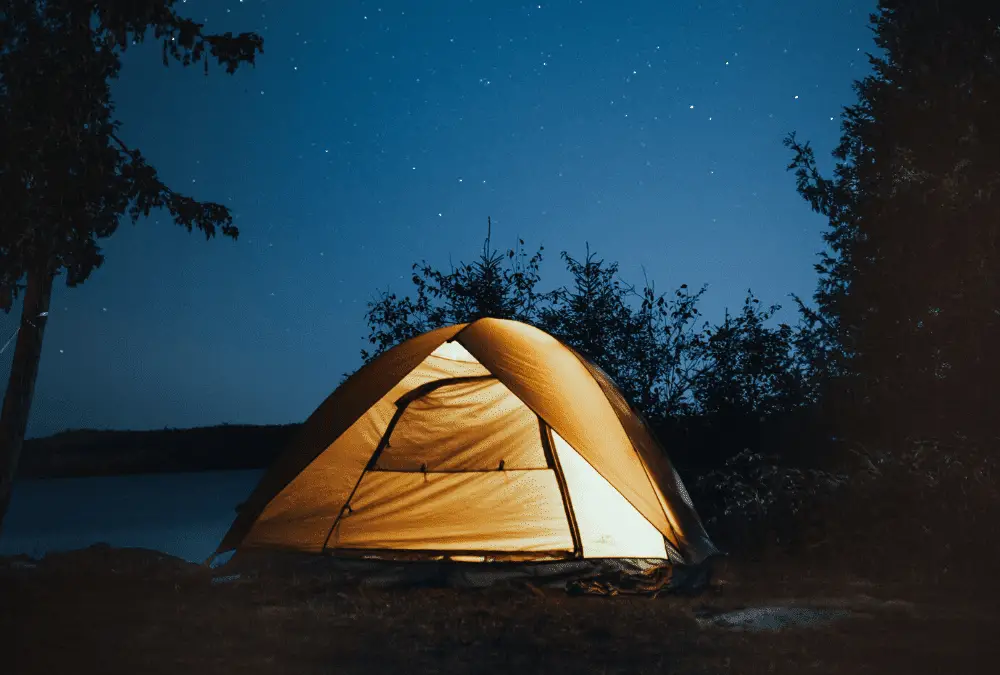 Camping Gear Essentials | I've put together this list after many trips growing up. You see, I've been camping since I was 3 months old!
Seriously, I have a picture of my dad holding me in the camping folding chair next to our tent when I was little.
Since then, we went camping multiple times every summer. It became a fun family tradition and a huge part of our summers as kids.
Maybe this is your first camping trip and you're unsure what to pack. That's okay! I got you! After all, we are all beginners at something!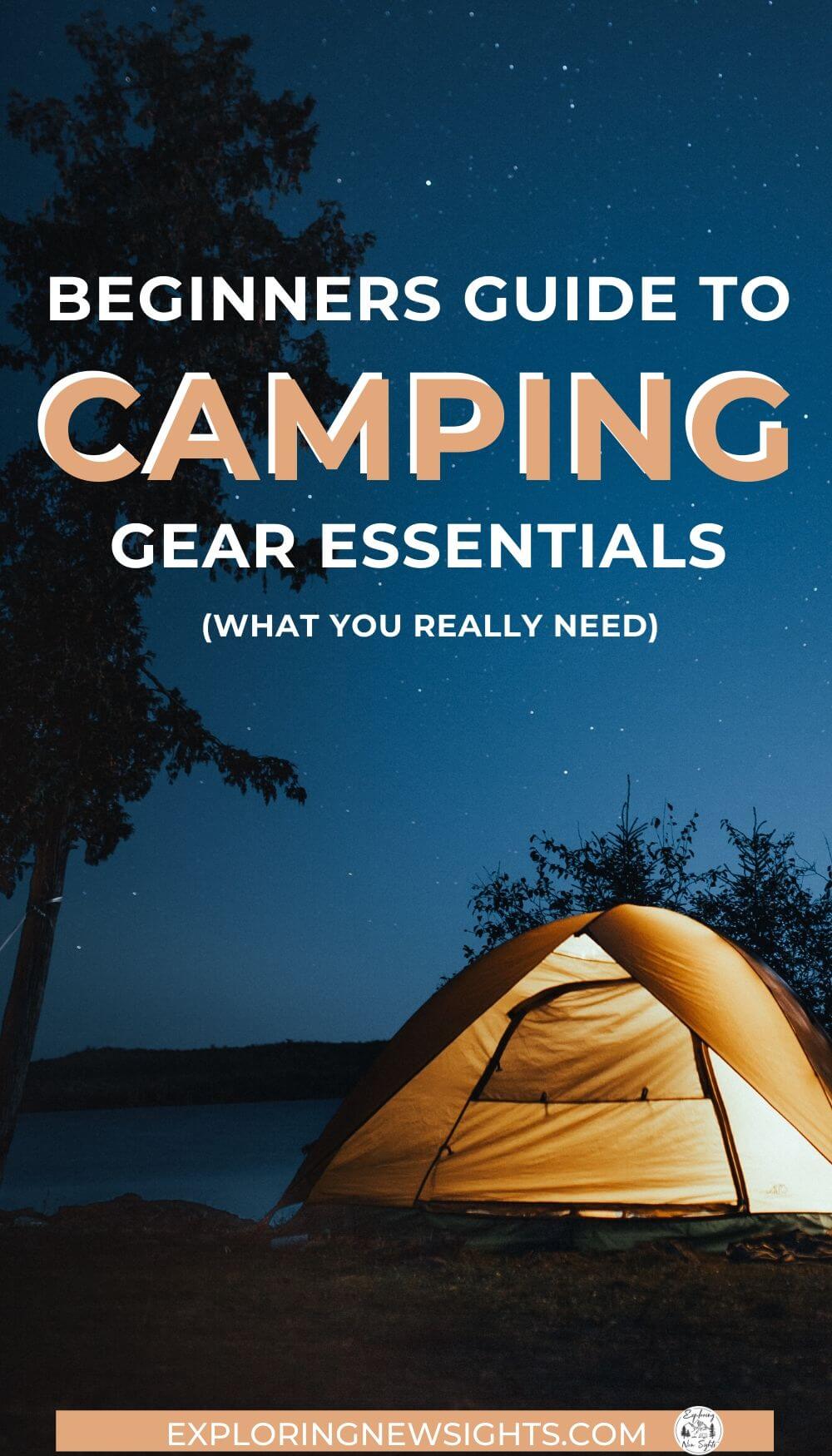 Now as an adult, I love camping even more. It has a new meaning for me. Camping allows me to get away from the hustle and bustle of daily life. There have actually been many studies done on how "getting back to nature" is really good for your soul, brain, and overall emotional stability.
As you can tell, I'm a big advocate of getting back to nature, traveling, and of course, exploring! So here is what you need to get you started and enjoy your first camping trip.
Camping Gear Essentials for Sleeping
2. Air Mattress and Pump
Having a Tent is essential, but if you want to get a decent night sleep then you will want to invest in an Air Mattress. From personal expereince, sleeping directly on the ground in the tent is not comfortable. You can even purchase a platform for your air mattress, so you will not only be sleeping comfortably but also off the ground.
3. Sleeping Bag and Pillow
If your wanting to get the best sleep, bringing a sleeping bag is a camping gear essential. The tempeture usually drops in the evenings, and being stuck without a warm sleeping bag is not fun. I would also bring a light blanket or sheet to cover the air matteress.
4. Extra Blankets
Unless you plan on backpacking and taking all your gear with you, I would bring some extra blankets. They are great to have on hand if you want to sit by the fire at night, but the breeze is just a bit too chilly. They are also great for laying across a log or laying on the ground to sit on.
Camping Gear Essentials: Cooking & Eating
1. Cooler
You will definitely want to bring a cooler! There are many types of coolers on the market but I highly recommend a Yeti. This cooler will keep your ice from melting and keep your food and drinks cold.  You don't want to wake up the next day and dig around in cold water for your breakfast items only for them to be soggy or floating in the water.
2. Cast Iron Skillet or Cooking Ware (Frying pan and Pot)
There are two ways to cook your meals while camping. One is over the Campfire and the other is with a camping stove. If you want to cook over the campfire, then bringing a cast iron skillet or a cast iron dutch oven is essntial. The material can withstand the heat tempeture from the fire.
If you plan on using a camping stove, then you can bring just your regular at home cooking ware like a frying pan and pot.
3. Camping Stove
There's is nothing better than eggs, bacon, and potatoes for your morning meal while camping. Having a propane camping stove is essential if you want warm food and you don't want to have to start a campfire every time you want to cook a meal. The great thing about camping stoves, is they last forever! They are great camping gear essentials that you won't regret purchasing.
4. Utensils, Plates, Bowls, and Cups
When we camp, we always bring plastic ware, paper plates, plastic cups, and paper bowls. Bringing disposable items are time savers. Just be sure to throw your trash away properly. When camping it's always good to remember to
"Leave No Trace Behind".
You can also bring reusable items and wash them after use. Depending on where you are camping, some campgrounds provide a water spout, but some you have to bring your own water.
5. Water
Not every campsite will have a water spout to clean your dishes or wash your hands. Sometimes, you have to bring your own water gallons. We would always have the 5-gallon water tanks filled up for miscellaneous needs like brushing your teeth. You also don't' want to forget water bottles as well.
6. food (Smores and hot dogs)
You cant go camping without food, especially the classic campfire foods like marshmallows and hot dogs. Its also a great idea to bring easy foods like sandwich-making items and chips or crackers.
7. roasting sticks
If you choose to bring smores and hot dogs, then you will want to pick up some roasting sticks.
You can also use some old wire hangers and just bend them into roasting sticks. This was a trick we use to do as kids.
8. Folding Table
As a kid, we had this blue camping folding table that had four chairs attached to it. It was the coolest thing to take camping. Not only are folding tables needed for eating on, but also for food preparation. Not every campsite is going to have a picnic table.
9. Folding Chairs
These are a must-have when going camping. We would bring two types of folding chairs when we went camping. One type was the normal chair in a bag, and then we would also bring lounge chairs in case we wanted to lay out in the sun or take a nap. They worked great because you can adjust the level of lounging.
Camping Gear Essentials: Hygiene & Safety
1. Wet Wipes or Baby wipes
Nothing is worse then having ditry hands and feet, and not being able to take a shower. Many camp ground don't have access to showers or bathrooms. So having wet wipes or baby wipes are great to wipe the dirt off. If you have kids, then these are extremely essential not only for messy hands and feet, but also faces.
2. Paper towels
Paper towels are great to have on hand as camping gear essential because you never know what you may need to wipe up. It's as simple as that!
3. toilet paper
This one is actually more important than paper towels, because everyone goes to the bathroom. There are many campgrounds that don't have restrooms readily available, and if they do, sometimes they are out of toilet paper. So, I highly suggest you bring your own!
4. Toothbrush and Paste
Hello, Morning Breath! This is just a hygiene essential and even if you're camping, it's a good idea to bring it along.
5. Emergency Kit
Outdoors can sometimes lead to minor cuts or even bug bites if you're not careful. Having a general emergency kit on hand is alwasy super smart. You never know when you might need a bandaid or an ankle wrap. Plus, when most people are camping they have fire pits and that alone is easy for someone to accidentally get burned. Therfore, the emergency kit is needed.
6. Sunscreen/Shades/Hat
This really depends on the time of year you go camping, but usually, it's in the summer months. So having a skin and eye protections is really important. Especially, if you plan to camp near a lake and go swimming. Having sunscreen is important to help prevent sever sun burns and damage.
7. Lotion
THis one may seem a bit odd, and you're probably wondering "why, lotion?". Well, after you wipe your feet, legs, arms, and hands with the wet wipes, soemtimes all the sand make your skin super dry and uncomfortable. So, after many camping trips, having lotion on me became essential.
8. Bug Spray
Camping outside means there will usually be a ton of bugs. Some bugs like misquitos, fleas, ticks, ect. are a nusiance. They can also be a danger and carry diseases, so you definitely want to bring some type of bug protection. Chek out our post "Best Deet-Free Bug Repellent for Outdoor Adventures"
10. Lanters and Flashlights
These are 100% an essential! You have to be able to see in the dark and the campfire in a dark wooded area just is not enough light. Having a lantern or flashlight is a MUST-HAVE!!
11. Trash Bags
There is nothing worse than going camping nd having to take care of the trash that someone else left behind. Having trash bags handy and available will further the " Leave No Trace Behind" moto.
Camping Gear Essentials for Fire
1. Matches or Lighter
If you plan on having a campfire, then bringing either matches or a lighter is going to be essential to your camping trip. There are other ways you can start a fire, but who wants to rub a stick or stones together when we have modern technology with matches and lighters.
2. FireWood
Bringing your own firewood will depend on where you camp. Some campsites can prohibit you from gathering firewood from around the campsite. However, other campsites could be okay to gather wood from around the site. I would check this before choosing where to camp
But… just in case, I would bring some starter logs.
3. Lighter Fluid or Kindling
If you want to start a fire and get it going quickly, then having lighter fluid or kindling is essential to your camp fire. This is really a personal want, depending on how expereinced you are with starting and keeping a fire going.
BONus Camping Gear for a good time
1. Fan
This is a fantastic bonus essential because when it's hot outside, having a battery-powered fan can be the difference of a good night's sleep or not.
2. Mini Broom Brush and Dust Pan
This is one of my favorite bonuses because it's something that will help you keep the dirt and leaves out of your tent. When you step inside your tent after walking around all day at the campsite, you'd be surprised as to how much dirt can accumulate on the floor of your tent. It's also a great practice to sweep your tent out before you pack it up.
3. Outdoor Mat
This one is great and you will see this more with RVer's, but it's also great to have when you're tent camping. Having an outdoor mat will lessen the amount of dirt that goes in your tent. You can also leave your shoes on the mat instead of bringing them inside. Another thing I enjoy about having a mat is it give you the ability to put your shoes on outside without stepping your bare feet on the dirt.
4. Card Games
This is great to have just in case. I always loved sitting around the table at the campground playing Phase Ten or some other card game. It's a fun thing to do that helps social interaction during the trip.
Every camping trip you take, you'll find something else you will want to take along with you. I hope this list of camping gear essentials help get you started.
Camping can be a lot of fun and I hope you enjoy getting back to nature.
Stay safe! Have fun and let me know how you liked your first trip in the comments!