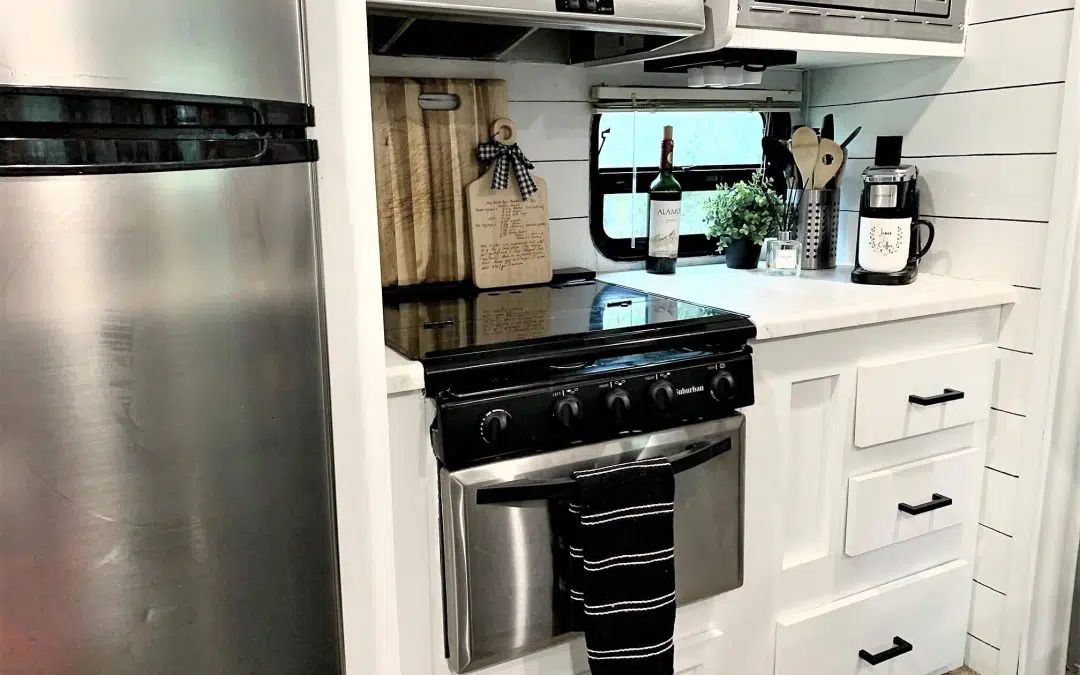 Paint Your RV Cabinets with NO Prep | If you're on the market or just recently purchased an RV of any kind, you probably are aware of the outdated or dark interiors that have plagued RVs for years.
However, due to some very inspirational and talented individuals, renovating your RV has been a very popular task among campers.
One of the biggest renovations many choose to do is to re-paint the dark cabinets a different color.
However, many of the cabinets are actually covered in contact paper that makes it difficult for paint to stick.
I've heard and read horror stories of RVer's sanding, priming, and painting their cabinets only for their hard work to peel right off. This can be extremely frustrating!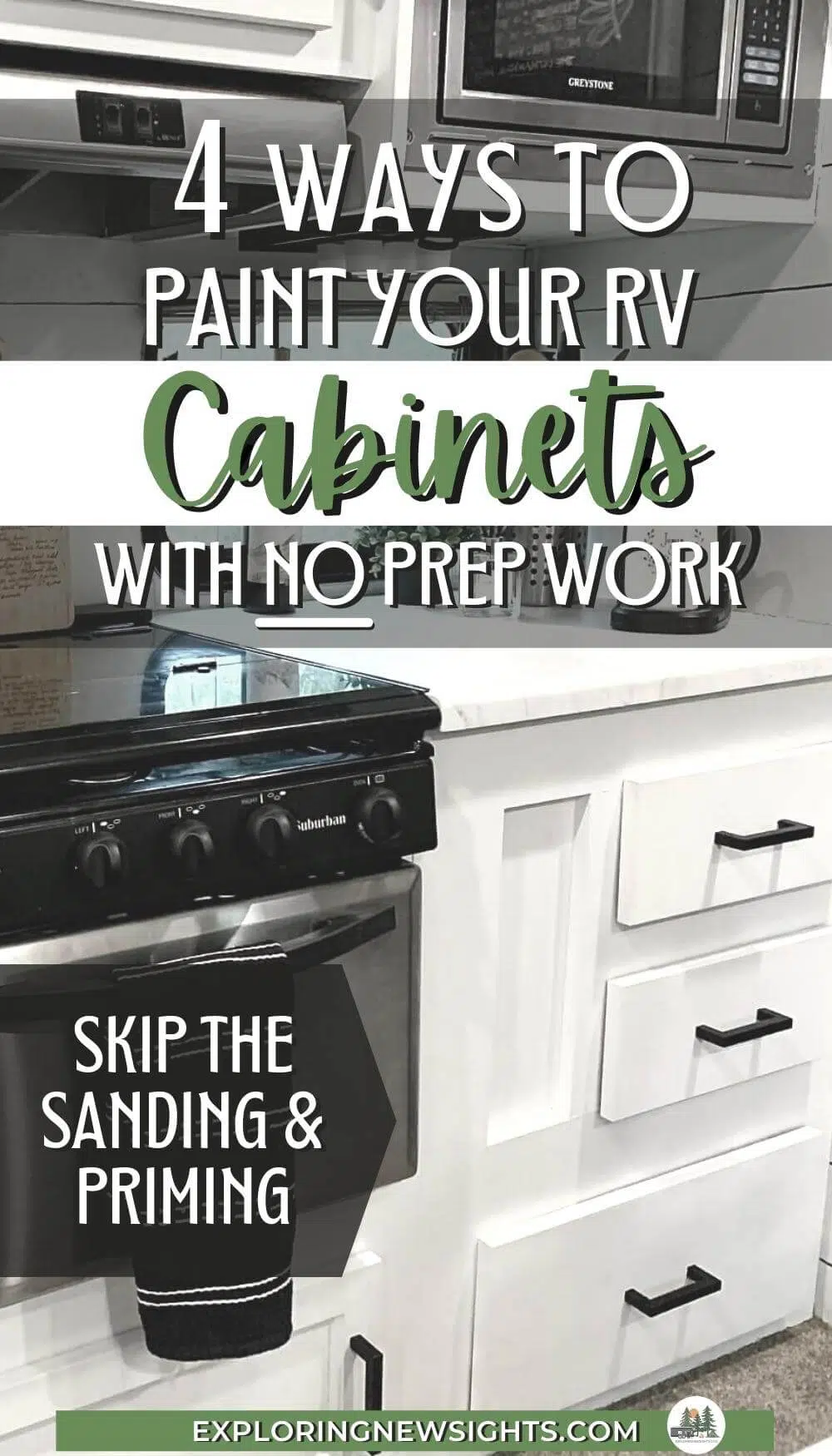 But have no fear!
There are ways to paint your cabinets without sanding or priming. You will probably want to tape to prevent paint from places you don't want it, but other than that you can achieve an RV cabinet paint remodel without all the hard work.
Here are 4 ways you can paint your RV cabinets in no particular order because they all are great and will get the job done!
1. Chalk Paint with a Tough Coat Sealer
One option you can use is chalk paint.
We chose to use chalk paint on our cabinets because I knew I didn't want to do any sanding or priming. Personally, I hate all that prep work!
Plus, chalk paint is very low in VOC and is great if you're painting on the go or renovating while also living in the space. There are plenty of color options that you can also mix to create a color of your own desire. We chose to use The Spruce Best Home Chalk Paint by KILZ in white bead board and dark grey for our bathroom and kitchen island.
Now, chalk paint is a matte finish and can chip very easily as well as not being resistant to stains. This can make it difficult if you don't seal the paint with a tough coat. This Tough Coat by Country Chic sealer is a chalk paint lifesaver. It provides a protective layer that provides a satin sheen, is stain resistant, and makes the cabinets easy to wash off any spills or dirt.
2. Beyond Paint
Beyond paint is an all-in-one option that can be used for furniture, cabinets, and even countertops. There are 16 matte colors, 3 metallic colors, and a satin sheen sealer to keep your project beautiful for a long time.
Just like the chalk paint, you don't need to sand or prime to prepare your RV cabinets for Beyond paint. You do want to clean them and make sure they are free from dirt, oil, or wax to make sure the paint sticks and goes on smoothly.
Beyond paint is also an eco-friendly low-VOC option just like chalk paint.
3. Nuvo Cabinet Paint Kits
Nuvo Cabinet Paint kits are another great option to choose from. It is a little cheaper than the other two and comes with the tools that you will need to paint, however, it does require some sanding for the product to adhere properly.
The Nuvo does have some advantages including no need for a topcoat sealer because it is built into the paint, 1 kit covers 100 sqft of cabinetry, has a beautiful satin finish, and comes in a variety of colors.
You can purchase these kits on Amazon and other home improvement stores like Lowes and Home Depot.
4. Heirloom Traditions All-In-One-Paint
Very similar to Beyond Paint, the Heirloom Traditions All-In-One-Paint is a very popular option for many DIY'ers and RV'ers to use on their cabinets remodel. There is no need to sand, prime, seal or strip the surfaces before using this paint.
The only prep work is to clean from dust or grime. There is also no need to seal the paint with a tough coat because it's built-in. Each color has a finished satin sheen that is perfect for cabinets and other types of furniture.
Final Thoughts
Remodeling your RV can be a time-consuming task to take on, however, I hope painting the cabinets seems easier than ever before with these amazing paint options.
I know for us, removing the need to sand and prime saved us so much time! I don't know if I will ever sand or prime cabinets ever again when I know there are great options that don't require it and offer beautiful and durable finishes.
If you would like to see some gorgeous RV kitchen remodels for inspiration, check out our post 30 RV Kitchen Remodels That Will Inspire the Interior Designer in You!