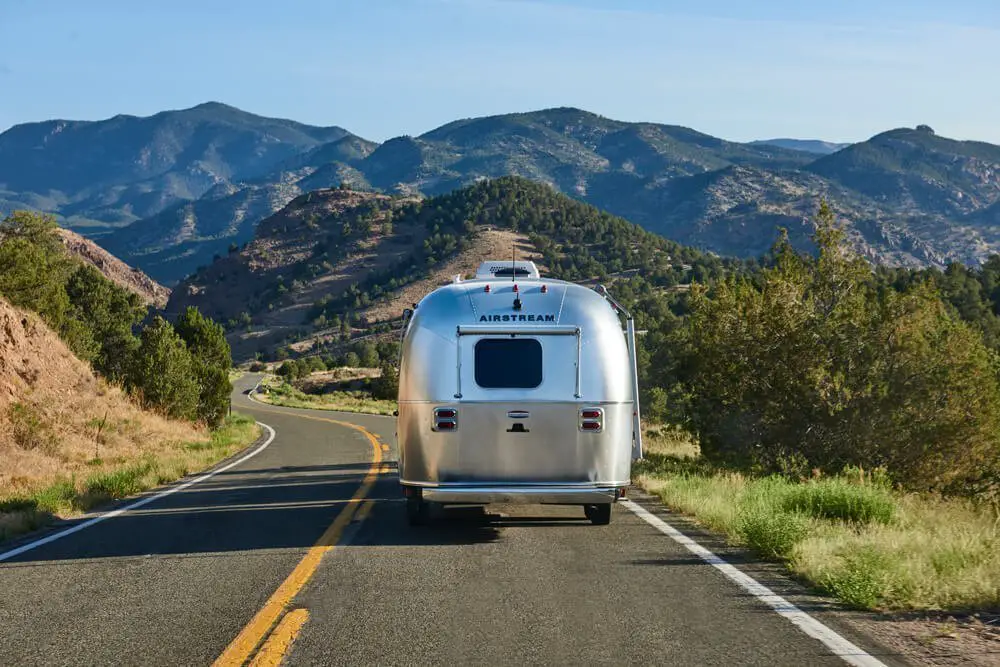 There's something about RVing that brings a wanderlust and adventurous spirit out in almost everyone.
It has become very popular! So, we are examining why renting an RV can be very beneficial before you make the decision to buy. 
Whether you are in it for the weekends and holidays or want to live Full-time like us.
For many, it's about exploring the nature reserves, hiking trails, and unplugging from most of modern technology.
Just imagine sitting by the campfire outside, roasting delicious marshmallows while relaxing and bonding with your family or friends. It's a beautiful sight!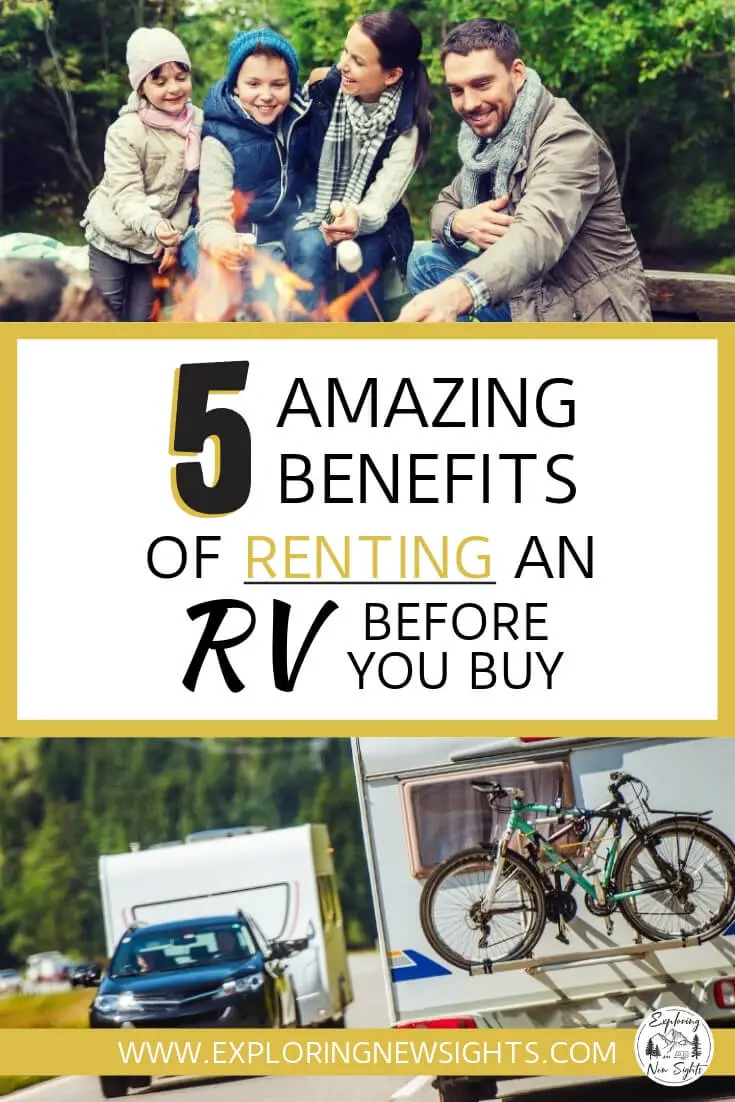 However, purchasing an RV is a big investment and is considered to be a 'luxury' item.
Also, it can be overwhelming as you begin your search. One of the first places most look is RV Trader, where they begin learning just how many different types, floor-plans, and brands there are.
That is precisely why you should consider these 5 reasons to rent an RV before buying one!
1. It can save money and time
I have heard of so many stories of RV'ers who purchase their "perfect RV" only to trade it in a year later for something either larger or smaller.
Renting an RV first could save you from stress, emotionally and financially.
When you take a loss or have to go through the trade-in process, it can take a toll not only on your pocketbook but also on your state of mind.
No one wants to waste money by purchasing the wrong RV that doesn't truly fit their needs.
When you rent, you will be able to test out all the different styles and types to see what fits, before signing the dotted line.
2. Test out different floor-plans and amenities
RVs come in all different styles and sizes to meet the RV'ers needs. There are Motor-homes classified as the Class A, Class C, and Class B. Then you have your tow-able RVs like the Travel Trailer, Fifth Wheel, Toy Haulers and Pop-Ups.
Along with the styles of RVs, you have numerous amounts of floor-plans. Some will have an extra bunkhouse for kids and guests, others will have washer/dryer prep, while others will have an outdoor kitchen and entertainment area.
Each floor-plan carries its own unique details that can either benefit your family or become an unused amenity.
You'll also be able to consider the amount of space and slides you might need. We have 3 slides, two in the main living area and one in the bedroom. They make the space open and not feel cramped. 
By renting before buying, you will be able to really test out space and see if it will be enough room or possibly too much room for those who are really wanting to minimize.
3. Practice driving, towing, parking, and backing up
Unless you are a seasoned driver like my father, who has been pulling 10,000 lbs. plus trailers across the country for his work, pulling a trailer can be intimidating.
I (Nissa) still have not driven the truck while our 34ft Travel Trailer is towing behind. I am honestly scared because it's our home.
Thank goodness my husband used to tour with a band and has driven an RV before. Otherwise, we would have had a lot of training ahead of us.
Renting an RV will help tremendously because it will give you the opportunity to practice towing, parking, and the dreaded backing up.
Practice makes perfect, as my coaches would always say, and the same goes for towing a trailer or driving a motor-home that is slightly larger than a normal truck or car.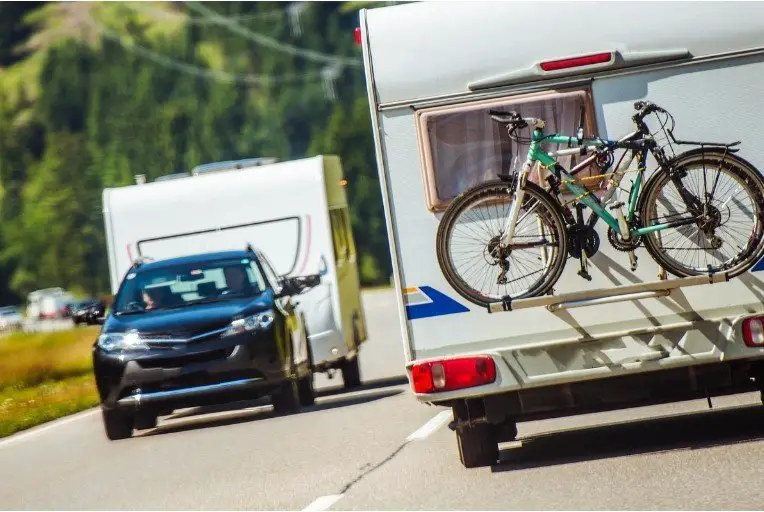 4. Learn how RV's work
Yes! Understanding how RV's work is a learning curve. For us, the gentlemen we purchased from walked us through everything. However, there still was so much we had to research and learn about our RV.
Learning how the water system works, the heating and a/c systems, or how the slides mechanically come in and out are important.
Another big one is the grey and black tanks, and knowing where you can dump. As well as, the electrical amps, where to plug in, how you can convert amps to fit your RV and more.
These are just a few things that one will have to know when owning an RV.
RVing is fun but there is definitely a learning curve.
Renting an RV first will allow you to go through that learning curve to see if it's something you really want to do.
Which leads me to my last point.
5. To ensure the RV life is right
Renting an RV can help you determine if living in an RV or purchasing one for weekend camping is right for you and your family.
Renting is truly the "try it before you buy it" concept.
Everyone loves to try things out before fully committing, especially when something is a large purchase.
Where you can Rent
You can check out the #1 RV Rental site called Outdoorsy. They have consistently rated 5 stars with roadside assistance, customer service, and up to $1million insurance coverage for approved bookings.
With Outdoorsy, you can search for the RV that interests you. Search by keywords, prices, vehicle type, amenities, kitchen necessities, entertainment desires, rules like Pet-friendly, and overall rating.
You can check out and rent your RV by using this link "Outdoorsy". (If you do choose to rent through my link, I will receive a commission that is no cost to you.)
Don't forget to check out these Top 10 Tips from fellow blogger MamacitaOnTheMove for when you're ready to rent an RV for the weekend.
I really hope this helps you consider why renting an RV is a great way to figure out what RV you want, and whether the RV life is right for you.
It can help you save money, learn about RVing and so much more!
Did you rent before you purchased your RV? Comment below! We would love to hear how it has benefited your decision!
Sharing is Caring! Pin, Tweet, and share on Facebook! Thanks for stopping by and Happy RVing!